SWIFT Update April 21, 2022


Attention Buyers and Contract Administrators: SWIFT System Email
You may have received a system-generated email sent from SWIFT. The subject is "Suppliers Inactivated for Active POs and Contracts." It requires your attention. This email is not spam or a phishing attempt.
SWIFT sent this email to you because you have an open contract or purchase order with a supplier that is in the process of being inactivated in SWIFT. The attachment listed in the email is a report that shows suppliers that are being inactivated. It includes the new supplier information and a list of the purchase orders or contracts impacted by this change. There are also directions on the steps to take to update these documents.


---
Questions about Suppliers?  
Suppliers (also known as vendors or bidders) refer to individuals or organizations that do business with the State of Minnesota. Suppliers can view events, make bids, and review payments on the Supplier Portal.

---
Staff Spotlight: Travis Dahle
Travis Dahle is a team member of the SWIFT Module Support unit. He supports the Commitment Control module. 
How long have you been with Minnesota Management and Budget (MMB)?
I have been with MMB/SWIFT Module Support since October of 2018. I have been with the State since March of 2012. Prior to MMB, I worked at the Department of Revenue and Minnesota State (MNSCU).
What's your favorite part of your job?
Things have changed dramatically since beginning at MMB. I am glad that I was able to meet (in-person) the people that I did prior to COVID, as the best part of my current position is easily the people that I work with. This is not only true of the people within SWIFT Module Support but of all units that I work closely with at MMB.
Fun Facts:
My wife (who works at the Department of Health) and I met in Duluth, even though we both lived in the Twin Cities Metro at the time. We also sold our previous home in St. Paul and bought our current home in Woodbury in November of 2020, during the pandemic and in a very challenging housing market. Our daughter, Olivia, turned 5 on Easter this year. Currently, my favorite movie is probably The Big Short; my favorite band is Jimmy Eat World; and my favorite food is, always has been, and always will be: Lasagna!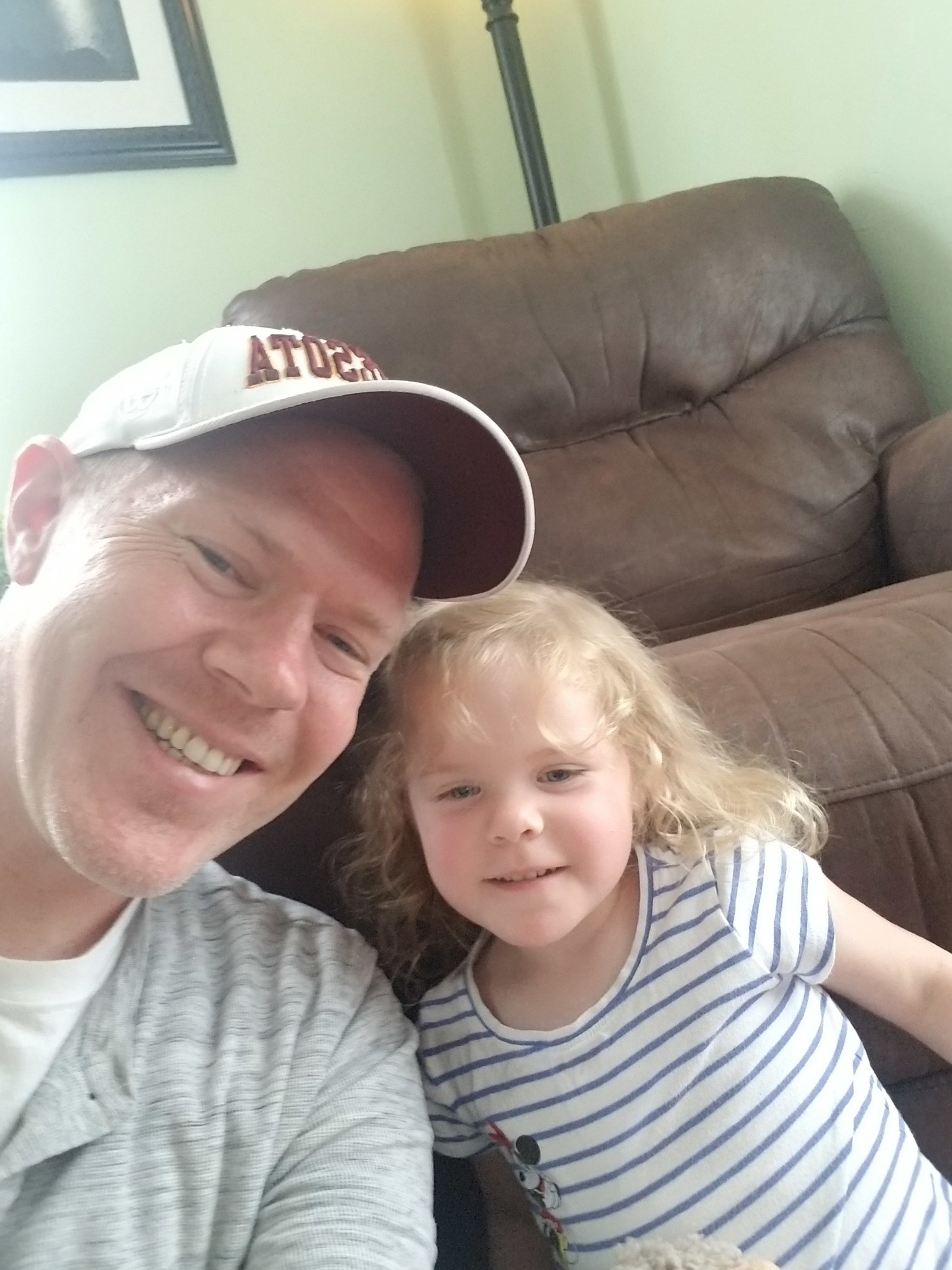 ---
SWIFT Training
The SWIFT Training team offers online training through webinars, training guides, video tutorials, eLearning, and one-on-one sessions.
Webinars/Labs:

Enroll in online training for SWIFT and the EPM Data Warehouse on Enterprise Learning Management (ELM). See

Upcoming SWIFT Training

below. Webinars and labs run for 60 to 120 minutes. They include live demos of SWIFT and EPM Data Warehouse processes. SWIFT training options are webinars. Some of the EPM training are labs so that you can follow along and create and save your own reports or My Dashboard.

SWIFT Training Guides and Video Tutorials:

 Find quick reference guides and a user guide on our Training Guides page and video tutorials on our Training Videos page.

EPM Data Warehouse Training

: Locate quick reference guides on our EPM Warehouse Training page. Topics include the most common EPM Data Warehouse processes and SWIFT reports.

eLearning

: Complete self-paced training in ELM. After learning the material at your own pace and passing the quiz, you'll receive a Certificate of Completion. Currently, Introduction to SWIFT eLearning is available.

One-On-One Sessions:

 Still feeling stuck? Request a one-on-one training session by emailing us at SWIFTHelpDesk@state.mn.us.
Upcoming SWIFT Webinars
To enroll in a SWIFT webinar or eLearning class, sign in to Self Service or the Administrative Portal and select the Learning Management tile.
On the

Find

Learning

tile, enter "SWIFT" in the search

 

field, and press the

Search

button.
From the

Search Results

, select the webinar you would like to take.
Press the

Enroll

button, and check your email later for an invitation with instructions on how to attend the webinar.
| | | | |
| --- | --- | --- | --- |
| Module | Webinars/eLearning | Date  | Time  |
| INTRO | Introduction to SWIFT eLearning | Anytime | Self-Paced Class |
| SS | Strategic Sourcing eLearning | Anytime | Self-Paced Class |
| EPM | Understand the SWIFT Data in the EPM Data webinar | Apr. 26, 2022 | 9:00 a.m. - 10:30 a.m. |
| EPM | Create and Save a New Analysis lab | Apr. 27, 2022 | 9:00 a.m. - 10:15 a.m. |
| KK | Budget Journal Administration webinar | Apr. 28, 2022 | 9:00 a.m. - 11:00 a.m. |
| AR | Create, Correct and Verify Direct Journal Deposits webinar | May 10, 2022 | 9:00 a.m. - 10:30 a.m. |
| AP | Create Vouchers Overview in Accounts Payable webinar | May 10, 2022 | 9:00 a.m. - 10:30 a.m. |
| AR | Enter Deposits and Apply Payments for SWIFT Invoices webinar | May 11, 2022 | 9:00 a.m. - 10:30 a.m. |
| AR | Use Maintenance Worksheets to Manage Customer Accounts webinar | May 12, 2022 | 9:00 a.m. - 10:30 a.m. |
| EPM | Introduction to the EPM Data Warehouse for SWIFT Reports webinar | May 17, 2022 | 9:00 a.m. - 10:30 a.m. |
| EPM | Use Standard SWIFT Reports in EPM lab | May 25, 2022 | 9:00 a.m. - 10:30 a.m. |
| PO | Overview of Purchase Orders webinar | June 2, 2022 | 9:00 a.m. - 10:30 a.m. |
| PO | Close and Cancel Purchase Orders webinar | June 9, 2022 | 10:00 a.m. - 11:30 a.m. |
| SC | Create Contract Shell webinar | June 14, 2022 | 9:00 a.m. - 10:00 a.m. |
| EPM | Build a My Dashboard for SWIFT Reports lab | June 22, 2022 | 9:00 a.m. - 10:30 a.m. |
| EPM | Create a SWIFT All Expenditures Report in EPM lab | July 13, 2022 | 9:00 a.m. - 10:30 a.m. |
---
SWIFT Help Desk
Contact the SWIFT Help Desk for any SWIFT-related questions or issues.
Email: SWIFTHelpDesk.MMB@state.mn.us
Phone: 651-201-8100, option 2
Hours: 7:30 a.m. to 4:00 p.m., Monday through Friday (closed holidays)
When contacting the SWIFT Help Desk, make sure to include details about your question or issue, including:
Your Business Unit

Description of the issue/question

SWIFT Module (Accounts Payable, Purchase Orders, etc.)

Transaction ID (Voucher ID, PO ID, etc.)

Error message print screen
Additional assistance can be found on the SWIFT Training Guides page.