SWIFT Update November 25, 2020


Catalog Punchout Requisition Pilot in EProcurement 
The Office of State Procurement (OSP) is beginning implementation of catalog punchouts for ordering from specific state contracts. Catalog Punchout Requisitions are created using the EProcurement module in SWIFT. Requesters or buyers access the supplier's online catalog while creating the requisition. The current supplier contracts for the initial implementation are Innovative Office Solutions and Grainger. OSP plans to add additional supplier contracts over time.

Catalog Punchout Requisitions will allow the State to collect detailed information on the purchases being made from the suppliers. Submission of the shopping cart will bring the item details into the requisition. Detailed item information will include the Item Description, Unit Price, Quantity, Category, Supplier Item ID, and Manufacturer's Item ID. Collecting this information will allow for detailed reporting, better spend management, and transparency about what agencies are purchasing.

Three agencies are involved in the Catalog Punchout Requisition Pilot: Department of Employment and Economic Development (DEED), Pollution Control Agency (PCA), and Department of Public Safety (DPS).We will provide a planned roll-out to the remaining agencies over the next months.
As we begin to turn this functionality on you will see links to the supplier's online catalogs on the Create Requisition page in EProcurement.



IMPORTANT: Do not attempt to use these links until Punchout Requisitions are activated for your agency. You will receive a "not authorized" error message.

If you have any questions or concerns on the implementation of catalog punchouts, please contact Swifthelpdesk.mmb@state.mn.us

We will provide more information in the coming weeks on the progress of the Catalog Punchout Requisition Pilot and the roll-out to the remaining agencies.

---
EProcurement Module

The EProcurement module in SWIFT helps agencies manage pre-encumbrances using requisitions. A requisition in SWIFT is an online form for requesting items or services.
To learn more about the EProcurement module in SWIFT, please review the
EProcurement Reference Guides
.
---
Purchase Order Document Types

The SWIFT Help Desk fields many questions about purchase order document types. Below is a table to help you sort through document types. For more in-depth information about them, please review the Purchasing Reference Guides.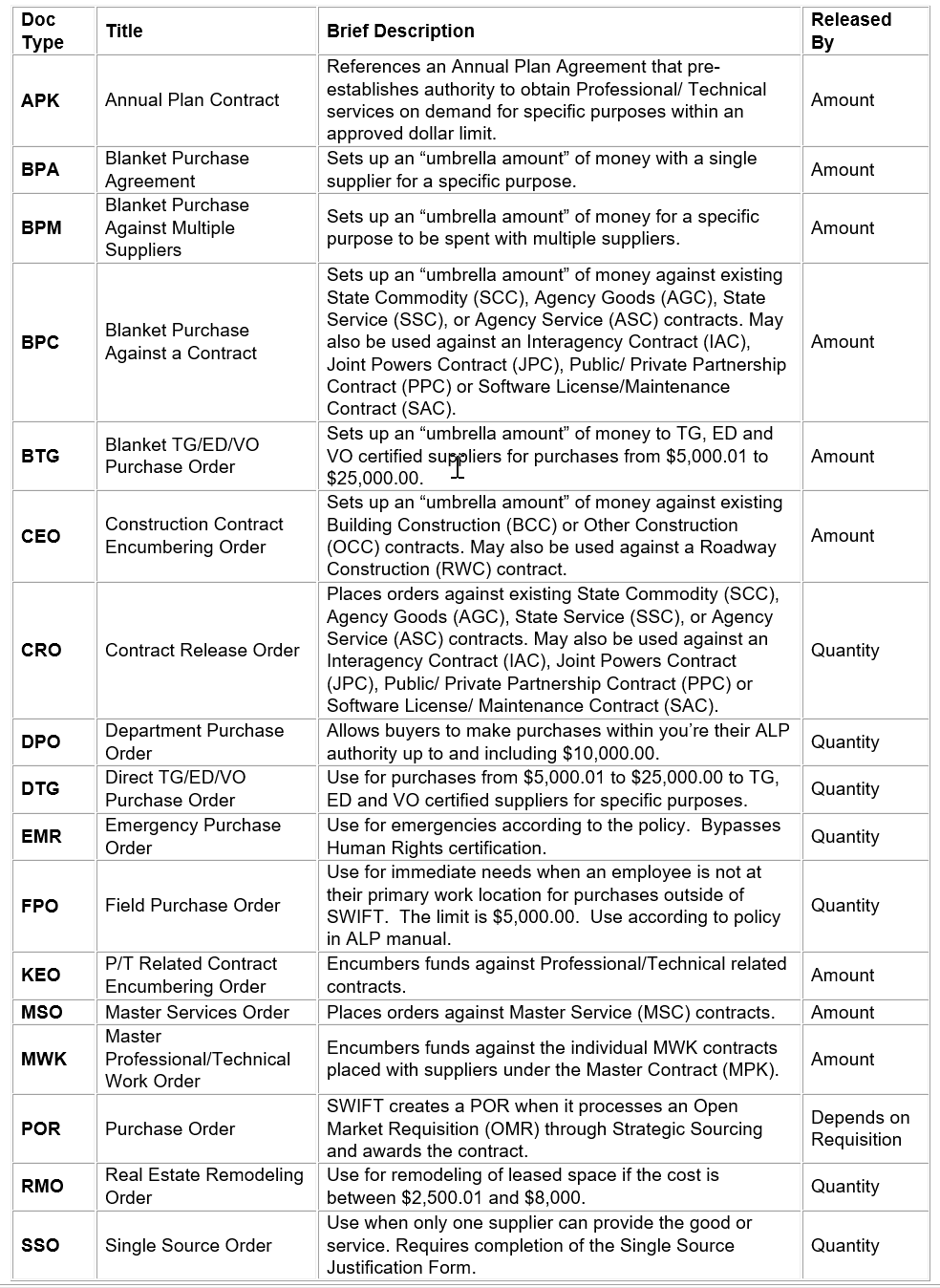 ---
Reminder: The SWIFT Help Desk Remains Open 
Please contact the SWIFT Help Desk for any questions, concerns, or issues you have with SWIFT.

Phone: 651-201-8100, option 2 
---
SWIFT Training and Resources 
The SWIFT training team  is offering online training through webinars, one-on-one sessions, and video tutorials.
Quick Reference Guides and Training Videos: Please check the Training and Support Resources page for the quick reference guides and training videos/ You will find reference guides covering all modules on SWIFT. We are adding new training videos in the most commonly used modules.

Webinars: We are offering modified online versions of our classroom training. They are shorter and meant to provide basic demonstrations of the SWIFT modules. If you are newer to SWIFT, please consider taking the Introduction to SWIFT: Navigation webinar before enrolling in a module-specific webinar.

One-On-One Sessions: If you would like one-on-one training on a SWIFT module not offered through a webinar, please email SWIFT.Project@state.mn.us to request a one-on-one session.

To find and enroll in SWIFT webinars, open the Self Service or Administrative Portal and select the ELM tile. On the Learning Management page, select Find Learning on the left menu. On the Find Learning page, enter "SWIFT" in the Description field and choose Search. Seats are available in the following webinars: 
| | | |
| --- | --- | --- |
| Webinar | Date  | Time  |
| Budget Journal Administration Webinar | December 10, 2020 | 1:00 am to 2:30 pm |
| Import and Process a Contract Document Electronically Webinar | December 3, 2020 | 9:00 am to 10:00 am |
---
SWIFT Training Guides and Resources

You can find reference guides on all modules in SWIFT on the Training Guides and Resources page.

---
SWIFT Help Desk
Contact the SWIFT Help Desk for any questions, concerns or issues you have with SWIFT:
651-201-8100, option 2 or by email  SWIFTHelpDesk.MMB@state.mn.us Hours: 7:30 a.m. to 4:00 p.m., Monday through Friday; closed holidays. When emailing the SWIFT Help Desk, be sure to include all details regarding the issue. 
Information to include with your message:
Issue Description
Business Unit
Module (Accounts Payable, Purchase Orders, etc.)
Transaction ID (Voucher ID, PO ID, etc.)
Error Message Print Screen
Additional assistance can be found on the SWIFT Training Guide page.
---
SWIFT Update Mailing List
The SWIFT Update is sent to the SWIFT Newsletter subscription list. Use the links at the bottom of the page to subscribe or unsubscribe to the SWIFT Newsletter subscription list.
---
Printing the SWIFT Update

If you are experiencing issues printing this update, download a PDF version and print that version