SWIFT Update January 23, 2020



Procurement Fiscal Year 2020 End Cutoff Dates 
The fiscal year-end 2020 deadline established for the submission of requisitions and procurement requests for the following items is March 13, 2020.

Request for Proposals (RFP) - If the intended procurement method is to make the acquisition through an RFP, please contact the Office of State Procurement (OSP) as soon as possible to discuss the procurement and appropriate timelines.

Agency Single Sources related to Software Licensing and/or Software Maintenance Agreements - Agency software purchases related to Software Licensing and/or Software Maintenance Agreements processed through OSP.

Construction - Construction and construction-related requisitions processed through the Real Estate and Construction Office or OSP.

Sealed Bids - Requisitions requiring sealed bids (over $50K) processed through OSP.

Fiscal Closing/Requisitions - Requisitions over the purchasing Agency's authority processed through OSP (under $50,000).

OSP encourages agencies to submit projects prior to the March 13, 2020 deadline.

---
Sourcing Events Special Characters 
The use of special characters in the Event Name field of a Strategic Sourcing Event is causing problems with event attachments.

The event processes okay when it is posted but causes problems later when the buyer needs to delete an attachment or tries to open an attachment during the analyze bids process.

As we work to correct this issue, do not use special characters in the Event Name field or in the file name of any attachment to an event. These are unrecoverable errors that require cancelling the event and creating a new one.

Special characters that may cause problems include the period, comma, colon, semicolon, ampersand, and pound.

---
Help Desk Hot Topic

Help Desk Hot Topics feature Frequently Asked Questions (FAQs) answered by the SWIFT Help Desk. Use these as a friendly reminder of a process or as an opportunity to learn something new!
Q: How can I find help in a SWIFT module?
A: The Need Help? button is available in all SWIFT modules when you use a page. It includes Quick Reference Guides (QRG) specific to that module, SWIFT Help Desk information, and Common Utilities.  Common Utilities include the Process Monitor. Query Viewer, and Report Manager.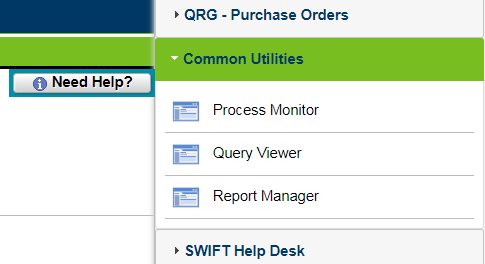 These help pages will open up in a separate window so you can review the resource while you are working on a transaction. To close the Need Help window, select the Need Help? button again.

You can also find the Quick Reference Guides for all modules and for SWIFT basics via the My Homepage button at the top of the SWIFT Portal page. 
 

---
Sign Up for SWIFT Classroom Training!

SWIFT classroom training is scheduled for the following modules. 
Classes are free of charge. Please consider taking the Introduction to SWIFT class before enrolling in a module-specific class.
To find and enroll in SWIFT classes, open the Self Service or Administrative Portal and select the ELM tile. On the Learning Management page, select Find Learning on the left menu. On the Find Learning page, enter "SWIFT" in the Description field and choose Search. Seats are available in the following classes:

| | | |
| --- | --- | --- |
| Class  | Date  | Time  |
| Introduction to SWIFT  (Intro) | February 11, 2020 | 8:30 am to noon |
| Introduction to SWIFT (Intro) | February 26, 2020 | 8:30 am to noon |
| Create and Maintain Supplier Contract Shells (SC1) | February 12, 2020 | 8:30 am to 4:00 pm |
| Create and Maintain Purchase Orders (PO) | February 19, 2020 | 8:30 am to 4:00 pm |
---
SWIFT Training Guides and Resources
You can find reference guides on all modules in SWIFT on the Training Guides and Resources page.

---
SWIFT Help Desk
Contact the SWIFT Help Desk for any questions, concerns or issues you have with SWIFT:
651-201-8100, option 2 or by email  SWIFTHelpDesk.MMB@state.mn.us
Hours: 7:30 a.m. to 4:00 p.m., Monday through Friday; closed holidays.
When emailing the SWIFT Help Desk, be sure to include all details regarding the issue. Information to include with your message:
Issue Description
Business Unit
Module (Accounts Payable, Purchase Orders, etc.)
Transaction ID (Voucher ID, PO ID, etc.)
Error Message Print Screen
Additional assistance can be found on the SWIFT Reference Guide page.
SWIFT Update Mailing List
The SWIFT Update is sent to the SWIFT Newsletter subscription list. Use the links at the bottom of the page to subscribe or unsubscribe to the SWIFT Newsletter subscription list.
Printing the SWIFT Update

If you are experiencing issues printing this update, download a PDF version and print that version