Office of Youth Development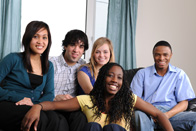 Our youth employment, training and education programs provide vital experience and guidance to help prepare Minnesota's neediest young people to succeed.
We serve low-income and at-risk youth who lack academic and "applied" skills considered critical for current and future workplace needs.
We also provide a wealth of practical and technical information designed to help and guide professional service providers who work closely with youth.
Program providers can find information on the Minnesota Youth Program, WIA Youth Program, Youthbuild, and WIOA Young Adult Program.
Information on special youth initiatives in Minnesota, as well as information on projects funded by youth grants.
Best practices, sample grant and RFP documents, and other resources to help youth service providers.