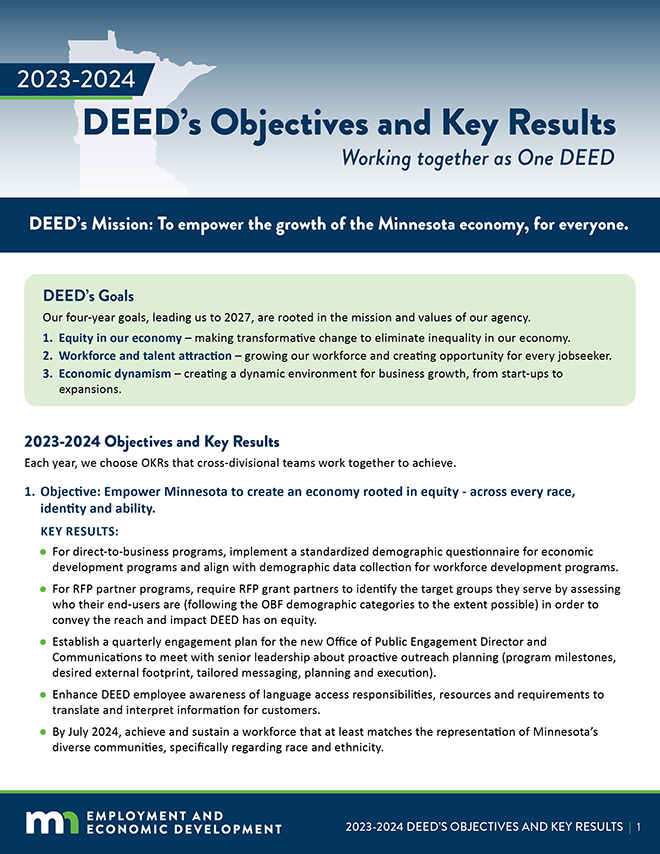 To meet that mission, we partner with organizations and communities across the state to take on the challenges our economy faces at this critical inflection point in Minnesota.
Every year, we spend time building a plan that will guide our work. Rooted in the goals of Governor Walz and Lt. Governor Flanagan, informed by the legislature, and shaped by conversations with thousands of the people and partners we serve, our plans guide our work in the coming year.
DEED uses a system called "Objectives and Key Results" (OKRs) to structure our plan. The Objectives describe our goals, and the Key Results are metrics-driven outcomes that tell us whether or not we achieved them. We score them on a 0-1 scale.
We know we will not achieve every single goal with a perfect score of 1 – if we did, then we likely set our sights too low. But goal-setting gives us a clear sense of direction and stretches us to do better for the people of Minnesota.
In 2022, we've set five main OKRs for the agency. Additionally, every team at DEED has set specific equity OKRs focused on making systemic changes towards a more equitable economy in Minnesota. We do this because we believe equity is everyone's job at DEED.
As a large state agency, DEED does far more than you'll see reflected in this plan. And like any plan, it doesn't cover every activity of every department. The point of these agency-wide goals is to sharpen the focus of DEED at this critical inflection point in our state's economy.
We've been setting goals this way at DEED for the past three years, and you can look at those OKRs in the links below.
Our Scorecards
Equity OKRs