Minnesota Economic Indicators
by Dave Senf
david.senf@state.mn.us
March 2020
Note : All data except for Minnesota's PMI have been seasonally adjusted. See the feature article in the Minnesota Employment Review, May 2010, for more information on the Minnesota Index.
The Minnesota Index, U.S. Index, and Minnesota Leading Index are generated by the Philadelphia Federal Reserve Bank. At the beginning of each year the indices are delayed by two months as revised component numbers are used to recalibrate the indices. Updated coincident indices were released on April 2 (www.philadelphiafed.org/research-and-data/regional-economy/indexes/coincident) while leading indices were released April 4 (www.philadelphiafed.org/research-and-data/regional-economy/indexes/leading).
After adding 7,900 jobs in January, Minnesota's adjusted Wage and Salary Employment declined by 4,500 jobs. February's drop-off was all in the private sector as private payrolls were cut by 4,900 while public sector payrolls increased by 400. Goods-producing industries added 800 jobs while service providing industries reduced employment by 5,300. Private sector job cutbacks were concentrated in Professional and Business Services, Trade, Transportation, and Utilities, and Educational and Health Services.
Minnesota's unadjusted over-the-year job growth in February was 0.1 percent while the U.S. over-the-year gain was 1.2 percent. Average annual job growth for Minnesota was 0.5 percent in 2019 compared to the U.S. 1.6 percent increase. Minnesota's annual average job growth has been lower than U.S. job growth for six straight years.
Annual average employment in Minnesota has expanded by 7.5 percent between 2007 and 2019 while U.S. employment has grown by 9.7 percent. Minnesota's share of nationwide wage and salary employment has tailed off from 2.01 percent in 2007 to 1.97 percent in 2019.
During the 2007- 2019 period the state added 208,670 jobs on an annual average basis. If job growth in Minnesota had matched the U.S. job growth rate during the 2007 – 2019 period, the state would have roughly 60,300 more jobs in 2019 than it actually recorded. Worker shortages during the last few years have prevented Minnesota companies from expanding their workforces as much as they would have liked.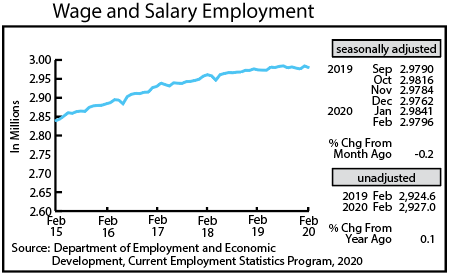 Online Help-Wanted Ads partially rebounded in February, climbing to 122,200 but remained at a significantly lower level compared to previous years. The newly released job openings data from JOLTS (Job Openings and Labor Turnover Survey) also show the same recent downward trend. Minnesota's 4.0 percent gain in online help-wanted postings was higher than the nationwide 0.3 percent increase. The state's share of U.S. online postings rose to 2.2 percent which is slightly higher than the state's share of wage and salary employment.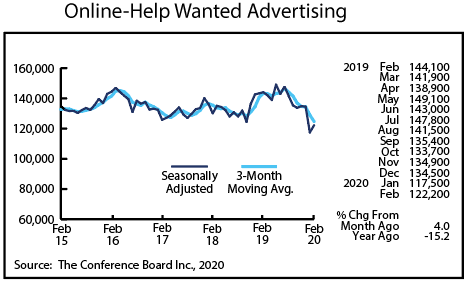 Minnesota's Purchasing Managers' Index (PMI) retreated in February after having shown a hint of momentum in January. February's 53.3 signals that manufacturers still expect expansion over the next few months, but the pace will be moderate. Minnesota's index has averaged 54.1 since 1995 so expect manufacturing activity to be slightly below average in coming months. The Mid-America Business Index also declined in February to 52.8 as did the national PMI which dipped to 50.1.
Manufacturing employment in the state increased by 0.6 percent in 2019 on an annual average basis. This was a drop off from the 1.1 percent gain recorded in 2018. The state's manufacturers have expanded their payrolls by an average of 1.1 percent each year since 2011.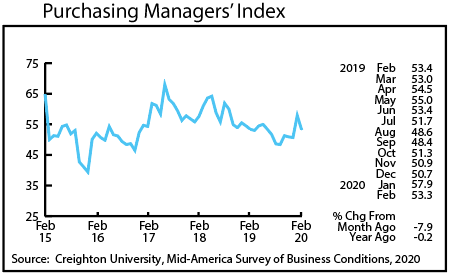 After tumbling for the previous three months, average weekly Manufacturing Hours ticked up to 40.1 hours. That factory workweek is below the 50-year average of 40.4 hours per week. Manufacturing Earnings, adjusted for inflation and seasonality, also rose in February after having tailed off for three consecutive months. February's $936.33 was 2.3 percent less than the record-high paycheck of June 2019.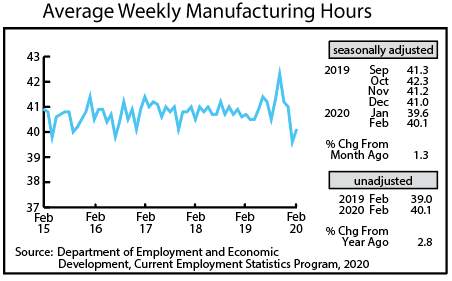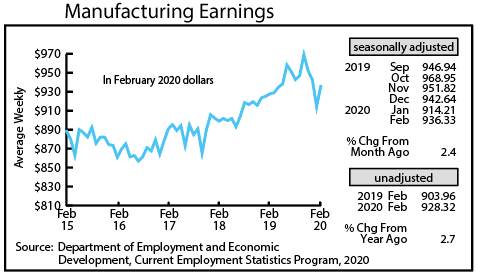 The adjusted Residential Building Permits level dropped sharply for the second straight month in February, declining to 1,655. That was the lowest number since last September. Home-building permit totals for the first two months this year are down 12 percent from 2019 which may be a harbinger that home-building activity this year may fall short of last year's robust pace.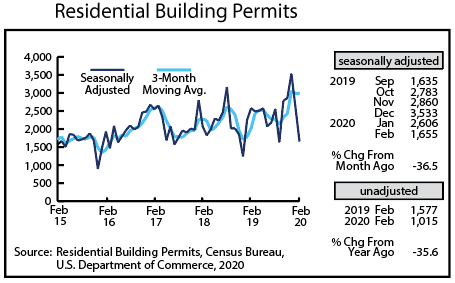 Adjusted Initial Claims for Unemployment Benefits (UB) reversed direction in February, climbing to 16,333. Initial claims levels remain near the record low suggesting that Minnesota employers continue to be reluctant to lay workers off in a very tight labor market.
The newly released layoffs and discharges data from JOLTS (Job Openings and Labor Turnover Survey) confirm that layoffs are at record lows. During the summer of 2019 the layoffs rate drop to 0.6 compared the 19-year average of 1.2 and the 1.9 rate experienced in late 2008 and early 2009. The layoff rate is running about 50 percent lower than normal.