C is for Carpenter
by Cameron Macht
April 2016
Carpenters are true jacks of all trades with many possessing a wide and varied skill set covering all aspects of building. As such, carpenters are the largest and most versatile construction occupation, working across residential, commercial, and industrial settings. The work can be physically demanding with data showing that carpenters have a higher rate of injuries and illnesses than the national average.
In addition to brawn, carpentry also requires brains. Carpenters use math every day and must be detail-oriented and able to follow a blueprint or instructions. They must also use problem-solving skills, however, as plans can change frequently. Since many are self-employed, carpenters may also need business skills to bid on new jobs, order and track inventory, and plan and coordinate work assignments.
More than 13,000 carpenters work at employer establishments in Minnesota, earning an average of $23.30 per hour or about $48,500 per year. Median hourly wages were about $2.00 per hour higher in Minnesota than nationwide. However, wages for carpenters vary by the region in which they work, with the highest pay offered in the Twin Cities and the lowest wages found in the Northwest (see Table 1).
Table 1
Minnesota Employment and Wages for Carpenters, 2015
Geography
Estimated Employment
Wage Percentiles
10th
25th
Median
75th
90th
Minnesota
13,060
$13.89
$16.71
$21.74
$30.26
$35.63
Twin Cities Metro
5,940
$15.71
$19.28
$27.73
$33.85
$36.80
Northwest
2,070
$12.85
$14.34
$16.67
$18.98
$23.28
Central
1,410
$15.38
$17.42
$20.98
$26.19
$34.77
Northeast
890
$9.20
$17.42
$24.83
$28.71
$35.86
Southwest
840
$12.77
$15.69
$18.40
$23.84
$31.57
Southeast
730
$12.35
$15.09
$19.61
$25.55
$28.79
United States
617,060
$12.49
$15.61
$19.89
$27.14
$36.42
Source: DEED Occupational Employment Statistics
About 90 percent of carpenters are employed in the Construction industry, with the other 10 percent spread across other industries. The highest wages were found in Educational Services while the lowest wages were in Manufacturing.
Most carpenters have at least a high school diploma or equivalent and then learn their trade through an apprenticeship program and on-the-job training. However, several 2-year technical schools in Minnesota also offer carpentry certificates. DEED's Graduate Employment Outcomes tool shows there were 386 graduates of carpentry programs in the state from 2012 to 2013, a 16 percent increase compared to 2009-2010 despite a decline in construction employment during that time. Wages also increased for new graduates, but remained well below median wages for carpenters already in the labor force as experience seems to be more valuable than education (see Table 2).
Table 2
Minnesota Graduate Employment Outcomes for CIP Code 46.02 -Carpenters, July 2012 - June 2013
Award Level
Number of Graduates
Median Hourly Wage
Top Industry of Employment
Top Region of Employment
1 Year
2 Years
All Awards
386
$14.03
$15.33
Construction
Twin Cities
Source: DEED Graduate Employment Outcomes (GEO) tool
Blueprint for Expansion
DEED's Job Vacancy Survey shows that as construction activity has picked up demand for carpenters has returned to prerecession levels, but may take much longer to surpass hiring needs during the building boom of the early 2000s (see Figure 1). With 788 job vacancies in the fourth quarter of 2015, carpenters were the second most in-demand construction occupation behind construction equipment operators.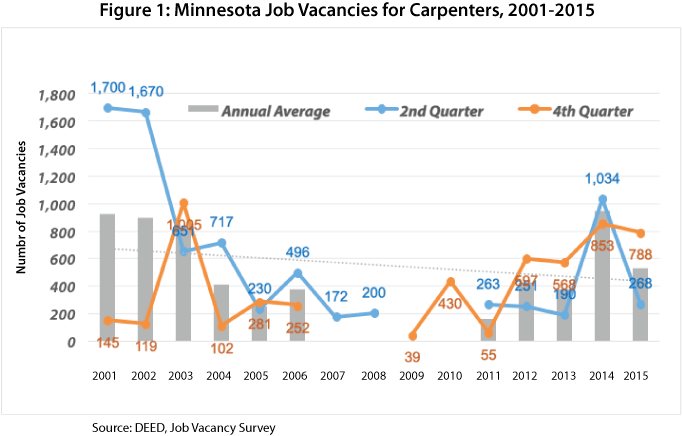 All but 1 percent of the openings were full-time, with a median wage offer of $19.25 which is well above the 10th and 25th percentiles typically paid to entry-level carpenters. Over 60 percent of the openings required one or more years of experience compared to just 1 percent requiring postsecondary education.
Improvements in the housing market and expansion in commercial and industrial buildings should lead to additional opportunities for skilled construction workers in the next decade. According to DEED's short-term projections, the state will need about 465 new carpenters in the next year based on 300 new jobs and about 165 replacement openings. Long-term, the state may need upwards of 3,700 carpenters between 2014 and 2024, as many of the jobs lost during the recession return and many current carpenters hang up their tool belts and retire or change careers (see Table 3).
Table 3
Minnesota Short-term and Long-term Employment Projections for Carpenters
Occupational Title
Estimated Employment 4Q 2015
Projected Employment 4Q 2016
Percent Change 4Q 2015 - 4Q 2016
Numeric Change 4Q 2015 - 4Q 2016
Replacement Openings 4Q 2015 - 4Q 2016
Total Openings* 4Q 2015 - 4Q 2016
Carpenters
13,492
13,793
+2.2%
+301
+162
+463
Occupational Title
Estimated Employment 2014
Projected Employment 2024
Percent Change 2014-2024
Numeric Change 2014-2024
Replacement Openings 2014-2024
Total Openings* 2014-2024
Carpenters
19,727
21,153
+7.2%
+1,426
+2,270
+3,700
* Total Openings: the sum of employment increases and net replacements.Source: DEED Employment Outlook
Breaking Stereotypes
Data from DEED's Quarterly Workforce Indicators shows that the age, race, and gender profile of workers in the residential building construction industry, which employs one in every five carpenters, is changing. The percentage of workers under 25 years of age was cut nearly in half over the past decade, while the percentage of workers aged 55 years and over nearly doubled.
While 80 percent of the workforce is male, the number of female workers increased more quickly coming out of the recession. And although 96 percent of workers were white, the percentage of workers of other races increased from 2005 to 2015. Holding 2.5 percent of jobs, Hispanics are the largest minority group working in residential building construction in Minnesota (see Table 4). Data show that a new and more diverse workforce pipeline is building up across the state.
Table 4
Minnesota Workforce Demographics in Residential Building Construction (NAICS 2361)
Age Group
2Q 2015
2Q 2005

Number

Percent

Number

Percent

24 years & younger
1,208
11.1%
3,138
18.8%
25-54 years
7,740
70.8%
11,943
71.4%
55 years & older
1,981
18.1%
1,647
9.8%
Gender
Male
8,817
80.7%
13,405
80.1%
Female
2,112
19.3%
3,323
19.9%
Race and Origin
White Alone
10,498
96.1%
16,264
97.2%
Some Other Race
430
3.9%
463
2.8%
Hispanic or Latino
276
2.5%
322
1.9%
Source: DEED Quarterly Workforce Indicators