Minnesota Economic Indicators
by Dave Senf
April 2017
Note: All data except for Minnesota's PMI have been seasonally adjusted. See the feature article in the Minnesota Employment Review, May 2010, for more information on the Minnesota Index.
The Minnesota Index surged 0.7 percent in March, the largest monthly gain in over six years. The index, estimated by the Federal Reserve Bank of Philadelphia, combines four state-level indicators to summarize current economic conditions into a single statistic. The components of the index are nonfarm wage and salary employment, average weekly manufacturing hours, the unemployment rate, and wage and salary disbursements adjusted for inflation. The index is designed to be a monthly proxy for the state's gross domestic product (GDP).
Methodology changes to improve the production process and accuracy of the index were recently implemented along with benchmarking updates to data revisions. The revised index shows Minnesota's economy recovered quicker and earlier from the Great Recession than previously thought. Minnesota bottomed out in June 2009 and has increase 37 percent since. The U.S. index bottomed out in December 2009 and has increased 23.9 percent since. Based on the indices, economic activity declined 6 percent and lasted 16 months in Minnesota during the Great Recession. The Great Recession lasted 18 months nationally, dropping 4.6 percent.
Minnesota's index is up 29.1 percent from its pre-recession peak while the U.S. index is 18.2 percent higher. North Dakota's index is up 33 percent from it's pre-recession peak, while Iowa's is up 20.5 percent, South Dakota's is up 26 percent, and Wisconsin, which suffered the deepest recession, is up 18.7 percent.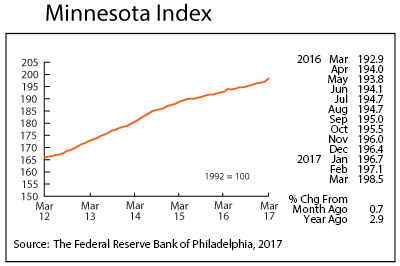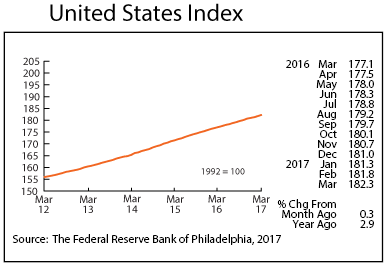 Minnesota's adjusted Wage and Salary Employment was up 0.2 percent for the second consecutive month in March. Minnesota employers added 5,300 jobs in March after having added a revised 6,200 jobs in February. All jobs created in March were private sector jobs with most jobs created in service-providing sectors. Private sector hiring is off to its best start since 2013 through the first three months of the year. Professional and Business Services, Leisure and Hospitality, and Financial Actives added the most positions while Educational and Health Services and Trade, Transportation, and Utilities reported the largest cutbacks. Mining and Logging recorded its largest monthly gain since June 2010. Manufacturing combined employment for the last two months is the largest uptick in hiring over a two month period since December 2014. Construction employment, after adding a near record monthly high in February, declined slightly in March.
Minnesota's unadjusted over-the-year job growth was 1.7 percent in March, topping the U.S. 1.5 percent gain. Minnesota's over-the-year job growth hasn't been higher than U.S. growth since July 2014 or 31 months ago. The 1.7 percent over-the-year jump in employment in Minnesota translates into 48,100 more jobs than a year ago. Despite the 3.8 percent unemployment rate Minnesota employers were able to step up hiring in March.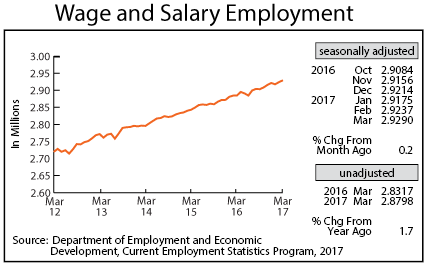 Online Help-Wanted Ads zigzagged up in March, increasing to 126,900. Online job postings climbed by 1.4 percent in Minnesota and 2.2 percent nationally.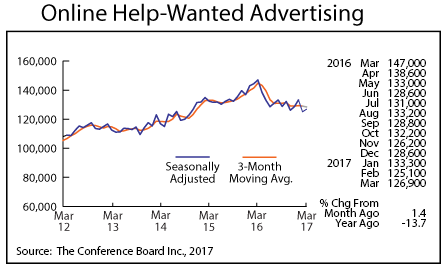 Minnesota's Purchasing Managers' Index (PMI) rose sharply for the third time over the last four months. March's 61.8 reading was the highest level since February 2015. The corresponding national and Mid-American indices both fell in March with the U.S. index coming in at 57.2 while the MidAmerican index slipped to 60.5. The most promising number from Minnesota's PMI was the employment component which rose to 64.5. This suggest that the recent pickup in manufacturing hire is likely to continue over the next six months.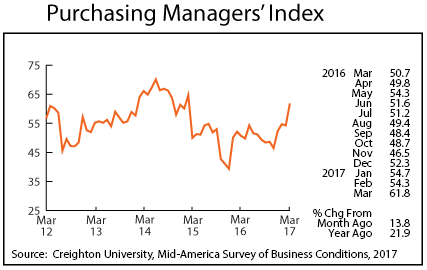 Adjusted Manufacturing Hours however, slipped to 40.9 hours in March. A good indicator of a robust manufacturing sector is when weekly hours in the sector approach 42 hours.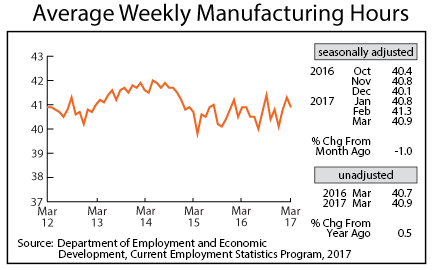 Average weekly Manufacturing Earnings climbed for the third straight month, increasing to $850.58. That was the fattest factory paycheck adjusted for inflation since May 2015 and up 5.2 percent from last year.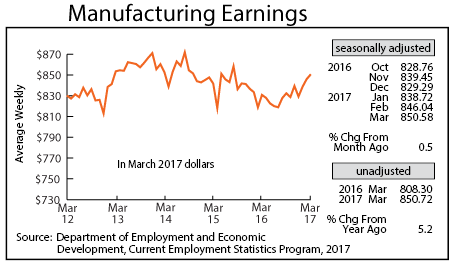 The revised Minnesota Leading Index skyrocketed in March to 2.88, the highest level since September 2011. The jump in the index suggests that Minnesota's economy will be gaining strength over the next six months.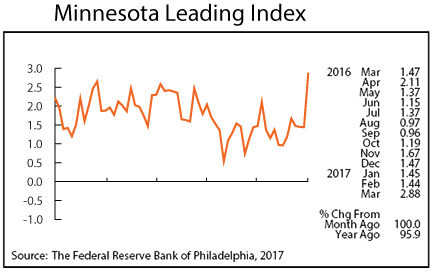 Although adjusted Residential Building Permits inched down for the second straight month, permit levels remained elevated compared to recent years. Home-building permit numbers through the first three months of 2017 are the highest in over a decade.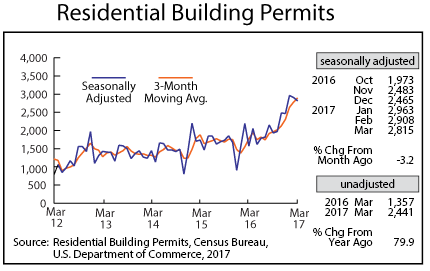 Adjusted Initial Claims for Unemployment Benefits (UB) spiked 13.7 percent in March to 17,231. The jump was expected since February's claim level was the lowest in 17 years and was most likely related to warm weather in February which reduced the usual uptick in construction related initial claims.