Minnesota Economic Indicators
by Dave Senf
david.senf@state.mn.us
January 2018
Note: All data except for Minnesota's PMI have been seasonally adjusted. See the feature article in the Minnesota Employment Review, May 2010, for more information on the Minnesota Index.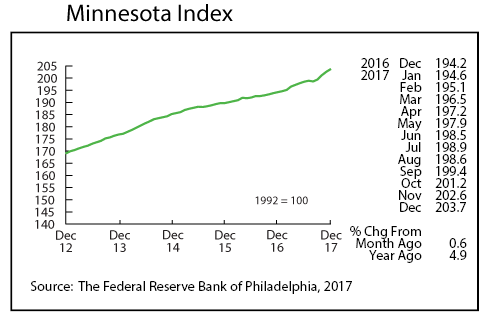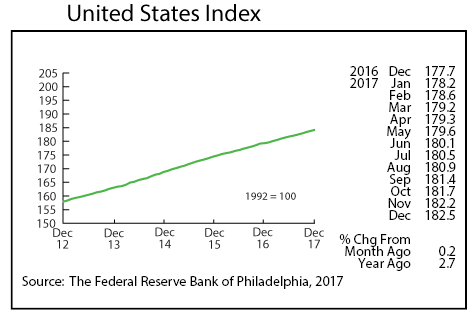 The Minnesota Index spiked again in December, advancing 0.6 percent. Over the last three months the index has increased on average 0.7 percent which is the highest three-month average since early 1994. The index's advance was powered by another drop in the unemployment rate which fell from 3.2 percent to 3.1 percent in December, increasing wage and salary employment, a bump in average weekly manufacturing hours, and rising paychecks. The U.S. index advanced 0.2 percent.
Minnesota's index was up 4.9 percent over the year which was the highest gain since August 2014. The index's over-the-year growth rate slowed in 2016, reaching a low of 2.0 percent in June 2016. Since then the state's economy has gained momentum aided by a rebounding Manufacturing sector. The U.S. index over-the-year growth in December was 2.7 percent. Minnesota's index trailed the national index during the first half of 2017 but raced ahead during the second half of the year.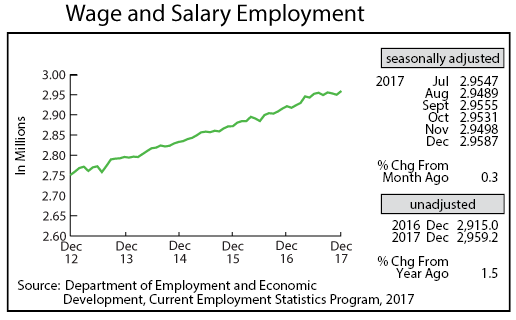 Minnesota's adjusted Wage and Salary Employment rose for the first time in three months in December, adding 8,900 positions. Private sector employment increased by 8,700 jobs while public sector employment was up 200 jobs. The private sector job gain was the highest since April. Job growth was strong in Construction, Educational and Health Services, Leisure and Hospitality, and Trade, Transportation, and Utilities. Professional and Business Services and Other Services cut the most jobs.
Minnesota's unadjusted over-the-year job growth increased to 1.5 percent in December, matching the unadjusted U.S. job growth. Minnesota's annual average job growth for 2017 was 1.7 percent compared to 1.6 percent for the U.S. Last year's employment numbers, however, will be revised over the next few months and released in March as survey data are compared to actual unemployment insurance employment records. Early indications suggest that Minnesota's job growth will be revised downward for 2017 and fall below the U.S. rate for the fourth year in a row.
Annual average 2017 job growth for Minnesota's neighbors before the coming benchmarking was 1.0 percent in Iowa, 0.7 percent in North Dakota, 0.9 percent in South Dakota, and 1.2 percent in Wisconsin.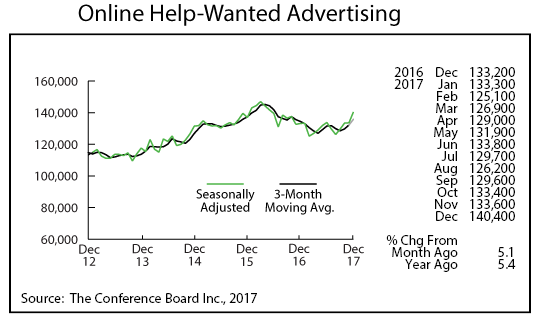 Online Help-Wanted Ads climbed in December to 140,400, the highest level since May 2016. Online job postings increased 5.1 percent in Minnesota while nationwide postings jumped 5.2 percent. Minnesota's share of U.S. online help-wanted ads inched down to 2.8 percent from 2.9 percent. The state's share of wage and salary employment in December remained at 2.0 percent. Minnesota's share of nationwide online help-wanted ads continues to be disproportionately higher than its share of national employment.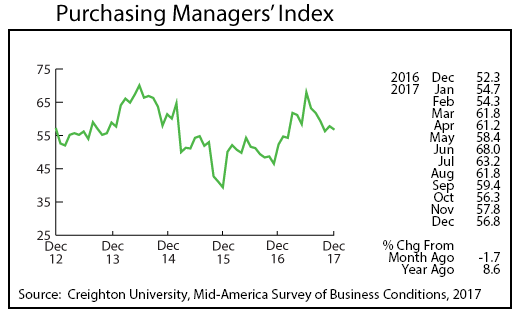 Minnesota's Purchasing Managers' Index (PMI) zigzagged down in December, tailing off to 56.8. The index has been slipping since peaking early in 2017, indicating that Minnesota's manufacturing activity, after having accelerated in the first half of 2017, has settled into a steady healthy expansion path. The corresponding national index increased to 59.7 while the Mid-American index rose to 59.0.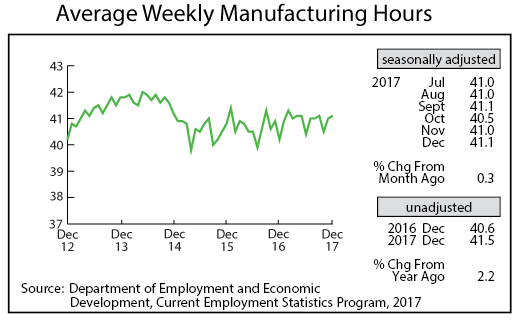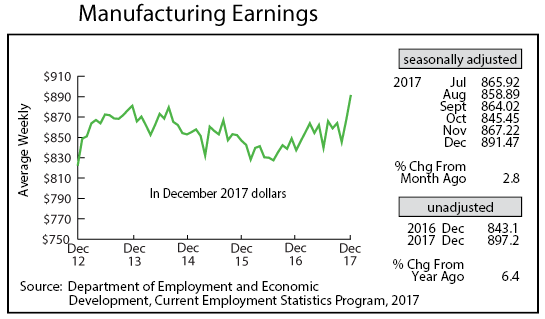 Adjusted Manufacturing Hours rose for the second straight month to 41.1 in December. The factory workweek for 2017 average 41.0 hours up from 40.6 and 40.7 in 2015 and 2016 but short of the 41.7 hours averaged in 2014. Average weekly Manufacturing Earnings skyrocketed in December to $891.47. That is the highest real factory paycheck ever recorded over the 47-years of manufacturing earnings data. December's real earnings topped the previous high of $887.24 recorded in March 2016. Annual average manufacturing earnings were up 2.7 percent in real terms from 2016.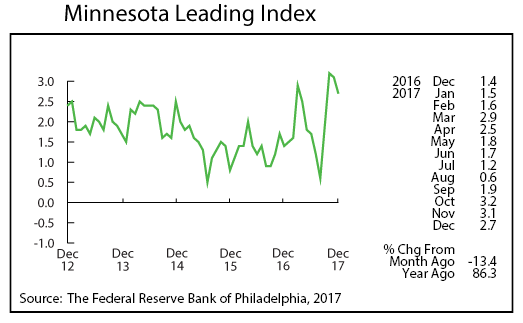 The Minnesota Leading Index dipped in December for the second consecutive month to 2.7 but remains elevated by historical standards. The high reading suggests robust economic growth in Minnesota during the first half of 2018. The leading index, however, is based on several indicators - wage and salary employment and unemployment rate - that will be revised early in 2018.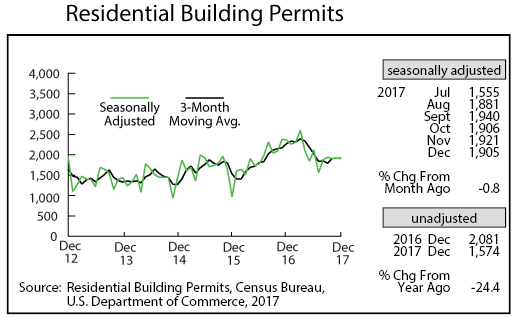 Adjusted Residential Building Permits edged down slightly to 1,905 in December. Home-building permits have been essentially flat since August. Building permits in 2017 topped 2016 but by just 4.2 percent after having increased 20.5 and 15.3 percent respectively in 2015 and 2016.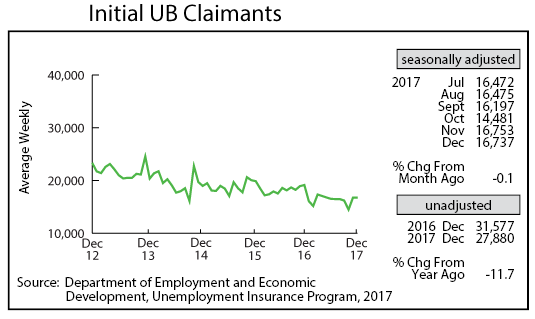 Adjusted Initial Claims for Unemployment Benefits (UB) inched down to 16,737. Initial claims for all of 2017 were 10.9 percent lower than the 2016 total. Initial claim levels have dropped for eight straight years which is easily the longest streak of falling annual initial claim totals. The previous longest streak was only four years long, 1996-1999.