Minnesota Economic Indicators
by Dave Senf
February 2017
Note : All data except for Minnesota's PMI have been seasonally adjusted. See the feature article in the Minnesota Employment Review, May 2010, for more information on the Minnesota Index.
The Minnesota Index, U.S. Index, and Minnesota Leading Index are generated by the Philadelphia Federal Reserve Bank. At the beginning of each year the indices are delayed by two months as revised component numbers are used to recalibrate the indices. Updated coincident indices are scheduled for release on April 3 ( https://www.philadelphiafed.org/research-and-data/regional-economy/indexes/coincident) while leading indices will be released April 6 (https://www.philadelphiafed.org/research-and-data/regional-economy/indexes/leading/)
---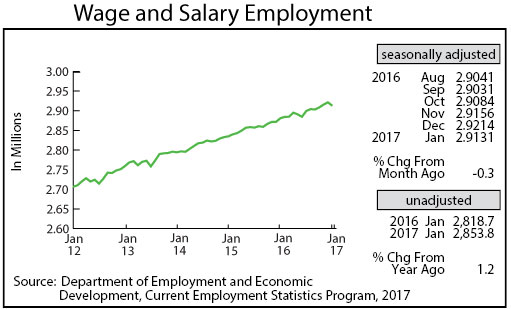 Minnesota's adjusted Wage and Salary Employment, after climbing on average 6,100 jobs each month during the last half 2016, decreased by 8,300 jobs in January. The private sector shed 5,600 jobs while public sector payrolls shrank by 2,700. Job loss was heaviest in Trade, Transportation, and Utilities, Professional and Business Services, Government, and Manufacturing. Job growth was the strongest in the Other Services and the Leisure and Hospitality sectors.
Minnesota's unadjusted over-the-year job growth ticked up a notch to 1.2 percent. Nationally unadjusted over-the-year job growth was 1.5 percent for the second straight month. Minnesota has now trailed U.S. job growth for 30 consecutive months when viewed from the year-over-year perspective.
Minnesota wage and salary employment slipped a bit last year as revised employment numbers show average annual job growth in 2016 at 1.4 percent compared to 1.5 percent in 2015. The 39,700 jobs added last year were down slightly from the 42,500 added in 2015. The average job gain over the last six years was 43,000. Annual average job growth between 2002 and 2007, the seven year period between the 2001 recession and the Great Recessions, was only 12,100.
Minnesota's annual average job growth has lagged behind the national pace since 2014. The job growth gap declined last year as U.S. job growth dipped from 2.1 percent in 2015 to 1.7 percent in 2016. Job growth nationally may be slowing as labor markets across the country tighten up. The U.S. unemployment rate was 4.8 percent in February while Minnesota's rate has been below that since late 2013. Finding workers to hire has been a problem for Minnesota employers for several years.
Minnesota's 1.4 percent annual average job gain last year tied Wisconsin for 25th fastest growth among states. Oregon topped the nation with 3.4 percent growth while Wyoming brought up the rear with a 3.1 percent decline in jobs. Minnesota had the same growth rate as Wisconsin, trailed South Dakota (1.8 percent), and topped Iowa (1.2 percent) and North Dakota (-2.9 percent).
---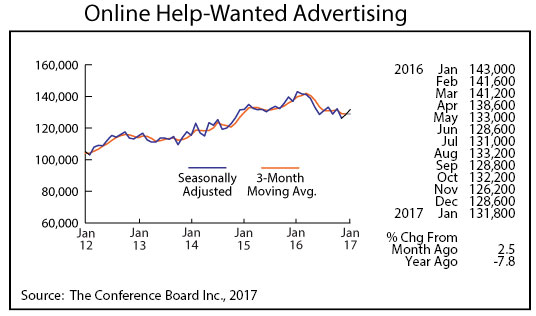 Online Help-Wanted Ads rose for the second straight month to 131,800. Online job advertising climbed 3.7 percent in Minnesota while tailing off 0.4 percent nationally. Job adverting in Minnesota, however, remained below last year's level for the eighth consecutive month. Help-wanted ads are off 6.8 percent from a year ago in Minnesota and 14.0 percent nationally. The decline seems inconsistent with broader trends in labor markets. The Conference Board, which produces the job posting numbers, announced that they are reviewing their methodology to insure accuracy and alignment with job market trends.
---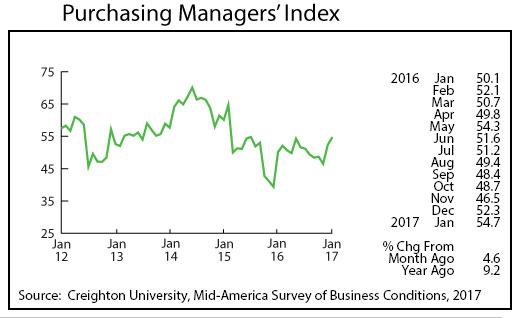 Minnesota's Purchasing Managers' Index (PMI) continued to rebound in January, increasing for the second straight month to 54.7. The index hasn't been this high since January 2015. The increase suggests that manufacturing activity in the state is beginning to gain some steam after having sputtered for most of 2016. Manufacturing employment increased by only 0.1 percent last year after having jumped 1.7 percent in 2015.
---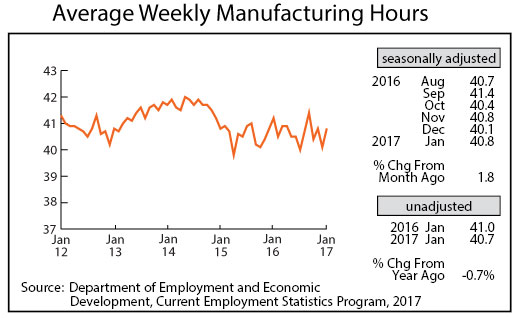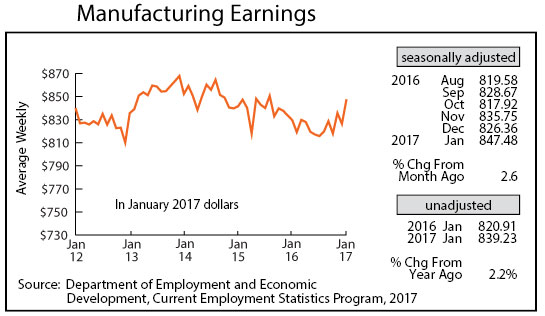 Adjusted Manufacturing Hours increased to 40.8 hours in January which was consistent with the uptick in the PMI index. Average weekly Manufacturing Earnings also pointed to a pickup in manufacturing as earnings spiked in January to $847.48. That was the largest factory paycheck in 17 months and the first time in two and a half year that manufacturing earnings, adjusted for inflation, were up over the year.
---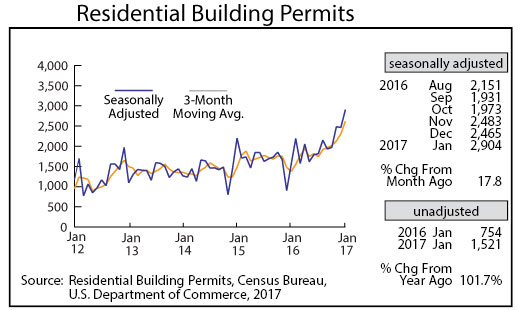 Adjusted Residential Building Permits spiked for the second time in three months, sending permits to levels not seen since March 2006. January's jump to 2,904, which may in part be due to a warm winter, is another indicator that home building in the state is nearing historical norms after slowly rebounding from the housing bust in 2005.
---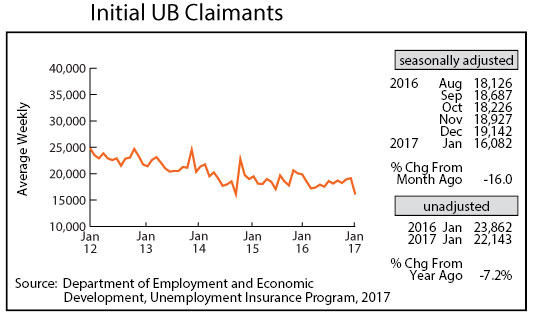 Adjusted Initial Claims for Unemployment Benefits (UB) plunged to 16,082 in January, the lowest level since June 2000. The mild winter weather is most likely behind some of the drop, but initial claims levels below 16,000 were common during the late 1990s, averaging 15,700 monthly between 1998 and 1999. Employers have become more reluctant to let workers go given how hard it is to find new workers.