Good Food, Good Meat, Good Grief, Let's Eat
by Luke Greiner
November 2016
With the Holiday season in full swing it's hard to ignore a common theme, food. Gathering around meals to share time with family and friends is as old as civilization, although the types of food we eat, where it comes from, and how it's produced is much less nostalgic.
Many religious and cultural holidays occur during this time of year. Three - Thanksgiving, Christmas, and New Year's - are also designated as federal holidays.
This article will explore how Central Minnesota contributes to the variety of holiday feasts across the country.
Pass the Protein Please!
Livestock and poultry are crucial to the holiday meal centerpiece and the economy of many families. Production estimates from the U.S. Department of Agriculture in 2016 once again placed Minnesota as the top turkey producing state in the country, with 44 million turkeys raised. Much of Minnesota's dominance in turkey production is because of Central Minnesota growers, specifically in Kandiyohi and Stearns County which rank fourth and fifth in the nation, respectively (see Figure 1). Central Minnesota turkey growers produced over 5 million head during the last Agricultural Census in 2012, but turkeys aren't the only bird grown in large numbers in the region.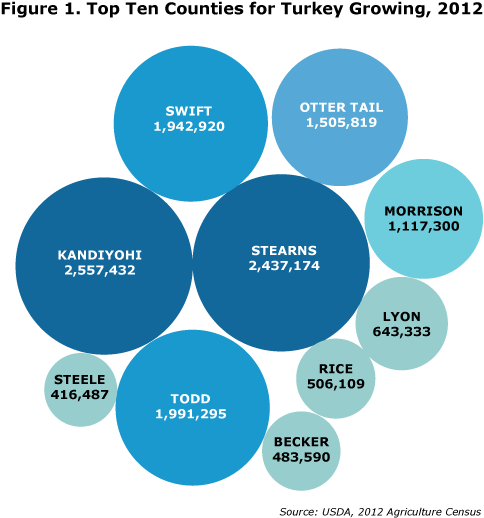 Chicken production is also significant in Central Minnesota. The most recent inventory for all types of chickens grown in the region was 4.69 million head. Stearns County is second only to Morrison County (4.56 million) in chicken inventory at 3.43 million head.
If beef is what's for dinner, Central Minnesota can help. Central Minnesota is home to an estimated 528,300 head of cattle, the largest inventory in the last decade. The cattle and calf inventory includes all milk cows and all calves, heifers, steers, and bulls. As of January 2016 Stearns County had an estimated 240,000 head of cattle, more than twice as many as Morrison County, which had the second most in the state.
Hog operations aren't as dominant in Central Minnesota as they are in the counties in the Southwest region of the state, although it's still more than enough to supply the bacon for breakfast. Renville County had the largest hog inventory in Central Minnesota and is ranked 10th in the state with 1.77 million head as of 2012. In total, Central Minnesota had 3.65 million hogs in 2012.
The volume of livestock in Central Minnesota provides economic opportunities beyond just feeding and caring for animals on the farm. The animal slaughtering and processing manufacturing sub-sector has been growing faster than the overall economy, enjoying 7.3 percent employment growth from 2005-2015. Since 2005, 261 new jobs were added to bring the total employment in animal slaughtering and processing to 3,837 jobs. Average annual wages for animal processing jobs was $38,116 in 2015, slightly below the average wage for all jobs in Central Minnesota.
The animal processing manufacturers in Central Minnesota were not immune to the effects of the Great Recession. After peaking in 2008 with 3,838 jobs, animal slaughtering and processing employment shed 434 jobs by 2011. Since bottoming out in 2011, Central Minnesota animal processing facilities now have just one job less than the previous peak (see Figure 2).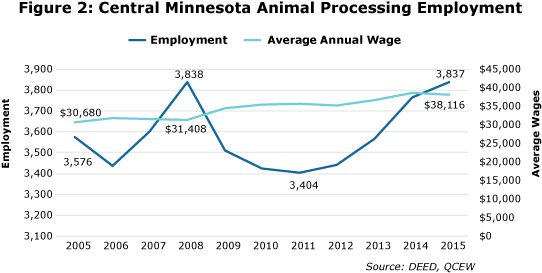 Diverse workforces have become more common at animal slaughtering and processing establishments in Central Minnesota. Many new immigrants have found employment in the industry for decades, leading to a changing share of diversity. In 1995 white employees held 92.4 percent of jobs in animal processing, but that has since decreased to 83.5 percent in the region.
The most pronounced workforce change in the industry has been the number of black workers. In 1995 only 1.2 percent of regional jobs in the industry were held by blacks, but fast-forward to 2015 and roughly one-in-ten jobs are held by blacks. However, blacks still hold far fewer jobs than Hispanic or Latino workers, who comprise 24.5 percent of employment in the animal processing industry in Central Minnesota.
Although the animal processing industry has a history of being more diverse, it still outpaces the demographic changes found in the general economy by a fair margin. Overall, 97.7 percent of all Central Minnesota jobs in 1995 were held by whites, but that dropped to 94.7 percent in 2015.
Farming for a Feast
Corn and beans are delicious and nutritious table fare, but they are even more crucial to the diets of livestock in the region. The large numbers of animals in Central Minnesota require huge amounts of feed. Corn raised for silage, where the entire plant is chopped for feed, is directly correlated to the number of cattle in the region, so it's no surprise that Stearns County produces more silage than any other county in the state to feed its impressive cattle herd. Altogether Central Minnesota produced 1.67 million tons of silage in 2012, half of which came from Stearns County alone.
Renville County is the top producer in the state of a more common corn product, whole kernel corn. In 2012 Renville produced about a quarter of the 192.9 million bushels from Central Minnesota. Nationally, more than 95 percent of the corn produced is used for livestock feed. However, the uses of corn are vast, and it can be converted into other products like ethanol fuel, starch, sweeteners, oil, and beverage or industrial alcohol. When corn is dry milled, the end products are more commonly found in the pantry - corn flakes, corn flour, grits, and corn meal.
Minnesota is the third largest producer of soybeans in the nation at 380 million bushels, behind Illinois and Iowa. About half of Minnesota's soybeans are processed into meal for livestock feed, the other half is exported overseas. Central Minnesota produced roughly 40.9 million bushels of soybeans in 2015.
It's no surprise, given the quantity of livestock and crops raised in Central Minnesota, that there are more jobs in animal food manufacturing than any other region of the state. After adding 172 new jobs, animal food manufacturing grew 39 percent from 2005 to 2015, substantially higher than the 6.6 percent growth for all industries in Central Minnesota. With 615 jobs in 2015, average annual wages were also climbing, ending 40 percent higher in 2015 than in 2005, outpacing wage growth for all jobs by 10 points.
Although 2012 Ag Census data show that 1.33 million bushels of wheat were produced in Central Minnesota, it pales in comparison to the Northwest region of the state where 16.5 million bushels were produced in Polk County alone. Fortunately, Central Minnesota still has nearly 700 jobs in bakery and tortilla manufacturing, more than any other region in Greater Minnesota. Though the remaining bakeries are remnants of a different agricultural landscape, the industry continues to show modest job growth. Wheat production numbers also pale in comparison to the late 1970's and early '80's, when wheat production in Central Minnesota topped 10 million bushels.
Finally, Central Minnesota farmers produced 343.9 million pounds of dry edible beans in 2012 from more than 15,000 acres. Dried edible beans are further processed as dry beans for retail sales or rehydrated and canned.
Sweet Tooth?
Everything from candy canes to dessert bars rely on an irresistible cooking staple, sugar. In 2015 Minnesota produced roughly 12 million tons of sugar beets, nearly twice as much as the second largest producer in the country, Idaho with 6.3 million tons. The perfect combination of proper soil and rainfall combined with long cold winters allows the Red River Valley to be the largest sugar beet producing region in the nation. But in 2012 Central Minnesota produced 3.83 million tons of sugar beets from harvesting more than 140,000 acres of sugar beets. Renville County ranked third in the state at 2.5 million tons in 2012.
Giving Thanks
This holiday season Central Minnesotans can be thankful for both its leading role in producing food, as well as the numerous jobs that support, process, and sell food. This year consider the energy, logistics, and resources it takes to create your favorite holiday meal.

Thanksgiving: The first Thanksgiving was held at the Plymouth Plantation in Massachusetts in 1621, 395 years ago. Unlike nearly all Thanksgivings of today, the first was truly a feast, lasting for three entire days. The celebration was the result of a bountiful harvest following a brutal first winter. Without help from Native Americans it's certain the pilgrims would have had nothing to celebrate since survival hinged on cultivating and acquiring foodstuff. Turkey is synonymous with Thanksgiving, but it's not known if it was actually eaten during the first Thanksgiving. A letter penned by colonial leader Edward Wilson outlines the inaugural feast menu: goose and duck, venison, fish, shellfish, and cornbread.
By 1789 George Washington issued the first Thanksgiving proclamation to express gratitude for the successful outcome of the revolutionary war and ratification of the U.S. Constitution. In 1941 congress specified that Thanksgiving will officially be the fourth Thursday of November.
Christmas: The act of June 28, 1870, provided that New Year's Day, Independence Day, Christmas Day, and any day appointed or recommended by the President of the United States is a day of public fasting (sic) and thanksgiving. Christians celebrate the holiday as the birth of Jesus. Many traditions, however, including the holiday dinner, are observed by others who are not religious or Christian all over the world. Special foods and treats remain very popular around the holiday season for many. The traditional Christmas menu is very similar to Thanksgiving, with turkey or ham, potatoes, baked bread, bars, cookies, and other desserts. Immigrants from all over the world have contributed to a diverse mix of holiday food ranging from English Spotted Dick and Norwegian "Berlinerkranser" to German "Pfeffernuesse."
New Year's Eve: For at least four millennia civilizations have been celebrating New Year's. The variety of traditions range from wearing special clothes to releasing birds and turtles for good luck. In America New Year's Eve is a multicultural celebration, the most popular food and drinks depend upon the culture of those celebrating. However, Champagne epitomizes the modern American New Years.
Bibliography
History of Christmas Feasts: www.bbc.co.uk/victorianchristmas/history.shtml
www.historytoday.com/maggie-black/common-room-christmas-dinner-1773
www.senate.gov/reference/resources/pdf/Federal_Holidays.pdf
usa.usembassy.de/holidays-xmas.htm
https://usa.usembassy.de/etexts/hol/celebrate_christmas.pdf
History of Thanksgiving: http://channel.nationalgeographic.com/saints-and-strangers/articles/what-they-ate-on-the-first-thanksgiving/
www.history.com/topics/thanksgiving/history-of-thanksgiving
Corn uses: www.ers.usda.gov/topics/crops/corn/background.aspx
Soybean Stats: https://www.ers.usda.gov/topics/crops/soybeans-oil-crops/related-data-statistics/
https://mnsoybean.org/msrpc/about-soy/production-facts/
Sugar beets: https://www.ers.usda.gov/topics/crops/sugar-sweeteners/background/