Industry Snapshots
by Luke Greiner
April 2020
NAICS 623 – Nursing and Residential Care Facilities
With an aging population to care for, the Nursing and Residential Care Facilities sector experienced much faster growth than the broader economy during the first 10 years of the new millennium, but since 2011 has grown at a slower pace, lagging the overall economy in employment growth. With 111,629 jobs at 2,905 establishments, almost 4 percent of jobs in Minnesota are at Nursing and Residential Care Facilities. Greater Minnesota, however, has significantly higher concentrations of employment in the sector, a reflection of an older population and a less diverse mix of industry employment compared to the Twin Cities Metro. Northeast Minnesota has the highest share of employment in the sector. At 7.7 percent it has more than double the employment concentration in the Twin Cities Metro.
Women dominate the employment landscape in Nursing and Residential Care, holding 79.4 percent of all jobs in the sector in 2018. The trends are not showing much change with jobs held by women down just 1.4 percent since 2003. Since 2009 the median wages for jobs held by women was higher than the jobs held by men in the industry, albeit a modest 23 cents in 2018 (see figure below).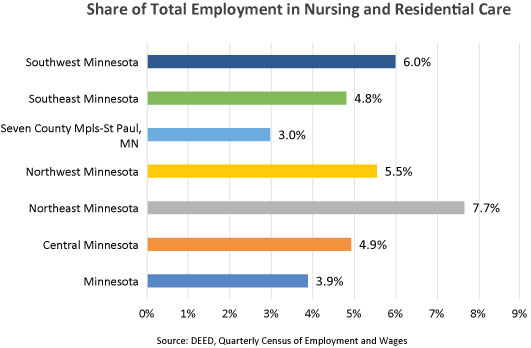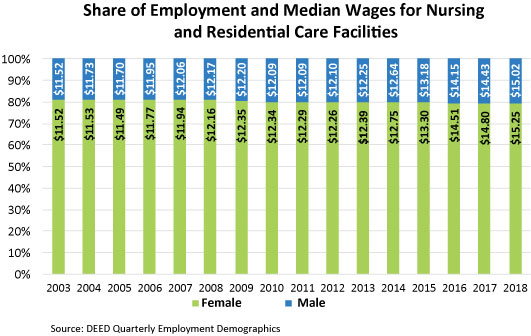 NAICS 519 - Other Informational Services
With a vague title, the Other Information Services industry includes information services that are not classified elsewhere. The industry benefits from further explanation of what's included: news syndicates, libraries and archives, internet publishing and broadcasting and web search portals, and all other information services. A modest industry by size, statewide employment had just 5,261 jobs from 1,045 employers in 2018. Establishments are relatively small in terms of employment, averaging just five jobs per establishment compared to more than 16 for the broader economy.
Because of suppressions in the data, historical trends are spotty at best, but connecting the dots between years that are available, it appears that the industry has enjoyed growth throughout the last two decades, growing six times faster than the overall economy in Minnesota. Wages also increased quickly, outpacing overall wage growth three times over, increasing from below average at $22,360 in 2000 to above average at $64,116 in 2018.
Projected employment growth varies depending on the region. Minnesota is expected to see 39 percent growth in the sector, but only two regions are projected to contribute positive employment gains – the Twin Cities Metro area and Northwest Minnesota. Keeping in mind that nearly 90 percent of employment in the Other Information sector is contained in the Twin Cities Metro area, the explosive growth in Northwest Minnesota will contribute only 129 new jobs for the region (see figure below).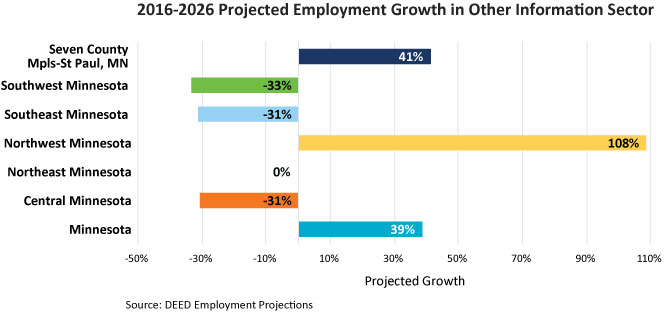 NAICS 322 – Paper Manufacturing
Thanks to the abundant forests in the northern half of Minnesota, the timber industry spurred growth in related sectors of the economy, including Paper Manufacturing. With proximity to pulp that could be converted into paper, the industry thrived to help meet the paper demands beyond the borders of our state and country. A long and steady decline in employment, however, has changed the face of many of the facilities across Minnesota.
Since 2000, paper manufacturing establishments have shed 43 percent of their jobs, from 15,582 to 8,838 in 2018. While the jobs that remain are compensated at higher rates, wage growth still lagged the overall wage growth in Minnesota's economy. A bright spot in the employment landscape is Southeast Minnesota, where employment in the industry has surged by 42 percent in the most recent four years, ending 2018 with 538 jobs, a record high since 2000 (see figure below).
Minnesota's projected employment for Paper Manufacturing shows more of the same trends for the industry, with an 11.2 percent decline projected from 2016-to-2026. Employment is expected to decrease to 8,270 jobs by 2026. In Southeast, Northwest, and Central Minnesota, however, employment in the industry is expected to grow faster than their respective regional economy. In the Twin Cities, where roughly half of the paper manufacturing jobs are located, employment is expected to decline by a whopping 21.4 percent.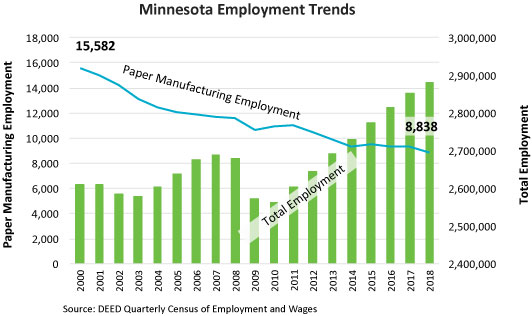 NAICS 711 - Performing Arts, Spectator Sports, and Related Industries
NAICS 711 contributes more than 12,200 jobs to Minnesota's economy, 87 percent of which are in the Twin Cities Metro area. In a nod to the differences in opportunities between regions, the average annual wage in the Twin Cities was $89,180 in 2018, while the highest average wage in Greater Minnesota was in Southeast Minnesota, at $18,200. This wage disparity of nearly five times higher wages in the Twin Cities is significant, but considering that this sector includes professional athletes, this large difference seems more reasonable since Minnesota's professional sports teams are located there.
Employment growth in the sectors has exceeded overall employment growth in 15 of the last 19 years, including the most recent year where employment growth in the sector outpaced overall employment growth five times over (see figure below).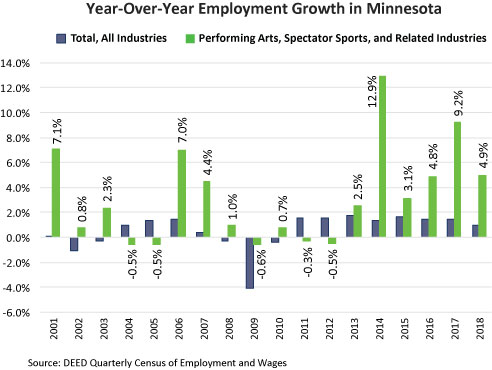 Employment in the Performing Arts, Spectator Sports, and Related Industries has just slightly more men than women, with men holding 55.7 percent of the jobs. Median wages for men were substantially higher than women, at $19.89 compared to $14.92 for women. Meanwhile, women worked slightly more, with a median of 69 hours worked per quarter compared to 65 for men. The hours worked in this sector are quite low compared to the broader economy where jobs are typically worked for 425 hours per quarter or 1,700 hours per year in 2018.