E is for Electrician
by Erik White
May 2016
The number of electricians in Minnesota has rebounded as the state has recovered from the 2007-2008 recession. With the downturn of new housing and commercial construction that followed from the market crash, there was less demand for this occupation, and perhaps, but hopefully not, people resorted to saving money by performing their own electrical work and not hiring licensed professionals. There are currently 11,240 electricians in the state which is near the pre-recession peak employment and over a 20 percent increase since 2010 with close to 2,000 new electricians.
Electricians perform essential work as all modern amenities rely on harnessing and utilizing electricity. They install, maintain, and repair electrical wiring, equipment, and fixtures, while ensuring that work is in accordance with relevant codes. While on the job, electricians connect wires to circuit breakers, plan the layout and installation of electrical wiring based on specifications, inspect electrical systems to ensure safety and compliance with codes, and use a variety of tools and equipment to perform the various tasks.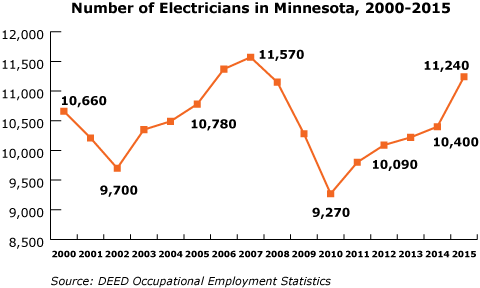 While electricians typically need only a high school diploma or equivalent, there is considerable on-the-job training that is achieved through apprenticeships, coursework, and testing. Formal training is done through an electrician apprenticeship program where classroom courses and worksite experience is offered. Vocational schools offer programs for aspiring electricians too, but one still needs to participate in an apprenticeship program to get the on-the-job skills that are required. In the Arrowhead region, for example, Lake Superior College and Hibbing Community College offer A.A. programs for prospective electricians, while Fond du Lac Tribal Community College offers an Electrical Utility Technology program for those interested in a career in installing electrical power lines.
After a year or so of training and classes, assigned work is offered under the close supervision of a journeyman electrician, and it takes at a minimum of 48 months of experience for an apprentice electrician to graduate into a journeyman electrician and 60 months to become a master electrician. When apprentices meet the experience requirements, they next have to apply for and pass the appropriate exam in order to become officially licensed and allowed to work on their own.
Wage Range for Electricians in Minnesota, 1st Quarter 2016
Percentiles
Mean
10th
25th
Median
75th
90th
Minnesota
$28.52/hr
$15.69/hr
$19.52/hr
$29.17/hr
$35.98/hr
$41.79/hr
Source: DEED Occupational Employment Statistics
The median wage for electricians is $29.17 or a little more than $60,000 a year. Those that are still in an apprenticeship program can expect to make less than the median wage, but still make $16-$20 an hour, a good wage for entry level work. Higher wages are out there for those who skill up in the trade, and electricians may also benefit from prevailing wages set for those electricians who work on a state-funded project. Prevailing wages are set by the state's Department of Labor and Industry and are determined by the average pay in the area for the particular service where the project is located so there will be geographic differences in wages offered. For example, an electrician working on a new building for the University of Minnesota Duluth campus would have a basic pay rate of $35.01 while electricians that worked on a publically finance sports stadium in Minneapolis would earn the prevailing rate of $39.81, neither rate including the fringe benefit rate that is also part of prevailing wages.
Not only are the wages good in this trade, there are also plenty of opportunities for employment. DEED's most recent Job Vacancy Survey for 4th Quarter, 2015, reported 504 job vacancies for this occupation statewide. The current market for electricians is charged with hiring activity and the future outlook remains positive too.
Electrician Employment Projections, 2014-2024
Estimated Employment 2014
Projected Employment 2024
Percent Change 2014 - 2024
Numeric Change 2014 - 2024
2014 - 2024 Replacement Openings
2014 - 2024 Total Openings
11,081
12,257
10.60%
1,176
1,690
2,870
Source: DEED Employment Outlook
According to DEED's Employment Outlook data program, the number of electricians in Minnesota is expected to increase by 10 percent from 2014 to 2024. This would result in a gain of more than 1,100 new electricians during this time frame. Along with new electricians, there will also be a need to replace those that leave the occupation for retirement or other reasons, and taken altogether there will be close to 3,000 total openings for future electricians.