From Staffing to Recruitment
The Employment Services Industry in Central Minnesota
by Luke Greiner
May 2016
Employment Services is an unusual industry that serves many other industries rather than being distinguishable by its own unique occupations. While nurses are distinguished in the Health Care industry, Employment Services provides many different occupations to a wide variety of industries. Common occupations range from customer service representatives and secretaries to assemblers and hand material movers.
Central Minnesota is home to 2,538 Employment Services jobs through the third quarter of 2015, down from its employment high of 3,154 during 2013. The Employment Services industry represents just 0.9 percent of all jobs in the region, less than half the share found across Minnesota (2.2%).
The Employment Services industry is made up of three different smaller sectors:
Employment Placement Agencies where the firm helps find permanent employees for firms
Temporary Help Services where the firm provides temporary help that is not on the payroll of the company where they work but the temporary help agency that placed them
Professional Employer Organizations : Primarily engaged in providing human resource management in a wide range of HR and personnel management duties to clients.
Although most quarters have suppressed employment data in Central Minnesota for employment placement agencies and professional employer organizations, the bulk of employment in the broader Employment Services industry is temporary help which is large enough to be disclosed. Federal and state law require that data be suppressed to prevent revealing private sector individual firm data.
Temporary help services made up about 95 percent of all jobs in the Employment Services industry during the first three quarters of 2015*, up significantly from a decade ago when temporary services was only 71 percent of employment services total employment.
*Note: Fourth quarter QCEW data have not yet been released at the time of publishing, for historical comparisons the first three quarters are used to maintain consistency of employment data.
Following years of economic expansion in the mid 2000's the Great Recession dramatically changed the composition of the Employment Services industry. By 2008 the share of Employment Services jobs in temporary help dipped to just 66 percent. As the overall economy slumped into the recession, Central Minnesota lost 4.6 percent of all jobs in 2009 while Employment Services declined by 45.7 percent. Temporary help services declined by 26.7 percent during that period implying the largest losses of jobs were experienced in the other two smaller sectors of Employment Services - placement agencies and professional employer organizations (see Figure 1).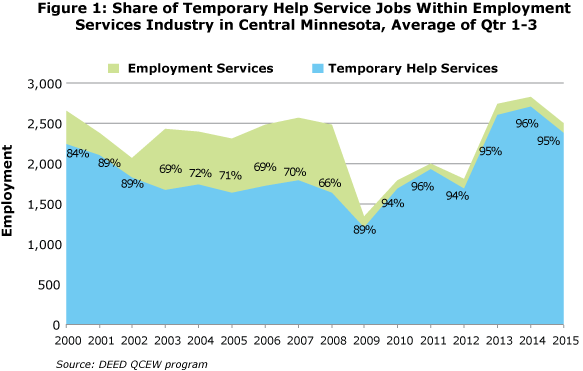 Although temporary help services now dominates the Employment Services industry it remains a relatively small industry in Central Minnesota's economy compared to that of the state. Only 0.9 percent of employment is found in temporary help services whereas Minnesota maintains about 2 percent of total employment in the industry.
Moving On
The shift towards more temporary help service employment has not impacted average annual wages, contrary to common perceptions. Although they are still much lower, average annual wages have increased substantially faster in Employment Services and its sub industry, temporary help, compared to overall average wages.
Strong wage growth in Employment Services has helped close the gap found in the industry, but it's still far from being a high paying industry. By 2015 the average annual wage was $23,781 or 61 percent of the average annual wage for all industries in the region, closing the gap 10 points from 2007 when the average annual wage was $17,264
First appearing in 2009 in the final year of the recession and the first year of the recovery, average annual wages increased 17 percent for the Employment Services industry while the average annual wage across Central Minnesota increased by 0.6 percent. Lower average wages in the Employment Services industry is highly correlated to both the most common occupations found in the industry as well as the nature of temporary staffing (see Figure 2).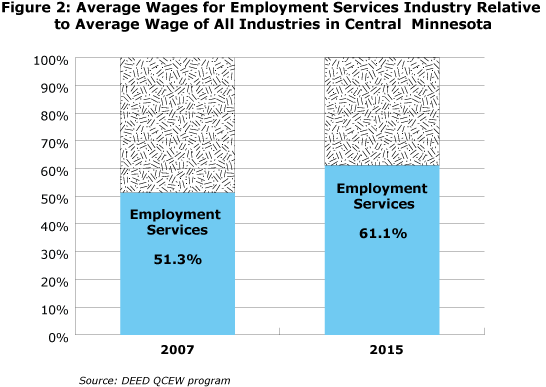 Workers employed by the Employment Services industry, specifically temporary help services, commonly fill entry level occupations and after a period of time are hired by the company where they were placed. Temporary help service companies negotiate wages and charge a fee for supplying labor. Since there is an incentive for both companies to employ a temporary worker, contracts are typically negotiated for work duration among other details. If the client company wants to employ the temporary worker before his/her contract has expired, the contract must be "bought out" from the temporary help service business.
This type of relationship not only provides a crucial service for companies to help staff vacant positions, but it also skews the average wages in the employment services industry. Because many workers gain entry level jobs, the Employment Services industry also has higher job mobility rates compared to other industries. Inevitably many workers gaining entry level employment are promoted and work their way up the career ladder long after leaving a staffing or employment agency. Although this situation regularly plays out, not all employment in the employment services industry are entry level. Employment Service businesses also provide mid- and professional-level workers for hard-to-fill job openings.
According to Quarterly Workforce Indicator data the rate of turnover in the Employment Services industry was 29.1 percent by the second quarter of 2014 compared to 8.2 percent for all industries in the region. Although turnover rates fluctuate with economic cycles, the changes are more dramatic in Employment Services. The highest turnover rate on record occurred back in 1999 at 35.3 percent. As recently as 2010, however, the rate rose to 33%. The most current turnover rate of 29.1% would also seem high, but it's only 2 percentage points above the average from 1995-2014 (see Figure 3).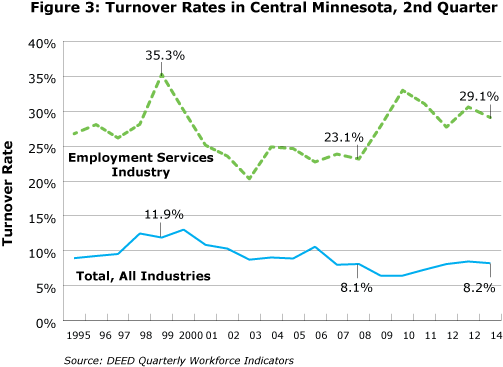 Matching the Mix Up
Production occupations are commonly found in the Employment Services industry as manufacturers are inclined to utilize staffing agencies and temporary help businesses to mitigate fluctuating demand for goods. Roughly a third of assemblers and fabricators, metal and plastic workers, and all other production worker jobs are found in the Employment Services industry. However, the most numerous occupation in the employment services industry is the laborers and freight, stock, and material movers, hand. Nearly one-in-five material, freight, and stock movers are found in the employment services industry providing roughly 700 jobs in central Minnesota of 3,630 material, freight, and stock mover jobs in the region.
The median wage hourly for all occupations in Central Minnesota is $16.90 but the most common occupations in Employment Services have median wages below that. The largest occupation in the industry with a higher wage was Human Resource Specialist, however, with a median hourly wage of $24.19, well above the median for all occupations in the region.
It is no coincidence that the occupations in Figure 4 represent some of the most in-demand jobs in Central Minnesota, especially the laborers and freight, stock, and material movers. Hard-to-fill jobs align well with the function of many employment services firms. Companies with hard-to-fill job vacancies often contract with employment services firms to augment internal hiring activities and maintain desired employment levels.
The intertwined global economy increases the necessity for businesses to respond rapidly to changing markets, while the effects touch nearly every business, whether they are a global company or a small mom-and-pop shop. Employment Staffing is projected to continue growing in Central Minnesota faster than average. By 2022 employment should top 3,100 jobs in the region although it will likely continue to experience ups and downs with the wide range of industries it serves.