G is for Guard
by Chet Bodin
June 2016
Guards protect people, places, and things. Crossing Guards protect children going to school, Lifeguards protect children and adults participating in water activities, and Security Guards protect people and property in a variety of public and private places. While each of these types of Guards has an important role in safeguarding the public, several other occupations belong to the Protective Services occupation group and share guard-like responsibilities. These occupations include Corrections Officers and Jailers, Recreation Attendants, Game Wardens, Police and Sheriff Patrol Officers, and even some Receptionists. Because of the amount of available data, this article will focus on the occupations found in the Protective Services group.
Table 1
Occupation
Functions
Degree Required
Education Attainment of workers in occupation (MN)
Correctional Officers and Jailers
Guard inmates in penal or rehabilitative institutions in accordance with established regulations and procedures. May guard prisoners in transit between jail, courtroom, prison, or other point. Includes deputy sheriffs and police who spend the majority of their time guarding prisoners in correctional institutions.
High School Diploma or Equivalent Professional Certification

American Correctional Association
American Jail Association

Police and Sheriff Patrol Officer
Maintain order and protect life and property by enforcing local, tribal, State, or Federal laws and ordinances. Perform a combination of the following duties: patrol a specific area; direct traffic; issue traffic summonses; investigate accidents; apprehend and arrest suspects, or serve legal processes of courts.
High school Diploma or Equivalent Professional Certification

National Association for Search and Rescue
Accreditation Commission for Traffic Accident Reconstruction

Source: 2016 CAREERwise, Minnesota State Colleges and Universities; U.S. Census Bureau's American Community Survey
Wage and Employment Outlook
Over 42,000 Minnesotans work in Protective Service Occupations. While over half are employed in the Seven County Metro Area, higher wages, for a variety of reasons, are often found in Greater Minnesota. According to DEED's 2016 Occupation and Employment Statistics (OES), Protective Service workers earn a higher median wage in Northwest, Central, and Southeast Minnesota than in the Metro Area. Through 2022 Protective Service jobs are expected to grow fastest in Central Minnesota, but Northwest, Southeast, and the Metro Area also have positive growth projections.
Table 2
2016 Minnesota Occupation and Employment Statistics, Protective Services Occupations
Geography
OES Employment
Median Wage
Projections 2012-2022
Northwest Minnesota
4,980
$20.26
5.1%
Northeast Minnesota
2,800
$18.47
-0.1%
Central Minnesota
2,340
$23.46
7.4%
Seven County Metro
25,100
$19.05
5.0%
Southwest Minnesota
3,210
$18.16
-1.6%
Southeast Minnesota
4,010
$21.41
1.9%
Source: 2016 DEED Occupation and Employment Statistics
Graduate Employment Outcomes
Although most Protective Service occupations require only a high school education, over 75 percent of those who graduated in 2013 with a post-secondary award in criminal justice were gainfully employed in 2015. Workers with one-year certificates were making more per hour in 2015 ($19.61) than graduates with Associate's ($16.64) and Bachelor's degrees ($18.47). Certificate holders might also have Associate or Bachelor's degrees earned in a prior year, and this may explain the higher wage earned by Certificate Holders. As with all Protective Service workers, over 50 percent of recent graduates are working in the Seven County Metro Area (see Figure 1).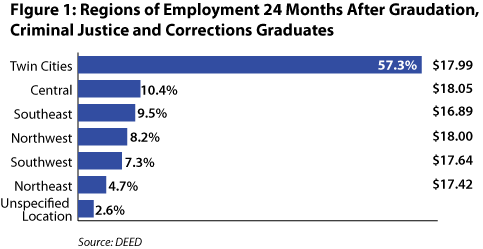 Conclusion
Protective Service occupational opportunities are available throughout Minnesota. Relatively low education requirements for employment allow Protective Service workers to carve out a career path in many ways. There are opportunities for employment in multiple industries and in various jobs with different levels of responsibility. Upward mobility in these Protective Service occupations will likely require professional certification training and work experience which is readily available for current Protective Service professionals and prospective job seekers.
Table 3
Minnesota Statewide Graduate Employment Outcomes, Criminal Justice and Corrections Programs
Post-Secondary Award
2013 Graduates
Two years after Graduating
Percent Earning Wages in MN
Median Hourly Wage
Certificates (less than Bachelor's Degrees)
273
81.3%
$19.61
Associate's Degrees
990
78.4%
$16.64
Bachelor's Degrees
853
75.3%
$18.47
Source: DEED Graduate Employment Outcomes