At 1.8%, the state of Minnesota set a new record for lowest unemployment rate in June and July. It was not just the lowest rate in state history, it was also the lowest rate any state has ever reported! Unemployment rates have also reached historic lows in Northeast Minnesota, with the regional rate dropping to 2.7% in July 2022, following record lows of 2.4% and 2.5% in April and May of 2022. Note that regional unemployment rates are not seasonally adjusted, while the statewide unemployment rate of 1.8% is seasonally adjusted.
According to historical LAUS data, the region's rate has been below 3.0% on just six occasions since 1990, with all those months falling within the past year. Likewise, 11 of the 15 lowest monthly unemployment rates ever reported in Northeast have occurred since July of 2021.
Cook County recorded a 2.0% unemployment rate in July 2022, the lowest in the region, though both St. Louis and Lake County posted 2.0% unemployment rates in April 2022. The rate in Lake County changed quickly, hitting a region high of 4.7% in July, which was the second highest in the state, while St. Louis was still at 2.6%. Carlton County hit 2.4%, followed closely by Aitkin County at 2.5%, then Itasca and Koochiching County both around 3.0% (see Figure 1).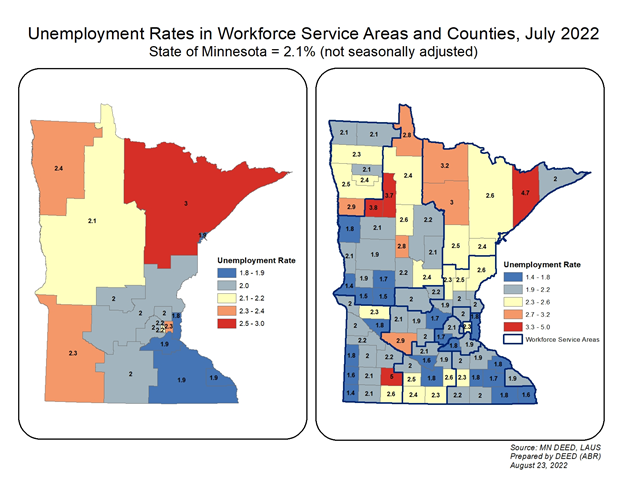 Even at these historic lows, Northeast still has the highest regional rate in the state, with the other five regions at 2.1% or below, and a low of 1.9% in Southeast Minnesota. Northeast typically has higher unemployment rates than the rest of the state, but has closed the gap in recent years as the labor market tightens in the region.
These rates reflect diminishing numbers of unemployed workers, which is creating challenges for employers who have open jobs. Statewide, there are fewer than 60,000 unemployed workers, the lowest number on record, even as the state's labor force has expanded by more than 1 million workers since 1976. In Northeast, there were just 4,295 unemployed job seekers in July of 2022, which is the fourth lowest number ever recorded (going back to 1990). It's also less than a third of the number of unemployed workers hit during July of 2020, at the outset of the pandemic; and also 3,300 less than in July of 2019, prior to the pandemic.
Record low numbers of unemployed jobseekers combined with record high numbers of job vacancies has created a tight labor market in Northeast. In fact, with just 0.4 jobseekers per vacancy in the fourth quarter of 2021, the current situation reflects the tightest labor market that Northeast has ever faced (Figure 2).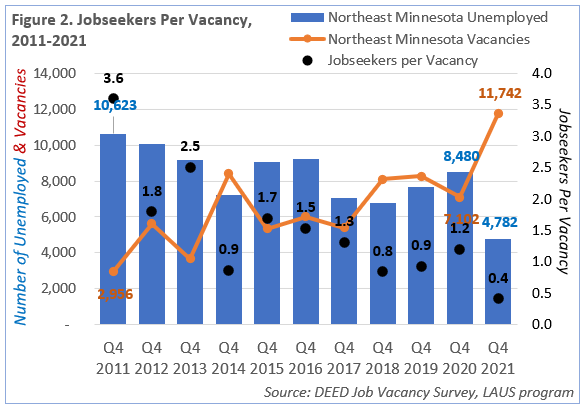 For More Information
Contact Northeast Minnesota Labor Market Analyst Carson Gorecki at 218-302-8413.