Minnesota Economic Indicators Highlights
by Dave Senf
May 2021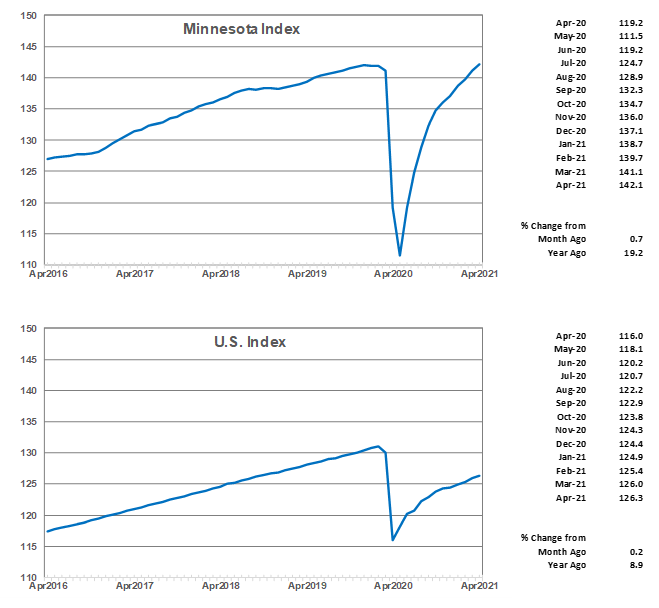 The Minnesota Index rose for the 11th consecutive month in April, climbing 0.7% to its highest reading ever, 142.1. The index is a proxy for monthly GDP or economic activity, and April's reading suggests that the value of Minnesota's economic activity has never been higher. Estimated U.S. GDP for the second quarter of 2021, when released in July, is expected to show that U.S. GDP also topped pre-pandemic level in the second quarter. The easing of business restrictions, expanding vaccination rate, additional federal COVID-19 relief, and continued job growth is helping to fuel Minnesota economic growth. The U.S. Index increased 0.2% in April as monthly gains in the Minnesota Index outpaced the U.S. Index for the 10th consecutive month.
The Minnesota Index, a coincident index, combines four state-level indicators to summarize current economic conditions in a single statistic which is sort of a proxy for monthly GDP. The four state-level variables in the coincident index are nonfarm payroll employment, average hours worked in manufacturing by production workers, the unemployment rate, and wage and salary disbursements deflated by the consumer price index. The Minnesota Index, with similar indices for all 50 states, is produced by the Philadelphia Federal Reserve Bank.
Minnesota was one of 11 states for which April's reading was the highest on record. Montana, South Dakota, and New Hampshire topped their previous highest reading by the widest margins in April. Massachusetts, Nevada, and Hawaii had the largest negative gap between highest reading and April's readings. South Dakota's April index was 0.9% higher than its previous record high. Minnesota's previous record high was 142.0 recorded in December 2019 so April's reading was 0.1% higher than the previous high. April readings for Wisconsin, Iowa, and North Dakota were 1.0%, 1.7% and 4.5% below record highs.
Minnesota's advance in April was powered by positive changes in all four components. Wage and salary employment (nonfarm payroll employment), average weekly manufacturing hours, and real wage and salary disbursements all increased. Minnesota's unemployment rate dropped from 4.2% in March to 4.1% in April. The falloff was the 11th straight month that the rate has decreased after reaching a 45-year record-high of 11.3 last May. Much of the unemployment rate decline since May, however, is from individuals leaving the labor force rather than securing employment. Minnesota's labor force in April was 95,900 (3.1%) short of its March 2020 level. Employers are having a hard time hiring right now which is slowing Minnesota's economic rebound but workers on the sideline are expected to reenter the workforce as the job market improves and COVID-19 health concerns tail off.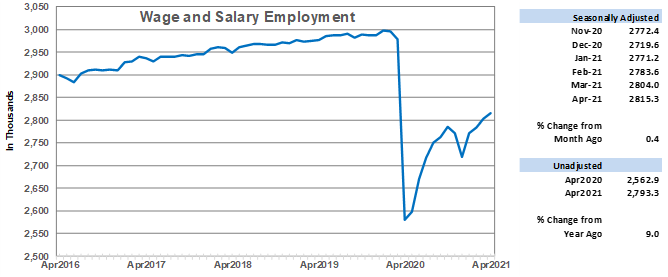 Wage and Salary Employment climbed for the fourth straight month in April as jobs increased by 11,300. April's increase was the smallest monthly gain of the year even though job openings continue to increase. The 0.4% monthly job gain in Minnesota was a bit higher than the U.S. 0.2% gain. Minnesota's proportional monthly increase has been higher than the U.S. increase each of the first four months of 2021. Minnesota employment has grown by 3.5% since last December or more than twice the 1.3% national employment increase over the same period. Minnesota's businesses have been busy reopening and hiring since the year started and have added workers at a solid clip despite their troubles finding workers to hire. As of April, the state has recovered roughly 57% of the 416,000 jobs lost during the pandemic. Nationally 63% of the 22.4 million jobs lost across the nation in March and April of 2020 have been recovered as of April 2021.
Private sector employers added 8,100 jobs and public sector employers added 3,200 jobs in April. The expanded public payroll was caused entirely by local government hiring. Most of April's private sector hiring was in Professional and Business Services, Leisure and Hospitality, Trade, Transportation and Utilities, and Construction. Educational and Health Services along with Financial Activities cut payroll numbers the most.
April's unadjusted over-the-year change was 9.0% compared to 10.9% nationally. Minnesota's annual increase was a record-high with data going back to 1951. The 10.9% over-the-year gain for U.S. jobs wasn't a record since employment data goes back to 1940 and several months in 1941 and 1942 recorded higher over-the-year job growth as the nation geared up for WW II. Of course, the only reason that over-the-year job growth was so high was the plunge in jobs last April when the pandemic set in. Seasonally adjusted unemployment dipped to 4.1% in Minnesota in April while the U.S. unemployment rate inched up 6.1%.
Minnesota's 9.0% over-the-year increase in unadjusted employment was the 33rd highest (or 19th lowest). Michigan (21.2%) and Nevada (17.7%) had the highest annual increases while New Mexico (4.0%) and D.C. (2.2%) had the lowest annual increases. Wisconsin (10.1%) had the highest rate among neighboring states with South Dakota (8.9%), North Dakota (7.7%), and Iowa (7.2%) lagged.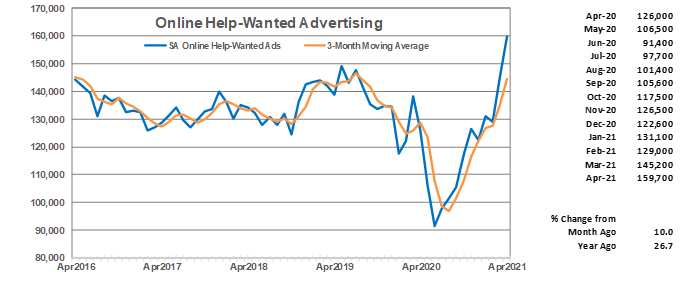 Online Help-Wanted Ads surged in April, jumping 10.0% to 159,700. April's volume of job postings is the highest monthly total ever with data going back May 2005. U.S. online job postings also set an all-time high record in April, jumping 11.2% from the previous month. Online help-wanted ads are considered a proxy for labor demand, suggesting that job growth in Minnesota and across the country will continue to be solid through the rest of the year. Many employers are complaining of having a hard time finding workers to hire which just adds to the prediction that job growth will continue to be robust as the state's economy rebounds from the pandemic. Minnesota's share of U.S. online job postings remained at 2.3% for the third consecutive month remaining slightly higher than the 2.0% share for U.S. nonfarm employment accounted for by Minnesota in April.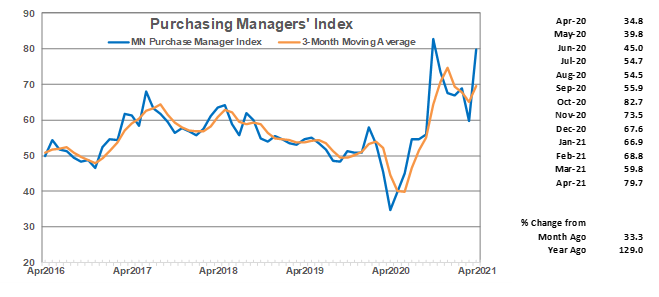 Minnesota's Purchasing Managers' Index (PMI), after slipping over the last few months, skyrocketed to 79.7, the second highest reading of the 27 years that the index has been reported. The reading suggest that Minnesota manufacturers expect factory activity to accelerate significantly over the next six months. The employment component of the index was 60.6 which indicates that factory employment hiring is anticipated to move up a gear or two through at least the summer.
The national ISM Manufacturing Index unexpectedly dipped to 60.7 while the Mid-America Business Index (nine states including Minnesota) jumped to 73.9. Minnesota's stronger reading implies that Minnesota manufacturers expect manufacturing production to expand at a faster rate relative to recent production levels compared to their counterparts in other states. In other words, Minnesota manufacturers are more optimistic about how fast factory activity will pick up than are manufacturers in other states.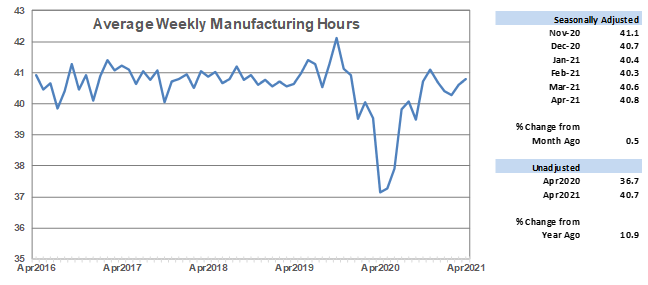 Average weekly Manufacturing Hours rose for the second month in a row in April to 40.8 hours. The factory workweek increase is consistent with Minnesota's manufacturers ongoing expansion with part of the uptick in activity being supported by longer hours. Manufacturing payrolls, which are still 4.3% below the February 2020 level, are expected to grow over the next few months as the sector ramps up production. The 2,900 durable goods manufacturing jobs added over the last two months employment may be a harbinger of solid hiring through the summer.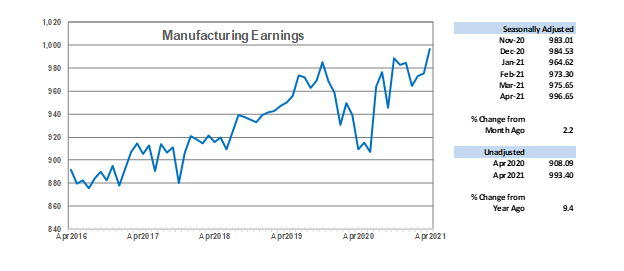 Seasonally adjusted average weekly Manufacturing Earnings, adjusted for inflation, climbed 2.2% in April to $996.65. Fatter factory paychecks are consistent with increased factory hours and with reports of manufacturers in the state having a hard time finding qualified workers and being forced to raise wages. Unadjusted factory paychecks were up 9.4% from last year in real terms, setting a record high over-the-year increase (the time series goes back to 1970). The record setting jump in earnings stems in part from the steep decline in weekly earnings that occurred from March through July last year when manufacturers were cutting payrolls to survive the pandemic-related recession.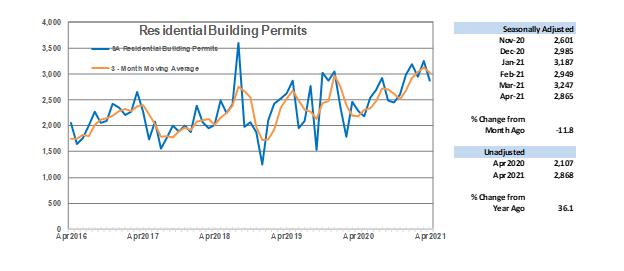 Adjusted Residential Building Permits, a proxy for future home building construction, zigzagged down in April to 2,856. Despite the small dip the home-building market remains solid as supply of homes on the market remain near record lows while home demand continues to be boosted by relatively low mortgage rates and an expanding number of millennials looking to buy their first house. Median home prices continue to set record highs each month as home-builders scramble to meet demand. Minnesota accounted for 1.8% of home building permits issued nationwide in April which is pretty much in line with the state's 1.7% of U.S. population. Permit levels through April are up 50% from a last year, a good indicator that 2021 will likely be the best year for the home-building industry since the booming years of the mid-2000s.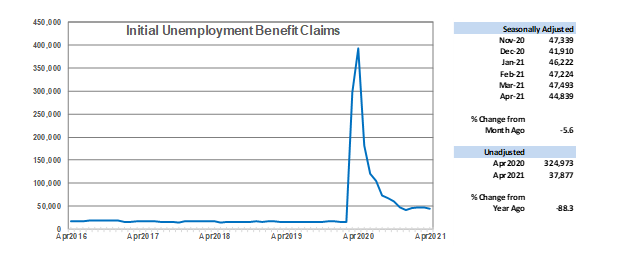 Adjusted Initial Claims for Unemployment Benefits (UB) declined for the first time in four months, dropping to 44,839. Although unadjusted jobless claims are down 88.3% from last April, claims continue to run stubbornly and noticeably above pre-pandemic levels. During the first four months of 2019 initial claims average monthly claims were 23,700. The monthly average over the same period this year was 45,700 or almost twice the 2019 level. The continued high rate of initial unemployment applications is surprising given the uptick in hiring. Employers apparently are still struggling with matching their staffing levels to changes in demand for goods and services brought on by the pandemic.
Note: All data except for Minnesota's PMI have been seasonally adjusted. See the feature article in the Minnesota Employment Review, June 2010, for more information on the Minnesota Index.
The Philadelphia Federal Reserve Bank, which produces the Minnesota Leading Index, has temporary suspended generation of state leading indices. For more information see www.philadelphiafed.org/research-and-data/regional-economy/indexes/leading).