Minnesota Job Service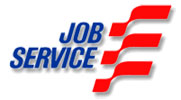 The focus of all services is to help job seekers find work and help employers find and retain qualified employees.
Most of the services are delivered through Minnesota's statewide network - CareerForce.
Services to job seekers include:
Access to CareerForce to find and apply for jobs
Job search preparation, education and counseling
Referrals to eligibility-based employment and training programs
Services to businesses include:
Access to CareerForce to post job openings and screen applicants
Consultations on hiring needs, employee training, and labor market information
Access to CareerForce facilities to recruit and screen applicants
Read the
Job Service Annual Report
to learn more.