Publications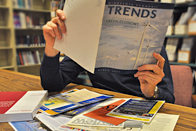 Our publications range from an entire suite of business guidebooks to magazines that highlight economic issues, from special-interest newsletters to reports, fact sheets and more.
All are available to view and download.
Upon request, publications may be provided in alternative formats for people with disabilities. Older publications are available in DEED's Digital Library.
Read our monthly publication that examines market conditions and key economic indicators statewide.
Read expert analysis of the state's labor market, industries, and economy.
DEED updates. Business intelligence. Career and job search advice. Our newsletters offer updates on a variety of special-interest topics.
A selection of fact sheets promoting key Minnesota industries, as well as DEED's programs and services.
We produce a variety of reports, from analyses of key industries, economic outlooks and workforce issues to reports required by the Legislature.
Our guidebooks cover a wealth of knowledge for business owners, economic developers, and job seekers.
Browse and search the majority of publications on our website. Filter by publication type, date published, and other criteria.