Newsletters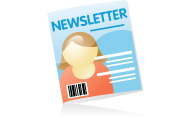 Sometimes you want more information than you can get in a tweet or Facebook blurb. You want facts and context, quickly and to the point. Not too little. Not too much.
Our newsletters are just right, offering regular updates and insights on topics of special importance.
Enter your email in the box below to subscribe to DEED's newsletters and other information - you can choose to receive only the information that interests you.
Small Business Bulletin
The Small Business Bulletin is a monthly digest of the latest news and DEED press releases related to small business in Minnesota.
A monthly resource for Dislocated Worker, Adult Career Pathways and Trade Adjustment Assistance (ACP and TAA) program service providers.
A newsletter for blind teenagers, produced by State Services for the Blind (SSB).
Each month, DEED's Regional Analysis & Outreach unit produces a series of blogs exploring local labor market information. Contact your regional analyst for more information