Seeking Applicants: Human Services Performance Council
2023 Proposed Council Dates
Feb. 24, 2023
May 26, 2023
Aug. 25, 2023
Dec. 1, 2023
Hybrid meetings are held from 9:30 a.m. 12:30 p.m. at the MCIT building in Saint Paul.
Performance management is the bedrock of good government. Measuring performance in the delivery of Minnesota's human services allows us understand what services are succeeding and which need strategic continuous improvement efforts better serve our communities.
Qualified volunteer candidates are being sought for the Human Services Performance Council (Performance Council). Established in 2013 in accordance with Minnesota Statutes Chapter 402A, the Performance Council advises the Commissioner of the Department of Human Services on the operation and ongoing development of the Human Services Performance Management (Performance Management) system.
Apply
Submit Council applications through the Secretary of State website, https://commissionsandappointments.sos.state.mn.us/Agency/Details/227.
About the Performance Management system
The Performance Management system was created in response counties' desire be proactive in improving service delivery and outcomes for human services program recipients. The focus of the Performance Management system is improvement across all mandated essential human services in Minnesota. The system encourages collaboration between counties and DHS, and supports counties in their efforts take a proactive approach continuous improvement of service delivery. The system provides an opportunity work toward outcomes desired for all Minnesotans:
People have access health care and receive effective services.
People are economically secure.
Children have the opportunity develop their fullest potential.
Children have stability in their living situation.
Adults and children are safe and secure.
Adults live with dignity, autonomy and choice.
Performance Management Key Initiatives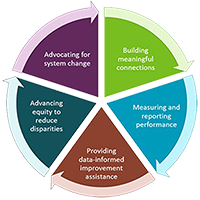 ---
Key Performance Management priorities
Key priorities for the Human Services Performance Management system in 2023:
Build the capacity of the Human Services system identify system barriers and provide improvement assistance, using the Child Support Paid measure as a pilot.
Continuing collaboration with DHS programs expand the Performance Management System measures.
Focus on building capacity within the Human Service Performance Management system promote equity throughout the human services system.
Performance Council responsibilities
Performance Council duties include:
Meet at least quarterly
Review the performance data submitted by counties or service delivery authorities annually
Review and advise the commissioner on procedures related the Performance Management system, system process requirements and barriers improvement in human services delivery
Advise the commissioner on the training and technical assistance needs of county or service delivery authority and department personnel
Review instances in which a county or service delivery authority has not made adequate progress on a performance improvement plan and make recommendations the commissioner
Consider appeals from counties or service delivery authorities that are
in the remedies process and make recommendations the commissioner on resolving the issue
Convene working groups update the performance management system and present these recommendations the commissioner annually
Make recommendations on human services administrative rules or statutes that could be repealed or amended improve service delivery
Provide information stakeholders on the council's role and regularly collect stakeholder input on performance management system performance
Submit an annual report the legislature and the commissioner
Applicant experience
Applicants the Performance Council members should possess one or more of the following qualities:
Current or previous leadership experience
Experience working advance equity
Knowledge of or experience with one or more of the following essential human services programs:

Adult disability
Adult protection
Adult mental health
Adult services such as long-term care
Chemical dependency
Child support
Children's disability services
Children's mental health
Child welfare, including protection, truancy, minor parent, guardianship and adoption
Minnesota Family Investment Program
Public assistance eligibility

Past or present management of programs in the focus area
Knowledge of performance measurement, evaluation or performance management