Community Empowerment Sessions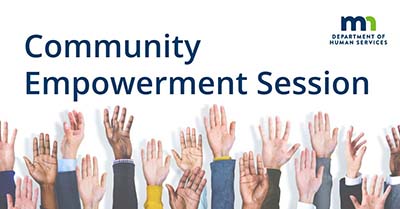 Community Empowerment Sessions are action-oriented community conversations, designed to build authentic relationships and facilitate the process of co-creating solutions in partnership with the people we serve.
By providing information and encouraging community members to share their experiences, DHS can partner with communities to identify barriers and create opportunities to better inform DHS policies and programs.
These sessions are a new community engagement tool to give community members a channel for two-way communication with DHS. We will provide opportunities for community members to give input on their most important topics and issues, and share back with the community what we heard and what actions have been taken through the LoopBack podcast.
Past sessions
A Community Empowerment Session focused on "Community Healing" was held virtually via Webex on Wednesday, May 11, 2022.
In this session, community members discussed how behavioral health services can be more responsive to communities, and reflective and respectful of people's cultures, languages, and experiences. DHS staff shared information on Culturally and Linguistically Appropriate Service (CLAS) standards and culturally responsive behavioral health service opportunities at DHS, and facilitated conversations grounded in building authentic relationships based on trust, mutual respect, and acknowledgement of each person's and community's added value to developing solutions.
Listen to episode 3 of the LoopBack podcast to hear more from leaders representing the African American and faith-based communities in the Twin Cities Metro Area about the work they are doing to lead healing and community wellness initiatives in their communities.