After adding 25,000 new workers since the turn of the century, the labor force in the 26-county Northwest region surpassed 300,000 workers in 2015, and has hovered right around that number ever since (Figure 1). The region's growth rate of 9.2 percent since 2000 slightly outpaced the statewide increase of 9.1 percent, leaving Northwest with the second largest regional workforce outside the Twin Cities area.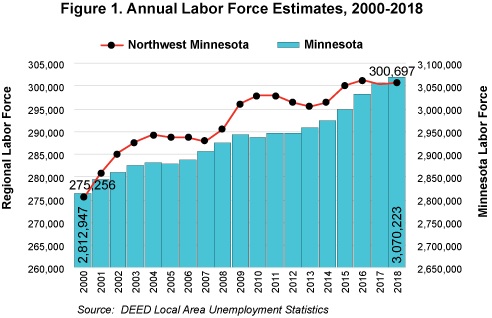 While the region's available labor force is still growing, the pace has slowed in recent years. After averaging a gain of nearly 4,500 net new workers each year from 1990 through 2000, then just over 2,250 new workers annually in the 2000s, the region has added only 2,700 workers total from 2010 to 2018, an average of 339 workers per year.

Employers in Northwest have benefited from this deep talent pool over the past decades, but the aging population and slowing growth means that luxury is starting to dry up. What's more, labor force projections from the Minnesota State Demographic Center show that the region is expected to see a decline in available workers in the next decade, dropping about 2.1 percent from 2020 to 2030. Even if participation rates increase for older workers, projections show it will still be a challenge to find workers to fill jobs.

Northwest Minnesota has enjoyed eight straight years of job growth since bottoming out with about 207,500 jobs at employer establishments in 2010 at the end of the Great Recession. It is now at a new peak of almost 222,500 jobs in 2018 (Figure 2). Expanding just over 7 percent from 2010 to 2018, the region's economy didn't quite keep pace with the state's 12 percent growth rate, but labor force availability has become a constraint for employers looking to expand even more.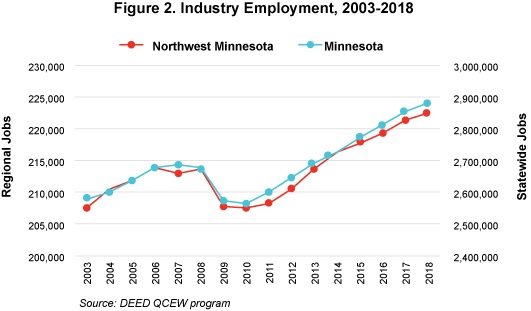 A strong economy that added nearly 15,000 jobs compared with a workforce that added only 2,700 workers over the same time frame has led to a much tighter labor market. As evidence, the unemployment rate in the region dropped from a high of 8.2 percent in 2009 to just 3.8 percent in 2018, the lowest rate ever reported for Northwest Minnesota.

Employers who want to find workers will need to tap into new pipelines to fill their available jobs in the future. Even as labor force growth has slowed down, labor force diversity has picked up, creating new opportunities for job seekers and employers.

For More Information

Contact Cameron Macht at 320-441-6596.