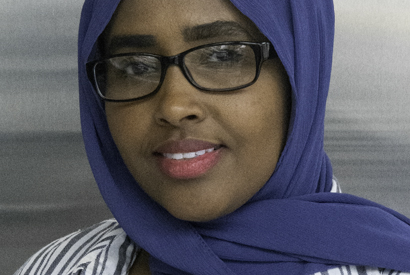 Starting over in a new country is hard. A new language, a new culture, a new set of rules⁠—so many that are unwritten. It's overwhelming. When my family left Somalia for the refugee camps, we lost everything. When we left the camps and arrived in California, we lost everything again. Each time we had to start over. Each time, we had to reengage in the economy – finding new jobs, building wealth, and finding financial security for our family. I know that there are ways for our state to work with local leaders and community organizations to do better.
I am excited to announce a new position at DEED focused on helping state government bring together New Americans, employers, local governments, nonprofits and other partners to create the welcoming communities we all want and engage all Minnesotans more fully in a successful state economy.
Today, Anisa Hajimumin joins DEED's leadership team as the Assistant Commissioner for Immigrant and Refugee Affairs, a grant-funded position reporting to me that fills a long-standing need in Minnesota. Anisa will serve as the state's primary specialist on immigrant and refugee affairs working across state agencies and with the governor's office, as well as with community and business leaders throughout Minnesota to break down barriers and build connections.
Anisa will play a significant role in helping to rebuild a more equitable Minnesota, fostering a diverse, equitable and inclusive society that benefits all Minnesotans. One of Anisa's priorities is examining state systems and policies that may be slowing down or preventing immigrants and refugees from finding work, more fully leveraging their skills in in-demand careers, or starting their own business. Some of those barriers, like housing, child care and transportation, are challenging for many Minnesotans. Other issues, like recognizing credentials and licenses from foreign education institutions, are more specific to immigrants.
Anisa has lived and worked in Minnesota for nearly 25 years, arriving in 1996 and settling in Richfield. She has more than ten years of executive leadership and management experience in public policy, workforce and economic development, and immigrant and refugee advocacy. She founded and led two businesses focused on providing technical and strategic support to entrepreneurs from communities of color, immigrants and refugees. She has also worked with the United Nations and World Bank on efforts to help women, children and displaced people.
In 2014, she returned to her country of origin, Somalia, where she served for three years as the Minister of Women, Development and Family Affairs in Puntland, Somalia. Under her leadership, her ministry established a social protection framework for women and children, directed a program to prevent human trafficking, raised and distributed funds for displaced families, increased women's political participation, oversaw the building of a center to serve people with disabilities, and drafted and facilitated passage of a bill (the first ever in Somalia) to prosecute sexual offenders. Under her leadership, Somalia was the first African country to sign on to the campaign to end female genital mutilation.
In my role leading our state's workforce system, I see the numbers that clearly show immigrants' contributions. It is undeniable that without immigrants, many parts of Minnesota's economy would suffer. At no time has this been more clear than during the current COVID-19 pandemic. Many of Minnesota's essential employees, who are working on the front lines to treat people who are sick, care for the elderly, stock and sell groceries and clean and sanitize our spaces, are immigrants and refugees.
At a time when we need to reconnect, rebuild, and reimagine how many of our communities operate in Minnesota, Anisa's extensive experience collaborating with local, state, national and international government entities, plus business and community leaders will help us better engage immigrants and refugees more fully in Minnesota's economy and make our state a more welcoming place for all people.
Hamse Warfa is DEED's Deputy Commissioner for Workforce Development.