The 2020 edition of Minnesota's economic development magazine – Minnesota: Thriving in the North – highlights the state's many assets, from its innovation ecosystem and well-educated workforce to its supportive business climate and top-notch quality of life.
Available in both print and digital versions, the publication is part of DEED's ongoing efforts to promote the state's advantages for business investment and expansion – and as a place to launch and grow innovative startups.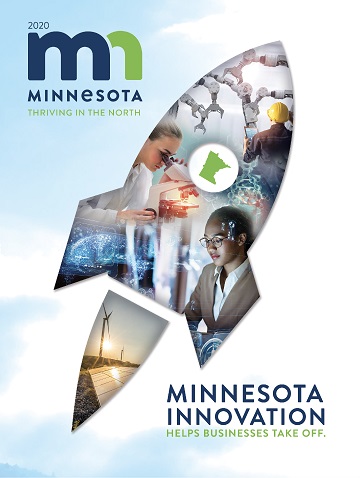 Featured articles in the 2020 edition include:
Articles highlighting the state's business climate, several Greater Minnesota communities, and international trade and investment in Minnesota are also featured. Specific business sectors are profiled, including advanced manufacturing, agriculture, food and beverage processing, IT, energy and utilities, medical technology, and more.
Minnesota: Thriving in the North is published by Conway Custom Content in partnership with the Minnesota Department of Employment and Economic Development (DEED). It is supported through advertising by businesses, communities, and economic development organizations across the state.
If you have questions or feedback about Minnesota: Thriving in the North, please contact Stephanie Shaw at DEED, stephanie.shaw@state.mn.us.
For more on doing business in Minnesota, contact Economic.Development@state.mn.us; 651-259-7432; or visit CompareMN.com.