Governor Tim Walz has declared July "Hire a Veteran Month" to encourage Minnesota employers to connect the state's 153,000 military service members of working age with employment opportunities in July and throughout the year.
As part of "Hire a Veteran Month," DEED is inviting job-seeking veterans, active military members, and their spouses to attend the 13th Annual Veterans Career Fair on Wednesday, July 24 from 2-6 p.m. at the Earle Brown Heritage Center (6155 Earle Brown Drive) in Brooklyn Center.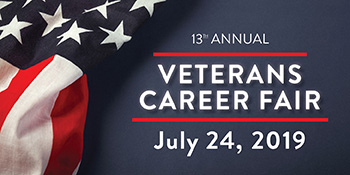 The event will provide networking opportunities with over 100 on-site employers who have been encouraged to offer full-time jobs with benefits and family-sustaining wages.
Veterans looking for a job or exploring new career options should attend. Veterans will also have an opportunity to get a professional photo taken and to get resume and job search assistance from HR professionals.
The career fair, which is the largest of its kind in Minnesota, is hosted by DEED's Veterans Employment Services and the Minnesota Department of Veterans Affairs. You can find out more about the 2019 Veteran's Career Fair here, including information about the employers who will be at the Career Fair and available positions.
This is a great opportunity for Minnesota employers to connect with experienced, resourceful leaders who understand the importance of teamwork.
Hope to see you at the Veterans Career Fair on July 24.
– Commissioner Steve Grove