The Minnesota Department of Employment and Economic Development (DEED) announced today that Carol Pankow will serve as Assistant Commissioner for Workforce Services.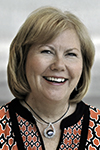 Within DEED, the workforce services division helps individuals overcome barriers to employment and develop job skills by providing a range of programs and services for laid-off and unemployed individuals. 
In this role, Pankow will lead DEED's workforce services for Unemployment Insurance, Disability Determination Services, Vocational Rehabilitation Services (VRS), and the State Services for the Blind (SSB). Pankow will also focus on growing our state's talent market and maximizing the potential of workers who face physical disadvantages to employment. 
"I wanted to find someone who is passionate about serving our customers in workforce services and who believes in the ability of any Minnesotan – regardless of their background or skill set – to contribute meaningfully to our economy," said DEED Commissioner Steve Grove, "Carol is just that leader, which is why I'm thrilled to elevate her into this new role." 
Pankow brings more than three decades of professional experience working with the disability community. She started in the mid-1980s as a human services technician at the Faribault Regional Center developmental disability program. She later managed statewide vocational and senior supports at the Minnesota Department of Human Services, led a non-profit day training and habilitation organization, and served as Director of the Vocational Rehabilitation Unit at the Minnesota Department of Labor and Industry. 
Pankow holds a master's degree in management of rehabilitation services from DePaul University in Chicago and a B.S. from Mankato State University. She also serves as president of the National Council of State Agencies for the Blind and Committee Chair of the Council of State Administers of Vocational Rehabilitation.