With 31,618 jobs at 604 establishments, manufacturing is the largest industry in the 23-county Southwest Minnesota planning region, just ahead of health care and social assistance. It is the only region in the state where manufacturing is still the leading industry. Manufacturing accounts for 18 percent of total employment in Southwest, about 6.6 percent more concentrated than in the state as a whole, where 11.4 percent of total jobs are in manufacturing.
From 2010 to 2015, Southwest Minnesota gained 1,216 net new manufacturing jobs, a 4 percent increase. In fact, manufacturing accounted for just over 25 percent of the region's total employment growth over the past 5 years, including a bump of just over 250 new jobs in the past year.
With nearly 10,250 jobs, the largest sub-sector in Southwest is food manufacturing, followed by machinery manufacturing and printing, which both had over 3,600 jobs. Southwest also had about 2,000 jobs apiece in electrical equipment, appliance, and component manufacturing, fabricated metal product manufacturing, and computer and electronic product manufacturing.
With location quotients above 2.5, the region has much higher concentrations of employment in electrical equipment, appliance, and component manufacturing, food manufacturing, nonmetallic mineral product manufacturing, and printing and related support activities, suggesting a regional competitive advantage in each of these areas.
One of the highest paying industries in the region, manufacturing payroll neared $1.5 billion in 2015, accounting for 22.3 percent of total payroll in Southwest Minnesota. Average annual wages in manufacturing were $47,372 in 2015, which was 24 percent higher than average annual wages in the total of all industries. Manufacturing wages increased 16.6 percent from 2010 to 2015, compared to a 17.3 percent wage increase overall.
Southwest Spotlight: Concrete Numbers
Part of the reason that Southwest Minnesota's manufacturing industry finds itself on much more solid ground now than just five years ago is the emergence of the region's nonmetallic mineral product manufacturing sector, which primarily includes cement and concrete product manufacturing. This sector gained more than 571 net new jobs from 2010 to 2015 and accounted for nearly 50 percent of manufacturing job growth in the region during the recovery.
Southwest Minnesota is now home to 33 nonmetallic mineral product manufacturing establishments, providing 1,583 jobs and over $85 million in wages in 2015. Average annual wages were just above $54,000 per year, making it the fourth highest paying manufacturing sector in the region. At that level, wages in the sector were nearly $7,000 higher than the total in manufacturing, and almost $16,000 higher than the total of all industries (see Table 1).

The industry has really grown in recent years, jumping from just over 1,000 jobs in 2010, and nearly doubling the sector's total payroll in just five years (up from $44.2 million in 2010). The 56.4 percent increase in employment made it one of the fastest growing sub-sectors in the region; especially in the last year. Nonmetallic mineral product manufacturing gained 207 new jobs from 2014 to 2015, a remarkable 15 percent increase in the past year alone.
To that end, job seekers who are interested in working hard may be attracted by the region's high-paying and fast-growing cement and concrete product manufacturing sectors. Jobs in high demand include: heavy and tractor trailer truck drivers; molders, shapers, and casters; team assemblers; extruding, forming, pressing, and compacting machine operators; first-line supervisors of production workers; laborers and freight, stock, and material movers; mixing and blending machine setters; and sales representatives (see Table 2).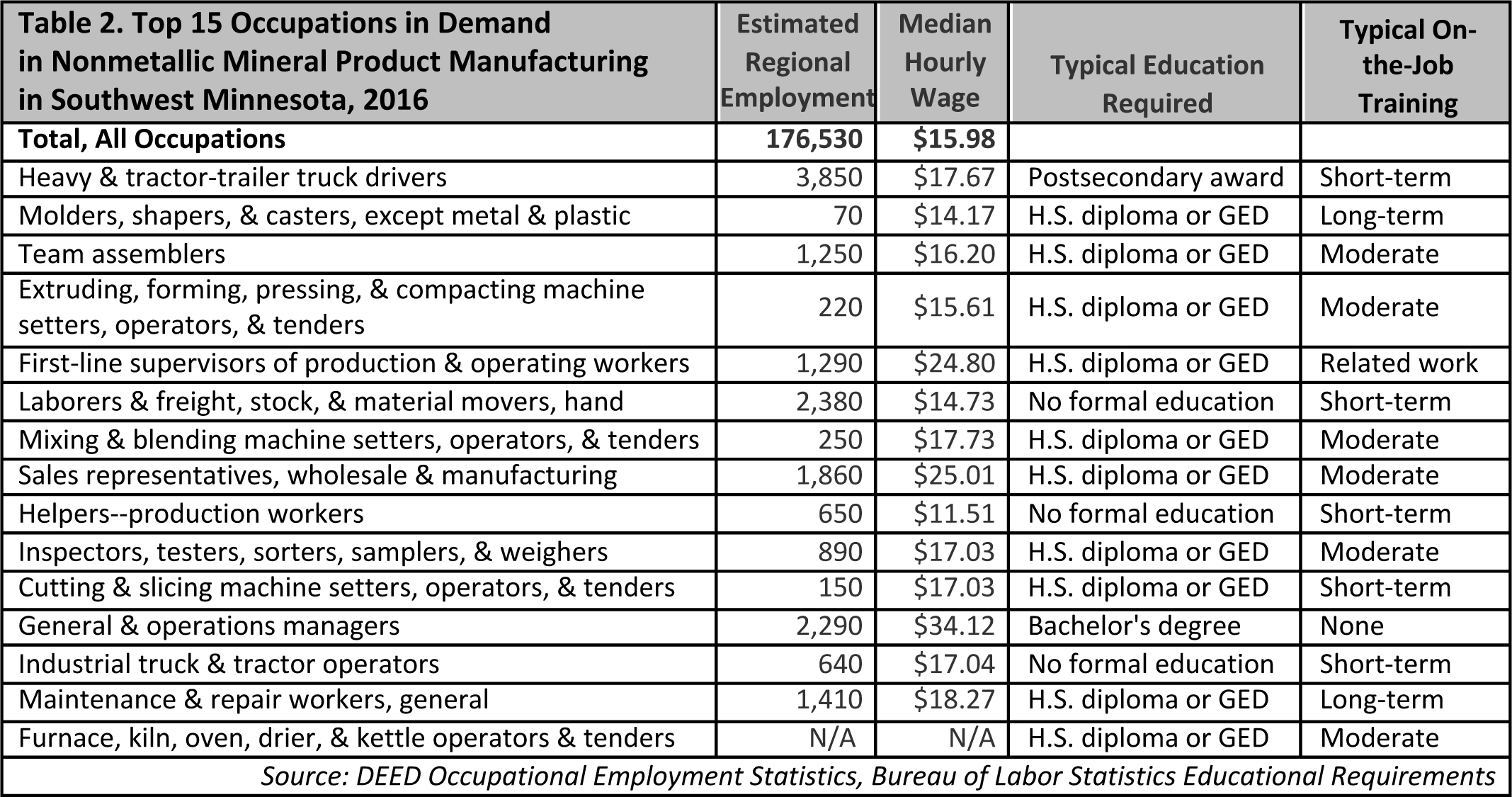 Most of these jobs can be gained with a high school diploma or less and some on-the-job training, with the exception of truck drivers, which require a Commercial Driver's License (CDL), and general managers, which typically require a bachelor's degree. Most of the jobs pay relatively high wages, including 10 of the 15 that pay above the region's median hourly wage for all occupations.
For more information, contact Luke Greiner, 320-308-5378, or Mark Schultz, 507-205-6068.