The Information Technology (IT) field includes a number of occupations, ranging from computer user support specialists to software developers to computer systems analysts. According to DEED's Occupational Employment Statistics (OES) data, the 23-county Southwest Minnesota region was home to around 2,000 workers in information technology occupations, which are formally classified in Standard Occupational Classification (SOC) codes as "Computer and Mathematical Occupations." At that level, these occupations accounted for about 1.1% of total employment in the region, compared to 3.8% of total employment statewide. This means that IT occupations are less concentrated in Southwest Minnesota than the state as a whole, but are still important contributors to the regional economy.
Despite the low concentrations, wages for these IT occupations were relatively high. The median hourly wage for computer and mathematical occupations in the region was $31.61, which was over $13.00 per hour higher than the total of all occupations – the equivalent of more than $25,000 for a full-time, year-round worker! Median wages ranged from a low of $24.04 per hour for computer user support specialists, which was still nearly $6 above the median wage for all occupations; to a high of $54.39 per hour for computer network architects, which was nearly triple. 
However, like the overall concentration of the jobs, wages were also lower in Southwest Minnesota than the rest of the state. The median hourly wage for computer and mathematical occupations was $42.92 statewide, with a range of $26.95 for computer user support specialists to $69.10 for computer and information systems managers (see Table 1).
Table 1. Southwest Minnesota Information Technology Occupational Statistics, 2020
Occupational Demand
According to DEED's Job Vacancy Survey, economic growth in the region has created a steady rise in the number of openings for IT occupations across the Southwest Minnesota region. The 134 job vacancies reported by employers for computer occupations in the fourth quarter of 2019 was the highest ever, and trend lines for vacancies have been pointing upward over time (see Figure 1).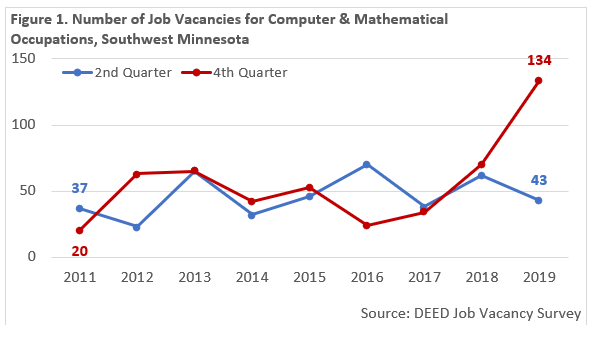 The median wage offer for these vacancies climbed to $23.46 per hour in the second quarter of 2020, which was about $8 above the median wage offer for all occupations. However, it is also important to note that about 90% of the IT job vacancies required postsecondary education and over one quarter required at least a year of prior work experience – with wage offers closely tied to experience and training requirements. None of the posted IT openings in 2019 were part-time, as compared to 43% of vacancies across all occupations.
Jobseekers who are interested in computers and information technology can look into training options described on the CareerForcemn.com webpage. Though almost all IT occupations require at least some college experience and many require a bachelor's degree, workers can also benefit from industry certifications and other training.
April 2021 is Tech Month in Minnesota. Learn more at CareerForceMN.com/TechMonth.
For More Information
Contact Labor Market Analysts Luke Greiner at 320-308-5378 or Mark Schultz or reach out to your local CareerForce location.