Highlighted by Black Friday and Cyber Monday, retail wasn't just offering a huge number of deals this season; retailers were also providing a huge number of jobs. Retail Trade employers in Southwest Minnesota have reported over 20,000 employees in each of the past two years, and more than 2,000 job vacancies in 2018, easily the highest number on record (Figure 1).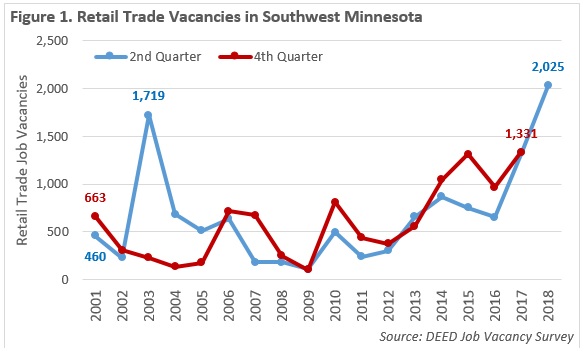 The increasing number of vacancies is due in part to growth in retail trade employment, and also to the tight labor market. Many of these jobs have remained open for long periods of time as retailers have struggled to fill vacancies in a strong economy where job seekers have access to many other opportunities. Retail Trade has responded by improving the quality of the jobs available. For example, median wage offers have climbed 55 percent in the past 10 years – from $7.95 per hour in 2008 to $12.31 in 2018 (Figure 2).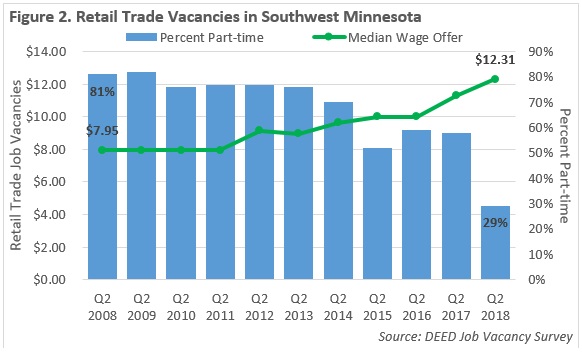 The rising wages may help attract new workers, but many job seekers also value the flexibility that comes with retail employment. However, the percentage of jobs that are part-time was also changing – less than one-third of retail vacancies were part-time in 2018, compared to more than 70 percent from 2008 to 2014. Many retail jobs are also seasonal, allowing job seekers to work during the busy times to earn extra money.
In addition to the cash, most retail jobs teach valuable job skills including customer service, teamwork, and problem solving. These skills come in handy in almost every job and career path. With a multitude of vacancies, job seekers might like to see what's in store for them in retail.
For More Information
Contact Luke Greiner at 320-308-5378 or Mark Schultz.