With 660 establishments providing 35,935 jobs, Manufacturing remains the second largest employing industry in Southeast Minnesota. Manufacturers in the region paid nearly $2.4 billion in wages in 2021, offering annual average wages of just over $66,750, which was 13% higher than the average wage across all industries in the region.
Of the six planning regions in the state, Southeast has the second highest concentration of Manufacturing employment at 15.2%, well ahead of the statewide percentage of 11.3%. Southeast Minnesota has long maintained a stronger reliance on Manufacturing than the state as a whole, sustained by competitive subsectors including Food Manufacturing, Computer & Electronic Product Manufacturing, Machinery Manufacturing, and Fabricated Metal Product Manufacturing (Figure 1).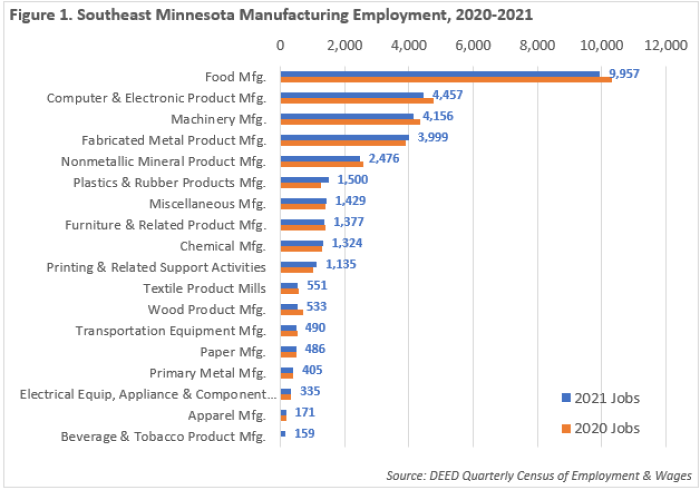 In the aftermath of the pandemic recession, some Manufacturing subsectors saw job declines in Southeast Minnesota, but many others saw growth. The largest expansion occurred in Plastics & Rubber Products Manufacturing, which added 224 jobs for a 17.6% growth rate; followed by strong growth in both Printing & Related Support Activities and Fabricated Metal Product Manufacturing, which both gained about 100 jobs over the past year.
Already among the higher paying sectors in the region, wages increased just over 3% in Manufacturing in the region over the past year. The biggest wage increase was experienced in Textile Product Mills, which jumped 21.4% from 2020 to 2021, while Chemical Manufacturing (+8.7%), Fabricated Metal Product Manufacturing (+6.9%), Computer & Electronic Product Manufacturing (+5.8%), Wood Product Manufacturing (+5.7%), and Nonmetallic Mineral Product Manufacturing (+5.1%) all saw average wages climb more than 5.0% over the year.
Demand for Manufacturing workers jumped as well, with manufacturers reporting the second largest number of job vacancies on record at the end 2021. With nearly 1,700 openings, demand more than doubled over the year, and was also up almost 75% compared to the pre-pandemic vacancy level from 2019. Median wage offers for these vacancies hit almost $20 per hour in 2021, up from about $17 per hour in 2019.
Only 20% of Manufacturing openings required postsecondary education, with the other 80% available to people with a high school diploma or less and some amount of on-the-job training. While college requirements were dropping, the percent requiring one year or more of related experience was going up, surpassing 60% in 2021 (Figure 2).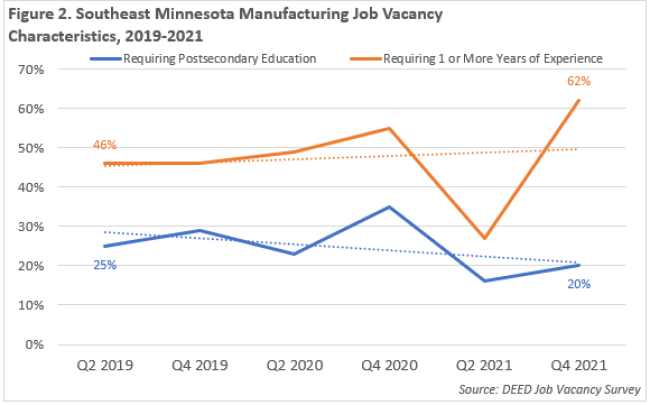 For students and jobseekers looking for a high-paying, in-demand career path, Manufacturing currently has many openings for workers at every level of educational attainment and experience. Employers are actively recruiting new workers to fill the historically high number of job vacancies, and many are willing to train on the job.
For More Information
Contact Cameron Macht at 320-441-6596