When it comes to manufacturing, Southeast Minnesota is a powerhouse. Manufacturing accounts for 38,499 jobs at 675 establishments, comprising 15.7 percent of the total employment in the 11-county region, which is much more concentrated than the state, where manufacturing makes up only 11.2 percent of the total statewide employment. This makes manufacturing the second highest employing industry sector behind health care and social assistance. Manufacturing also had the second largest total payroll, and at $59,228, offered the 6th highest average annual wages of the 20 main industries.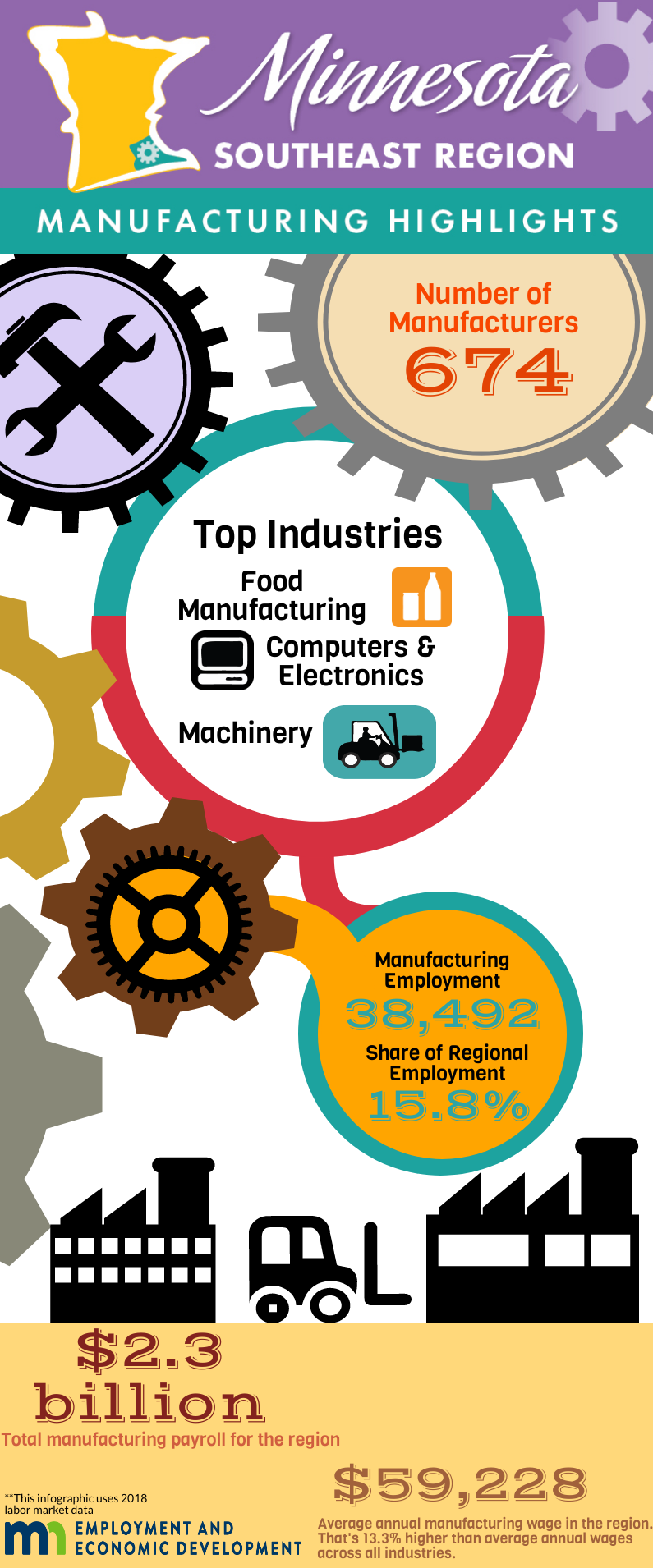 With just under 10,600 jobs in 2018, food manufacturing is easily the largest subsector, making up over one-quarter (27.5%) of the total manufacturing jobs. But the region also has several other strong manufacturing subsectors, including computer and electronic products, machinery, fabricated metal products, and nonmetallic mineral product manufacturing. Altogether, these top five employing manufacturing subsectors make up over two-thirds (68.7 percent) of the manufacturing jobs (Figure 1).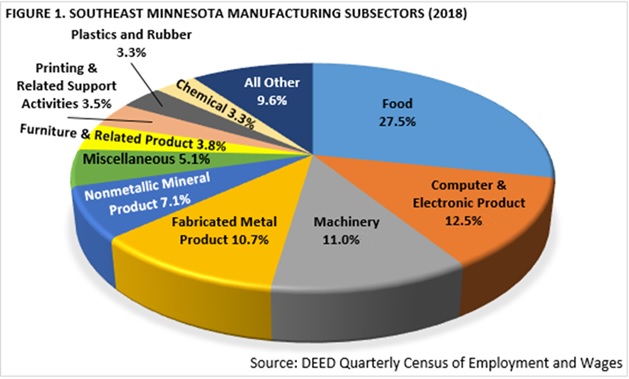 Southeast Minnesota has 8.5 percent of the total employment in the state but nearly 12 percent of the state's manufacturing jobs. The region accounts for 26.3 percent of the state's nonmetallic mineral product manufacturing employment, 22.3 percent of food manufacturing, and 22 percent of the jobs at textile product mills jobs in the state. The region also shows higher concentrations of jobs in furniture and related product, machinery, computer and electronic product, chemical, and fabricated metal product manufacturing. 
In sum, Southeast saw steady job growth from 2013 to 2018, with manufacturers adding 1,871 jobs during this time. The 5.1 percent gain outpaced the total across all industries in the region, which increased by 4.0 percent, an addition of 9,437 jobs. In the last year alone, manufacturing gained 318 jobs, an 0.8 percent increase. While this recovery has been fairly strong compared to the job losses the region experienced during the recession, when manufacturing jobs dropped to 35,398 in 2010, manufacturers have yet to reach pre-recession job levels when there were nearly 41,000 manufacturing jobs in 2007 (Figure 2).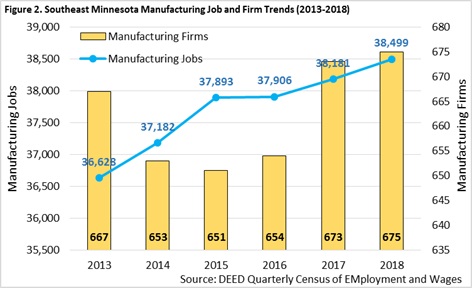 Looking forward, manufacturing is projected to add over 700 new jobs in the next decade, a 1.9 percent growth rate. At the occupational level, several jobs are going to be in high demand. Welders, cutters, solderers and brazers are predicted to see the highest number of new jobs created (+157 jobs), followed by packaging and filling machine operators (+116) and supervisors of production and operating workers (+98). Three manufacturing occupations are expected to see a decline, including a loss of 74 inspectors, testers, sorters, samplers and weighers; 32 cabinetmakers and bench carpenters; and four structural metal fabricators and fitters (Figure 3).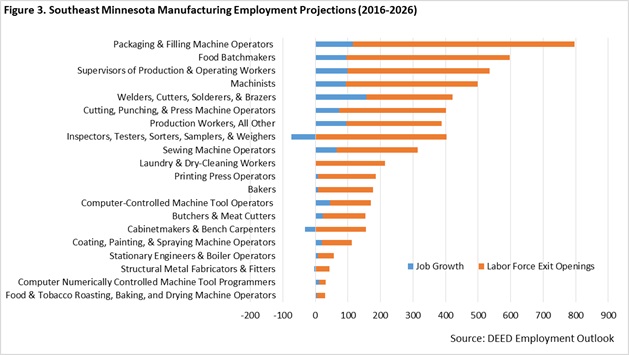 Along with the gain in manufacturing jobs due to job growth, manufacturing is also predicted to see a need to fill 10,783 production-related job openings due to labor force exits (retirements). The largest need for replacement workers is projected for packaging and filling machine operators (680), followed by a need for over 400 replacements for food batchmakers, supervisors of production and operating workers, machinists, and inspectors, testers, sorters, samplers and weighers. Following these trends, it appears that manufacturing is going to continue to be a powerhouse in the region.
For More Information
Contact Mark Schultz