More than 650 soldiers of the Minnesota National Guard's 34th Red Bull infantry division started a 10-month deployment to the Middle East on Thursday, Sept. 20, 2018. According to news reports, the Red Bulls are training at Fort Hood in Texas for about a month, then will primarily be stationed in Kuwait until late July 2019 in support of Task Force Spartan – OSS.
Before they left, these soldiers took part in a departure ceremony at the Roy Wilkins Auditorium in St. Paul, which included a Serving Our Troops farewell dinner for them and their families. You can keep track of the Red Bulls on their mission through their engaging and comprehensive Facebook page. Chet Bodin, our regional analyst in Northwest Minnesota, is among the deployed soldiers and will be greatly missed while he is gone. DEED's regional analysis team will still be available to respond to requests and provide labor market information in Northwest Minnesota.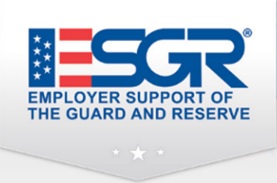 These citizen soldiers often are leaving employment here while they are deployed overseas, but can be quickly re-employed once they have completed their service. The Employer Support of the Guard and Reserve (ESGR) is a Department of Defense program that assists employers and soldiers in these matters. The Uniformed Services Employment and Reemployment Rights Act of 1994 (USERRA) is the federal law that establishes rights and responsibilities for members of the National Guard and Reserve and their civilian employers. USERRA covers employment, reemployment and retention rights when employees serve in the uniformed Services.

According to the ESGR Employer Resource Guide, the law applies to all public and private employers in the United States to include federal, state, territory and local governments, regardless of size. Providing that the service member met all criteria, employers must provide the following:
Prompt job reinstatement
Accumulation of seniority, including pension plan benefits
Reinstatement of health insurance
Training/retraining of job skills, including accommodations for the disabled
Protection against discrimination
As described in the resource guide, employers can greatly benefit from the enhanced expertise, perspective, professionalism, and leadership that soldiers gain while deployed. In one news report, Command Sergeant Major Joe Hjelmstad commented that our Minnesota "citizen-soldiers will return to their families and employers with new skills and experience that will make them even more valuable members of their communities."
DEED has resources and representatives in place to provide priority services for former military members in all WorkForce Centers across the state. This includes help with setting career goals, pursuing education, or finding a job.
For more information about how to support members of the guard and reserve, contact:
Employer Support of the Guard and Reserve
4800 Mark Center Dr., Suite 03E25
Alexandria, VA 22350
1-800-336-4590
https://www.esgr.mil/
For More Information
Contact Cameron Macht at 320-441-6596 or cameron.macht@state.mn.us.