As the pandemic stretches on, demand for health care workers is still surging in Central Minnesota. In sum, there were 2,645 job vacancies for Healthcare Practitioners & Technical and Healthcare Support workers in the second quarter of 2021. That was more than double the number of openings compared to the second quarter of 2020 at the outset of the pandemic, and 700 more than the previous peak in 2016. Hiring challenges have been steadily rising in recent years as health care employers have struggled to find enough workers to fill the growing number of positions available in the region; but this year demand is off the charts (see Figure 1).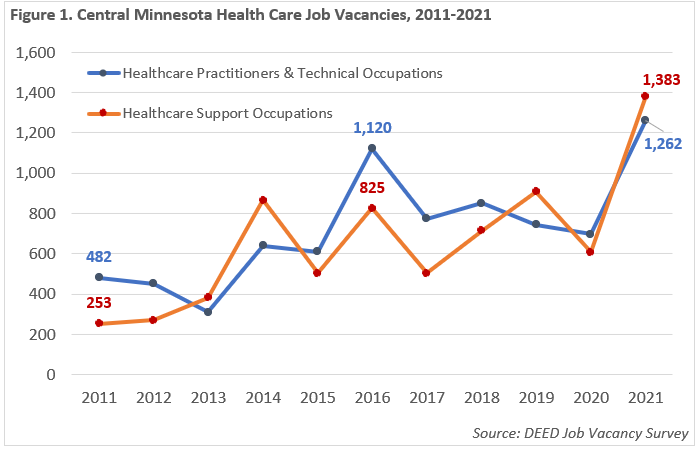 The region saw a bigger increase in demand for Healthcare Support jobs over the year, but both saw new record high numbers of vacancies. Educational requirements varied greatly by occupation, with 86% of Healthcare Practitioner & Technical openings requiring postsecondary education, compared to just 41% of Healthcare Support openings. Because of the higher requirements, wage offers were much higher for Healthcare Practitioners & Technical, at $24.50, compared to $14.12 an hour for Healthcare Support occupations.
In practice, many of these Healthcare Support careers can be started with a high school diploma or less and some on-the-job training, primarily Home Health & Personal Care Aides and Nursing Assistants. Wage offers ranged between $13 and $15 for these jobs, which was up only slightly compared to the previous year. At a more detailed level, some Healthcare Support occupations that are in highest demand include:
Demand was also rising rapidly for Healthcare Practitioners & Technical positions, including:
Job seekers who are interested in pursuing a health care career will require time and training; but may be able to start in some of the entry-level Healthcare Support occupations in the region and then move their way up the career ladder. Many employers will even help pay for or provide the training to get workers into those jobs.
Health Care Month: January 2022
To learn more about Health Care Month in Minnesota, visit careerforcemn.com/HealthCare. This page includes resources for job seekers, students and educators and employers. For example, numerous hiring events and career fairs are happening throughout the month of January for those looking for work in the health care industry. Employers can also find additional resources for attracting, developing, and retaining talent online here.
For More Information
Contact Luke Greiner at 320-308-5378.