Shopping is an important part of the holiday season, highlighting the presence of Retail Trade in the region. Through the second quarter of 2021, there were nearly 2,250 Retail establishments providing just over 36,000 jobs in the 13 counties of Central Minnesota, accounting for about 13.3% of total employment in the region. That means that one in every 7.5 jobs in the region is in Retail Trade.
The largest sectors in Retail in the region include General Merchandise Stores, which had 7,730 jobs at 146 stores; Food & Beverage Stores, which had 6,446 jobs at 238 establishments; Motor Vehicle and Parts Dealers, which had 5,373 jobs at 375 dealerships; and Gasoline Stations, which had 4,687 jobs at 330 establishments.
Retail endured some immediate changes in 2020 due to the COVID-19 pandemic, but has bounced back quickly. In the second quarter of 2020 as restrictions were put in place, Retail employment dropped by 3,340 jobs compared to the prior year, a -9.2% decline. Then as things opened back up and the economy recovered, Retailers added back just under 2,900 jobs from the second quarter of 2020 to the second quarter of 2021. That put Retail Trade back at 98.8% of pre-pandemic employment levels, compared to 96.3% across all industries.
Several subsectors, including General Merchandise Stores, Building Material and Garden Equipment Supplies Dealers, Health and Personal Care Stores, and Nonstore Retailers all reported more jobs in the second quarter of 2021 than they had prior to the pandemic! Employment was also pretty steady at Gas Stations and Food and Beverage Stores (Figure 1).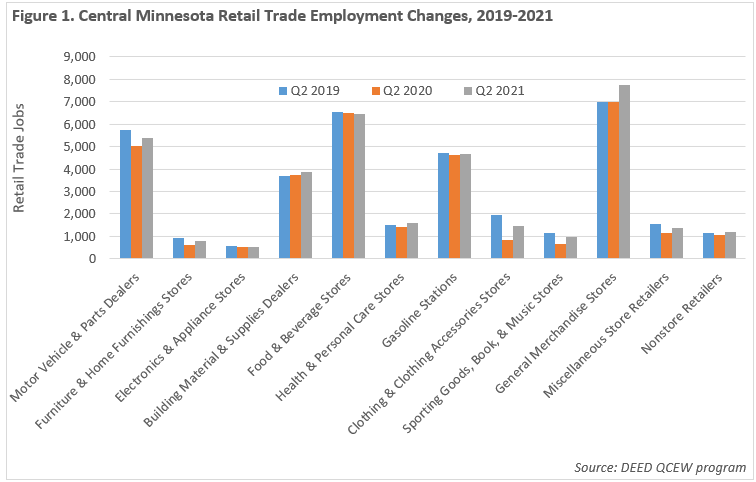 With demand rising, Retailers in Central Minnesota reported nearly 4,300 vacancies in the second quarter of 2021, easily the highest number on record. That was an 80% increase over the year, equal to an additional 1,900 vacancies in comparison to the second quarter of 2020 (Figure 2).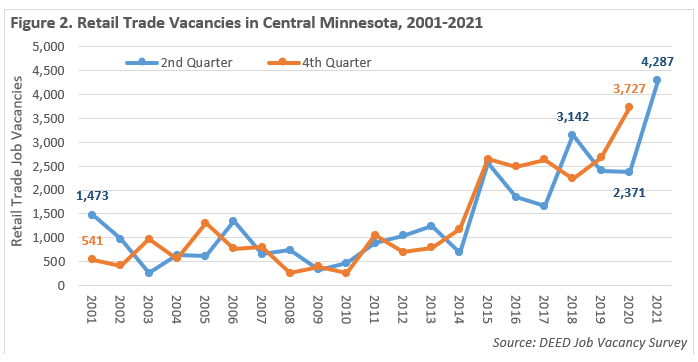 The increasing number of vacancies is due in part to growth in retail trade employment, and also to the tight labor market. Many of these jobs have remained open for long periods of time as retailers have struggled to fill vacancies in a strong economy where jobseekers have access to many other opportunities. Retail Trade has responded by improving the quality of the jobs available – for example, median wage offers have climbed more than $2 per hour in Central Minnesota since the second quarter of 2019, prior to the pandemic. However, wage offers were still relatively low, at $13.92 in Retail.
The median wage offers for Cashiers and Retail Salespersons were still below $12.50 per hour, with more than 1,500 openings in the region. Likewise, there were about 450 vacancies for Stockers and Order Fillers, with a median wage offer of $12.22. As workers move up in responsibility, the median wage offer for the 860 First-line Supervisors of Retail Workers openings was $15.85.
Many jobseekers value the flexibility that comes with retail employment, but the percentage of jobs that are part-time was also changing – less than half (41%) of the vacancies were part-time in 2021. Many retail jobs are also seasonal, allowing jobseekers to work during the busy times to earn extra money. In addition to the cash, most retail jobs also teach valuable job skills including customer service, teamwork, and problem solving. With a multitude of vacancies, jobseekers might like to see what's in store for them in retail.
For More Information
Contact Luke Greiner at 320-308-5378.