Health Care and Social Assistance is the largest industry in Central Minnesota, accounting for 49,131 jobs in the region in 2019 (/deed/assets/central-health-care-2020_tcm1045-462204.jpgsee infographic below) – that's more than one in every five jobs in the region. The vital health care industry has a higher concentration of employment in the region than the state, so it was cause for concern when the rapidly changing economic conditions in the first half of 2020 pushed health care employers to shed over 2,100 jobs in the region.
Fortunately for health care workers in Central Minnesota, employment losses (-4.3%) were almost half the rate we saw statewide (-7.3%) in the second quarter of 2020. However, not only was employment down in the second quarter of 2020, so were openings in the Health Care and Social Assistance industry. Long championed as "recession proof" from the necessity of caring for a slow-growing but fast-aging population, early 2020 put a temporary kink in an otherwise consistent segment of the economy. The number of job openings for Health Care Support and Health Care Practitioners fell to levels in the second quarter of 2020 that had not been seen in three years.
This disruption impacted many workers who are not accustomed to volatility in the labor market, but luckily much of the decline in health care employment has since been clawed back. Statewide, health care jobs are down roughly 5% from a year ago, rebounding about 5 percentage points from their low point in 2020 and it's likely that Central Minnesota has regained a similar share of jobs.
Health care job losses in the second quarter were concentrated in two subsectors, Ambulatory Health Care Services and Social assistance.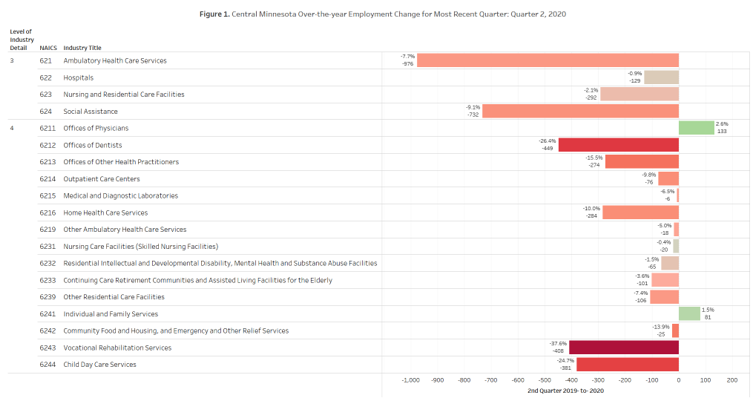 Ambulatory Health Care Services, which primarily includes outpatient care establishments, including Offices of Physicians, Dentists, and Home Health Care Services, shed 976 jobs, or 7.7% of jobs from the second quarter of 2019 to the second quarter of 2020. Employment at Dentist Offices fell by 26.4% (-449 jobs) and employment at Offices of Other Health Care Practitioners which includes Chiropractic Offices, Optometrists, Mental Health Practitioners, and Occupational, Speech and Audiologists fell by 15.5% (-274 jobs).
The other Social Services subsector that experienced turmoil was Vocational Rehabilitation Services and Child Day Care Services. With less demand for their services, layoffs ensued. Of course, many of these changes were temporary, but the extent is not yet known.
Hospital employment remained nearly level in the second quarter, escaping losses experienced in the other areas. Nursing and Residential Care Facilities also largely avoided the mass layoffs with just a -2.1% decline.
CentraCare is one of the largest health systems in Minnesota, with more than 12,700 employees and eight hospitals, more than 30 clinics, 11 senior housing facilities, and eight long-term care facilities across the region. Tim Johnson, a recruitment marketing specialist from CentraCare, provided helpful insight, saying "CentraCare didn't have pandemic-related layoffs but hiring and number of hours slowed considerably as we redeployed and furloughed people who were affected by the pause in elective surgeries and other changes in the spring. We're currently handling an unprecedented surge in hiring. Many of those positions are temporary, pandemic-related positions like door screeners and curbside collection assistants, but we also continue to hire other jobs at rates consistent with but slightly higher than past years."
The optimistic news from CentraCare echoes the recovery seen in statewide data and is likely prevalent throughout health care organizations in Central Minnesota.
Health care workers deserve our gratitude. Many experienced incredible stress and disruption at work, in many cases treating patients suffering from COVID-19.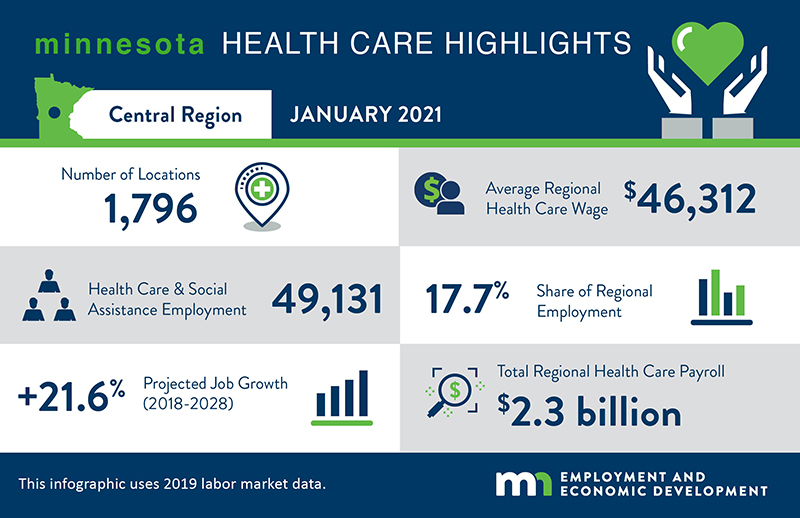 For More Information
Contact Luke Greiner at 320-308-5378.
To find out more about the health care industry, including current employment opportunities and Health Care Month activities, visit CareerForce's Health Care page.