Summer provides youth with more than a break from school - it gives them a chance to make money, become familiar with a workplace and work etiquette, and lay the building blocks of a successful future.

Teenagers provide a welcome bump in the available labor force across Minnesota, especially since Minnesota's unemployment rate lingering below 4 percent for several months has left employers with fewer available workers to choose from. The good news is that Minnesota has the seventh-highest labor force participation rate for teenagers in the country, at 48.5 percent (compared to about 33 percent nationally, according to the American Community Survey).
In Central Minnesota, the teenage labor force participation rate was well above the state's rate, with 55 percent of teenagers in the 13-county region working or actively seeking work. These teenagers are an estimated 21,500 workers, or about 6 percent of the total workforce in Central Minnesota. At 61 percent, Benton County has the highest share of teenagers participating in the labor force in the region, while Renville has the lowest rate, with less than 45 percent. Chisago (45.7 percent), Sherburne (48.9 percent), Mille Lacs (49.2 percent), and Pine (49.3 percent) counties also had low teenage labor force participation rates.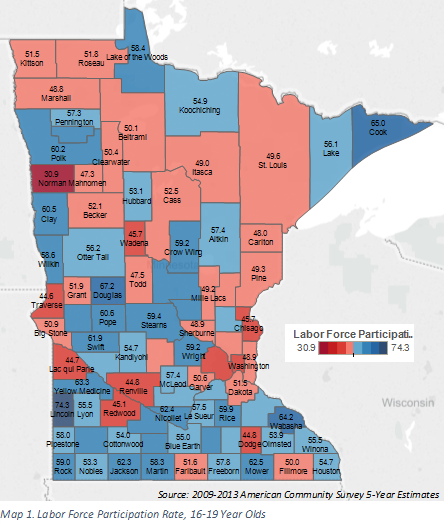 According to Census data from 2013, 17.5 percent of 16 to 19 year olds in Central Minnesota were unemployed. While this might sound like a crisis, Minnesota's 11.3 percent unemployment rate for teens was the sixth lowest nationally in 2014. The new figures are an improvement from teen jobless rates that surged to more than 20 percent during the recession.

Where do Central Minnesota youth find work? It may be surprising to hear that almost 1 in every 10 jobs in Central Minnesota is filled by a worker between 14 and 21 years old. About 70 percent of teens and young workers (ages 14 to 21) work in three pretty obvious industry sectors: accommodation and food service, retail trade, and health care and social assistance.
The U.S. Census Bureau's Quarterly Workforce Indicators show that while the overall economy regained jobs lost during the recession back in 2012, there were still 3,290 fewer jobs filled by 14 to 21 year olds in the second quarter of 2014 (compared to the second quarter of 2006). The graphic below illustrates fluctuations in youth employment for each industry in Central Minnesota.
As the unemployment rate continues to decline and competition for labor heats up, businesses in Central Minnesota can count on young workers for relief. From internships to mentorships, businesses should embrace a new wave of workers entering the labor force.
For More Information
Contact Luke Greiner at 320-308-5378.
Try Our Interactive Data Map
Use the drop-down menu to select from 20 different industries or see all industries at once. To get the data in a spreadsheet, select the download link at the bottom of the page.