After seeing the most severe year-over-year decline in job vacancies during the second quarter of 2020, in the midst of the pandemic recession, Southwest Minnesota has now reported the fastest year-over-year increase in job postings in the fourth quarter of 2020. Released last month, data from DEED's Job Vacancy Survey shows that Southwest enjoyed the strongest bounce back of the six planning regions in the state, with employers reporting more than 10,000 vacancies as hiring activity picked up.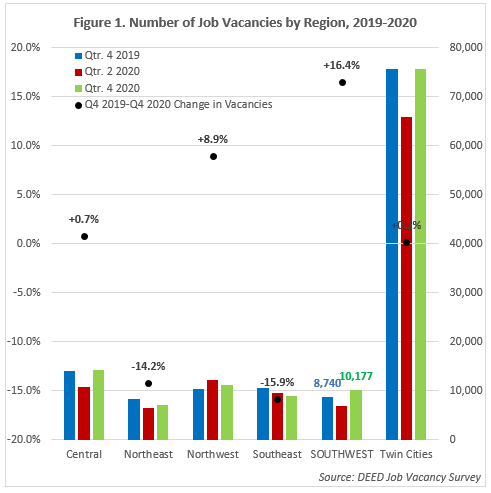 With just over 7,700 unemployed workers in the fourth quarter of 2020, Southwest's job seeker per vacancy ratio immediately dropped back below 1-to-1, making it the tightest regional labor market in the state. Statewide, there were about 1.1 jobseekers for every opening.
What caused the rapid rebound? Nearly 40% of the vacancies in the region were in the Health Care & Social Assistance industry where vacancies were  just more than double the number reported in the fourth quarter of 2019. This includes a sharp increase in demand for Healthcare Practitioners and Healthcare Support Workers. Most notably, postings for Registered Nurses (RNs) tripled from 211 in the fourth quarter of 2019 to 633 in the fourth quarter of 2020.
Likewise, the median wage offer in Health Care jumped to $18.50 per hour, up more than $4.00 over the previous year. This demonstrates that employers are willing to pay more for talent, but also shows a shift in the number of openings for workers like Home Health and Personal Care Aides (HHAs and PCAs), Licensed Practical Nurses (LPNs), and RNs. Median wage offers for HHAs jumped from $12.80 per hour in the fourth quarter of 2019 to $14.14 per hour in 2020, and wage offers for Certified Nursing Assistants (CNAs) limbed to more than $15 per hour as healthcare providers scrambled to fill positions.
The region also saw return in demand for workers in Retail Trade but did not see a rebound in Accommodation & Food Services. These two industries experienced a significant divergence during the pandemic recession, with sales increasing at Retail Trade – especially at Food & Beverage Stores, Building Material & Supply Stores, and General Merchandise Stores – but revenues plummeting in Accommodation & Food Services as restaurants and hotels adapted to less travel than usual and renewed restrictions during the fourth quarter.
Manufacturing and Educational Services both enjoyed increases in job postings over the year as well. The region's highly concentrated Food Manufacturing subsector led the way due to strong demand for food products as more people ate at home, but Southwest also held its own in Machinery Manufacturing and Fabricated Metal Products. Educational Services still has less employment in the region than prior to the pandemic, but demand is rising as local schools adapt and change staffing patterns.
For More Information
Contact Labor Market Analysts Luke Greiner at 320-308-5378 or Mark Schultz or reach out to your local CareerForce location.