As schools begin to let students out for the summer and businesses continue to post "help wanted" signs for workers, the potential for teens to find summer employment is warming up with the weather.
Teenagers provide a welcome bump in the available labor force across Minnesota, especially since Minnesota's unemployment rate lingering below 4 percent for several months has left employers with fewer available workers to choose from. The good news is that Minnesota has the seventh-highest labor force participation rate for teenagers in the country, at 48.5 percent (compared to about 33 percent nationally, according to the American Community Survey).
The labor force participation rate was even higher for teens in Southwest Minnesota, where just over 13,000 teenagers (almost 57 percent of people aged 16-19) were in the labor force over the last 5 years, making up about 6 percent of the region's total labor force. Teenage labor force participation rates ranged from a low of 44.7 percent in Lac qui Parle County to a high of 74.3 percent in Lincoln County - which was the highest rate of any county in the entire state. Southwest Minnesota is known as a hard-working region, demonstrated by the fact that 21 of the 23 counties in the region had higher labor force participation rates than the state, including six counties that had more than 60 percent of their teens in the labor force (see Map 1).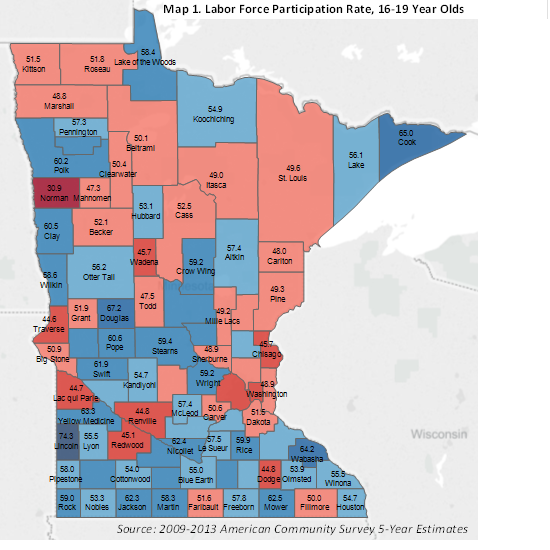 Not surprisingly, teens are most likely to work in the accommodation and food services and retail trade industries, which together account for about two-thirds of jobs held by teenagers. Data show that teens also find jobs in other industries, such as: health care and social assistance, which includes child day care services and nursing and residential care facilities; other services, which includes personal care, pet care, civic and social organizations, and repair and maintenance; arts, entertainment and recreation, which includes amusement parks, golf courses, and sports teams; and public administration, which includes local government services.
"Prospects for teenagers finding jobs this summer are better than in recent years, primarily because of an improving economy and tighter labor market," said Oriane Casale of DEED's Labor Market Information Office. "With strong employment growth in both the retail and the accommodation and food service sectors in March, this might be a great summer for teens in Minnesota to get some work experience and earn their first paychecks."
Of the 13,000 teenaged workers in Southwest Minnesota, just over 1,900 were considered unemployed and actively seeking work. That means teens in Southwest Minnesota had an unemployment rate of 14.5 percent in 2013, which was nearly three times higher than the unemployment rate for the total population. While this may seem high in comparison, the state's 11.3 percent unemployment rate for teens was the sixth lowest nationally in 2014. The new figures are an improvement from teen jobless rates that surged to more than 20 percent during the recession.
Lac qui Parle (1.3%), Lincoln (4.8%), and Cottonwood (5.0%) counties had the lowest teen unemployment rates in Southwest Minnesota in 2013, which were among the five lowest rates in the state. Likewise, Murray (6.5%), Big Stone (7.8%), Faribault (7.9%), and Martin (8.3%) ranked within the ten lowest unemployment rates of the 87 counties in Minnesota (see Map 2).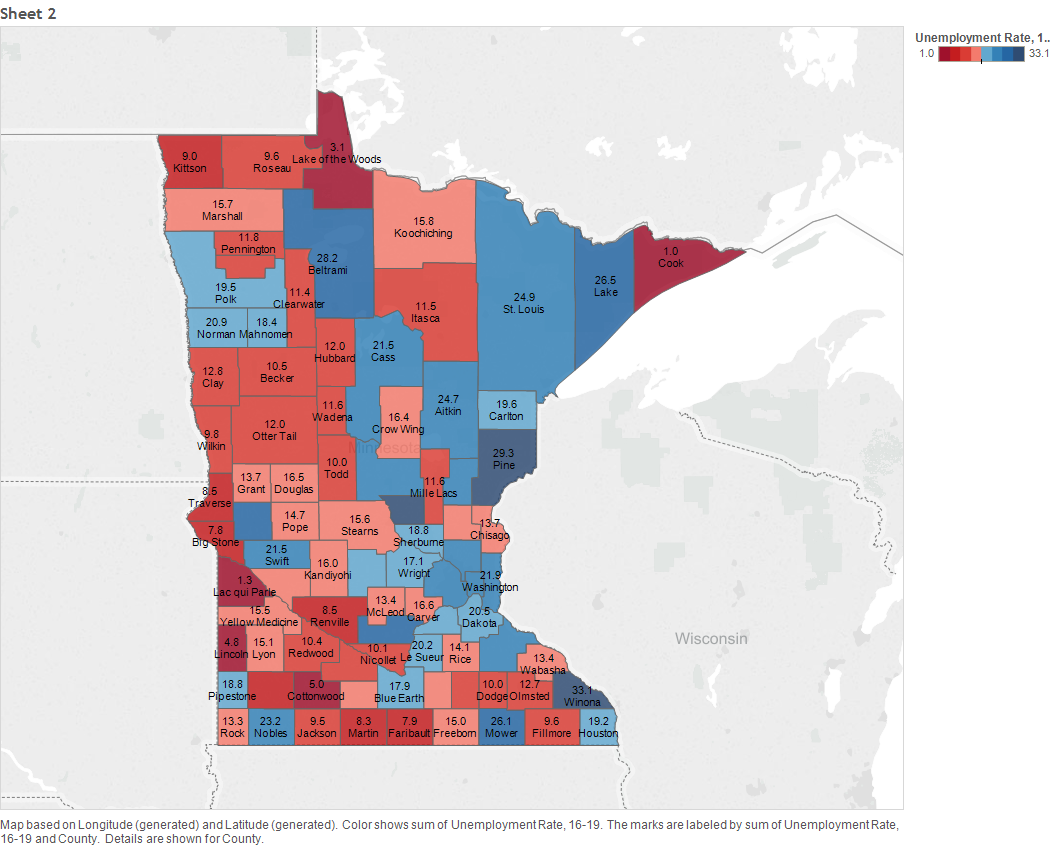 Sibley (25.6 percent), Nobles (23.2 percent), Swift (21.5 percent), and Le Sueur (20.2 percent) counties had the highest jobless rates for teens in Southwest Minnesota, and they were all among the top 25 rates in the state. Employers in these counties may have an easier time recruiting teenagers to fill their jobs this summer.
DEED offers services and programs to help teens find work. The agency's MinnesotaWorks.net job bank lists nearly 84,000 jobs, many of them suitable for teenagers. Job opportunities also are available through DEED's youth employment, training and education programs.
For More Information
Contact Luke Greiner at 320-308-5378 or Mark Schultz.