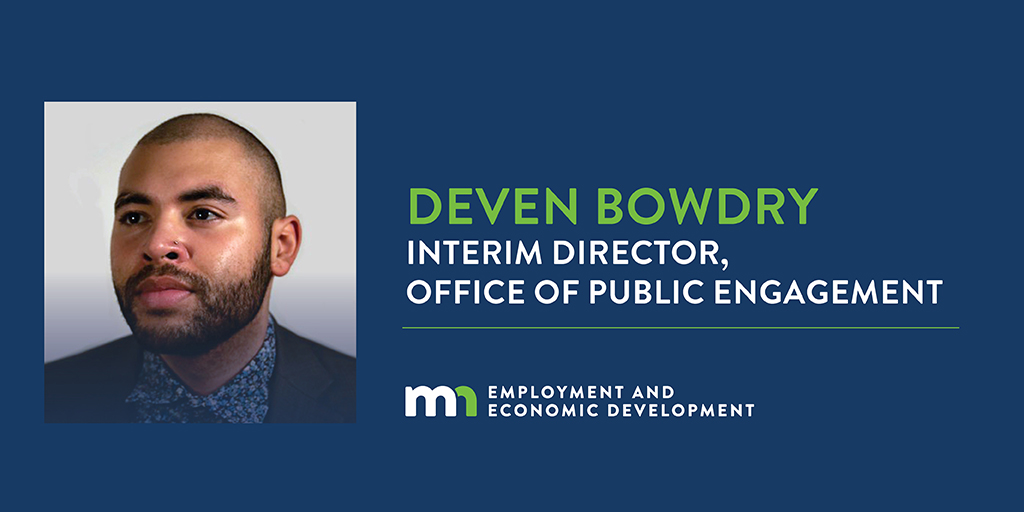 Today we wanted to provide a few updates on DEED's Office of Public Engagement (Office), which is our team focused on community relationship-building and outreach efforts for the agency. As we shared earlier this year, this Office is a consolidation and expansion of our existing outreach efforts, with a mission to create strong feedback loops between communities across Minnesota and all of DEED's programs – with a particular focus on communities who face the most significant barriers to economic growth.
Maureen Ramirez, the director of the Office, has decided to move on from the agency to other opportunities. Maureen is a talented and entrepreneurial leader who excels at getting efforts off the ground – we're very thankful for her leadership role in launching this Office. Her last day will be August 16. We are grateful for her leadership and service, particularly through the COVID-19 pandemic, and wish her the best in her next chapter. Her Maureen's last day will be August 16.
We also would like to congratulate Deven Bowdry, who we have appointed as Interim Director of the Office for the remainder of 2022. Deven has served as a leader in DEED's policy office for several years and will begin this new interim role next week. He is a talented leader who has managed several policy issues for DEED and has great experience in community engagement. In fact, he started his career at DEED working on outreach efforts several years ago.
The team will continue to grow in the future further. We've dedicated another full-time position to expand the overall team in the coming months – stay tuned for updates as we continue to invest in the Office. With leaders focused on a host of communities and issue areas, the Office of Public Engagement will continue to expand to ensure serve a key role in making sure DEED is listening to community and continually evolving our services to meet the needs of Minnesotans.
In the weeks ahead, DEED's Office of Public Engagement will be out in the community at various engagements. Just a few examples: On August 25, we'll be at Urban League Family Day. On September 5, you'll find us at the State Fair in multiple venues (insert comma), including with our partners at the Disability Council. And on September 10, we'll be at Fiesta Latina. In addition, the Office will be a key outreach arm this fall for on 2023 legislative issues. As part of our outreach, we will hold we're holding more than a dozen listening sessions tied to everything from broadband access to climate change. Additionally, we'll hold host several open forums to obtain feedback from community members to help inform DEED's community engagement efforts going forward.
Deven will serve in the interim director role through the end of the year, and DEED is committed to hiring a full-time leader of these efforts before January 2023. We're excited to increase the Office's work to ensure we expand DEED's community outreach and relationship-building in the months and years to come.