With a tight labor market in Southeast Minnesota, employers are searching for untapped labor pools to hire workers. According to "A Systematic Review of the Benefits of Hiring People with Disabilities", diversifying the workforce by hiring people with disabilities can bring positive benefits for organizations, such as employee retention, reliable employees, and increased customer diversity. People with disabilities can benefit from employment by improving their income, quality of life, self-confidence, and social network.
Southeast Minnesota is home to about 52,400 people with a disability, or about 10.3% of the total population. The labor force participation rate for people with disabilities has increased within the past year, but continues to lag behind people without disabilities. For example, the labor force participation rate in 2021 for people between 18 and 64 years with a disability was 55.7%, compared to 86.9% of people with no disability. However, unemployment rates were much higher for those with disabilities– the rate for workers from 18 to 64 with disabilities was 9.4%, compared to 3.1% for those without. Closing the gap on both of those rates would help fill a lot of open jobs.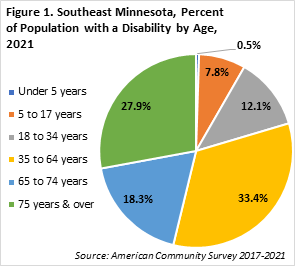 People with disabilities work in a variety of industries and occupations. DEED's Vocational Rehabilitation Services encourages and assists people with disabilities to reach employment and career development goals. According to the Minnesota State Rehabilitation Council's Annual Report, the top five occupational groups that in which people with disabilities secured a job were Transportation & Material Moving, Food Preparation & Serving Related, Sales & Related, Production, and Building, Grounds Cleaning & Maintenance occupations.
People with disabilities in Southeast Minnesota are nearly evenly split between male (51.1%) and female (48.9%). However, disparities in other demographic categories such as age, race, and ethnicity differ. As the population ages, the rate of disability increases. In 2021, 18.9% of people aged 65 to 74 and 40.8% of people aged 75 years or older identified as having a disability, whereas less than 5% of people under 35 years of age report a disability. In terms of numbers, the largest number of people with disabilities are in the two oldest age groups and between 35 and 64 years of age, though many still have the ability to participate in the labor force (Figure 1).
Table 1. Southeast Minnesota, Percent of Race & Ethnicity Group with a Disability
Race & Hispanic or Latino Origin
Total Population
Population With a Disability
Percent of Population With a Disability
White alone
442,871
47,614
10.8%
Black or African American alone
18,654
995
5.3%
American Indian & Alaska Native alone
1,478
268
18.1%
Asian alone
16,089
1,369
8.5%
Native Hawaiian & Other Pacific Islander alone
364
11
3.0%
Some other race alone
9,506
670
7.0%
Two or more races
19,098
1,444
7.6%
Hispanic or Latino (of any race)
30,395
2,266
7.5%
Source: American Community Survey 2017-2021
Similarly, there are differences in rates of disability by race and ethnicity. There are about 1,480 people that identify as American Indian & Alaska Native in Southeast Minnesota, with 268 people who report having a disability, accounting for just over 18% of the population. The second highest rate of disability by race is White alone at 10.8%, while all other races and ethnicities had lower rates of disability (Table 1).
This untapped labor pool of people with disabilities can help diversify the workforce and relieve organizations trying to attract and retain workers during this tight labor market.
For more information, contact Amanda O'Connell at amanda.oconnell@state.mn.us.
For More Information
Contact Amanda O'Connell, Labor Market Analyst, at amanda.oconnell@state.mn.us