Amid this pandemic, the Health Care industry has perhaps never been more important to Southeast Minnesota's economy. But the industry has long been a cornerstone of the regional economy. Health Care and Social Assistance has consistently provided more than 60,000 jobs in the region over the past 10 years, accounting for more than one in every four jobs, the highest concentration of health care jobs of any region in the state.
Going back two decades, Health Care and Social Assistance had added nearly 22,000 additional jobs in Southeast Minnesota, making it the largest employing industry in the region. And Health Care continued adding jobs despite two recessions, gaining jobs from 2001 to 2002 and from 2008 to 2010 while other industries were cutting jobs. And the industry gained another 8,000 jobs between 2009 and 2019, as seen on the infographic. However, Health Care suffered severe employment declines from the second quarter of 2019 to the second quarter of 2020, dropping over 3,300 jobs, setting this recession apart from previous recessions (see Figure 1).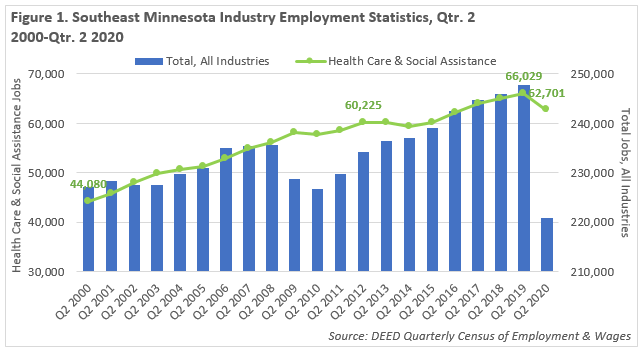 While hiring activity dropped quickly during April and May, Health Care Practitioners and Health Care Support Workers were among the occupational groups with the most new job postings in both June and July, with demand picking up in the fall and early winter as a second surge in coronavirus cases spread through the region. Nursing and Residential Care Facilities and Hospitals both exhibited acute demand for workers as they ramped up to meet regional needs, including to bring additional staff on board to cover shifts for workers who had to isolate because of exposure to the virus.
Using data from the most recent Job Vacancy Survey, DEED's updated Occupations in Demand tool shows that more than one in every four of the occupations in highest demand in the region are health care-related, from Home Health Aides to RNs to Physicians and Surgeons. Jobseekers looking to get into the health care field will find a wide variety of opportunities with a range of typical educational requirements. Several of the jobs hiring now can be started with a high school diploma and some on the-job training, while others require vocational training, an associate's degree, or a graduate or professional degree (see Table 1).
Table 1. Southeast Minnesota Five-Star Health care Occupations in Demand, 2020
SOC Code
Job Title
Current Demand Rank
Median Annual Wage
Projected Growth Rate, 2018-2028
Projected Openings, 2018-2028
Typical Education Requirements
291141
Registered Nurses
1
$76,167
+11.4%
+8,840
Associate's degree
311120
Home Health & Personal Care Aides
2
$28,180
+28.8%
+9,094
High school diploma/equiv.
311131
Nursing Assistants
4
$34,626
+6.2%
+5,411
Vocational training
292040
Emergency Medical Technicians & Paramedics
6
$39,334
+8.9%
+1,027
Vocational training
292061
Licensed Practical & Vocational Nurses
8
$48,401
+9.3%
+1,284
Vocational training
291051
Pharmacists
12
$144,197
+7.9%
+586
Graduate/professional degree
291228
Physicians, All Other; & Ophthalmologists
17
$208,638
 
NA
Graduate/professional degree
292056
Veterinary Technologists & Technicians
24
$35,768
+3.5%
+245
Associate's degree
291171
Nurse Practitioners
26
$124,871
+23.5%
+559
Graduate/professional degree
292052
Pharmacy Technicians
29
$36,205
+4.8%
+676
High school diploma/equiv.
292055
Surgical Technologists
34
$59,643
 
NA
Associate's degree
291221
Pediatricians, General
36
$208,174
 
NA
Graduate/professional degree
319092
Medical Assistants
37
$43,323
+18.2%
+1,695
Vocational training
211015
Rehabilitation Counselors
38
$41,342
-5.6%
+319
Bachelor's degree
291216
General Internal Medicine Physicians
46
$203,677
+3.4%
+39
Graduate/professional degree
311132
Orderlies
47
$41,204
 
NA
High school diploma/equiv.
319097
Phlebotomists
53
$43,116
 
NA
High school diploma/equiv.
291151
Nurse Anesthetists
57
$201,711
+11.6%
+111
Graduate/professional degree
291223
Psychiatrists
67
$188,157
+18.0%
+61
Graduate/professional degree
299098
Health Information Technologists, All Other
71
$91,349
 
NA
Vocational training
211094
Community Health Workers
74
$32,305
+13.0%
+134
High school diploma/equiv.
292057
Ophthalmic Medical Technicians
77
$51,245
+14.3%
+56
High school diploma/equiv.
291298
Acupuncturists & Health Diagnosing, All Other
82
$73,473
 
NA
Graduate/professional degree
291125
Recreational Therapists
83
$47,748
 
NA
Bachelor's degree
211013
Marriage and Family Therapists
84
$57,395
+31.5%
+109
Graduate/professional degree
Source: DEED Occupations in Demand
No other industry is as directly impacted by the pandemic as health care – but health care workers have responded with courage and compassion to serve the citizens of our state and region. DEED and CareerForce are mobilizing resources to help laid off workers move into high demand health care occupations, some of which urgently need workers now and all of which are also projected to have future demand as well. For more information, reach out to your local CareerForce location!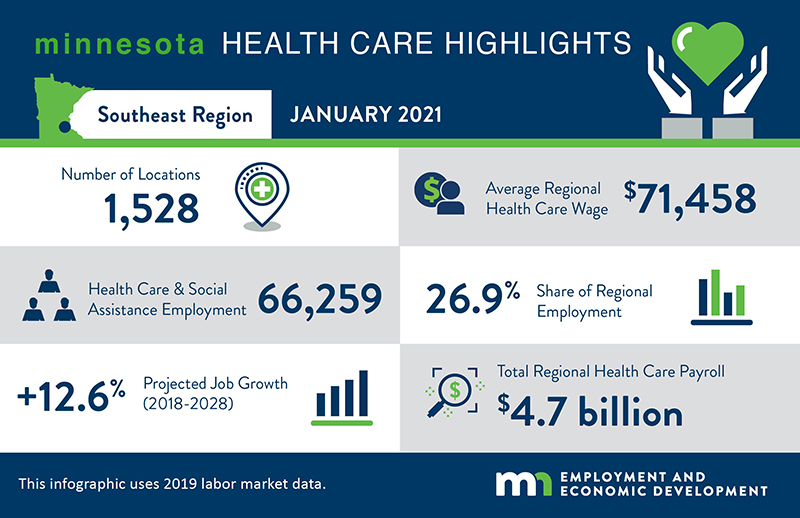 For More Information
Contact Mark Schultz.