Like the region's recently harvested crops and livestock, manufacturing jobs are plentiful in Southwest Minnesota. With just under 31,000 jobs at 601 firms, manufacturing provides more than one in every six jobs in the region, accounting for 17.4 percent of total employment in the second quarter of 2016. That was six percent more concentrated than in the state, and Southwest remains the only region in the state where manufacturing still provides more jobs than health care.
Wages are also much higher in manufacturing in Southwest Minnesota – at $46,332 in 2016, average annual wages in manufacturing were over $8,600 higher than the total of all industries, and $9,400 higher than in health care and social assistance.
Food manufacturing is the largest specialty, with just under 10,100 jobs at 103 firms. Consistent demand for food products has led to stability in food manufacturing employment, with employers adding 255 net new jobs over the past decade, a 2.6 percent increase from 2007 to 2016. Southwest Minnesota now has 22 percent of the state's jobs in food manufacturing, with an average annual wage of $45,864 through the second quarter of 2016.
Other major manufacturing sectors in Southwest Minnesota include printing and related support activities and machinery manufacturing, which both had about 3,500 jobs; and despite job losses during the recession, both still boast a much stronger concentration in the region than the rest of the state. The fastest growing and highest paying manufacturing sectors are Nonmetallic Mineral Product Manufacturing, which includes concrete products; and Chemical Manufacturing, which includes ethanol and biodiesel (Table 1).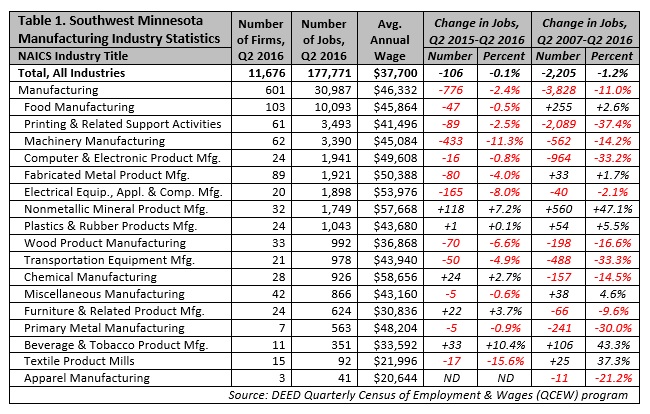 Manufacturers are looking for workers to fill their open positions. DEED's most recent Job Vacancy Survey results show that there were 850 job openings posted in manufacturing in the second quarter of 2016, placing it behind only health care and social assistance in current hiring needs. The combined second and fourth quarter vacancies in 2015 were the most ever reported in the region in manufacturing, averaging about 1,250 openings (Figure 1).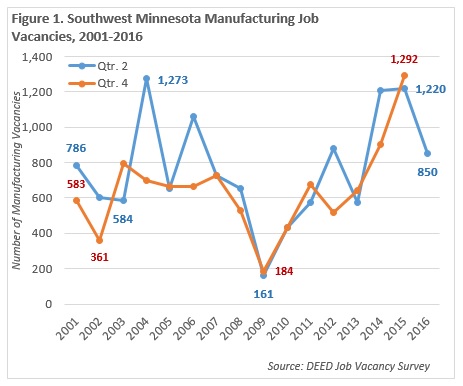 As manufacturers continue to recruit new workers, wage offers continue to increase. The median hourly wage offer has risen almost 50 percent compared to the second quarter of 2009, when demand for manufacturing workers bottomed out.
The largest number of current openings was for production workers – including packaging and filling machine operators, printing press operators, team assemblers, welders, and first-line supervisors of production workers; but there was also steady demand for transportation and material moving laborers; installation, maintenance, and repair workers; and architecture and engineering occupations.
In fact, employers in Southwest Minnesota were looking for 75 engineers during the second quarter of 2016, with a consistent level of demand over the past five years. The median wage offer for these engineers was $33.99 per hour, or $70,700 per year, making it one of the highest paying occupational groups in the region. However, 100 percent of the openings required post-secondary education and 98 percent required one or more years of experience.
There were also over 30 openings for drafters and engineering technicians, with median wage offers coming in just over $22.25 per hour, or $46,320 per year. Just 37 percent of those openings required post-secondary education, but 86 percent wanted at least one year of experience.
Data show that students and job seekers interested in the manufacturing industry or the engineering field can find many great opportunities in Southwest Minnesota, where manufacturing is still the largest employing industry.
For More Information
Contact Luke Greiner at 320-308-5378 or email luke.greiner@state.mn.us or Mark Schultz.