Southwest Minnesota is the engine that powers the state's leadership position in the emerging agriculture machinery manufacturing sector, which includes farm machinery equipment such as tractors, combines, fertilizer spreaders, and feed processing equipment.
According to data from DEED's Quarterly Census of Employment and Wages (QCEW) program, Southwest Minnesota has 28 business establishments providing nearly 2,800 jobs in the agriculture machinery manufacturing industry, accounting for well over one-third of the state's employment in this budding sector (see Table 1).

Despite providing just 6.3 percent of the state's total employment, the 23-county Southwest Minnesota planning region is home to 10.2 percent of the state's manufacturing jobs, 11.9 percent of the machinery manufacturing jobs, and a titanic 36 percent of the state's agriculture machinery manufacturing employment.
Not only are these jobs highly concentrated in the region, they are also highly compensated. At $46,176 in 2014, average annual wages were about $9,000 higher in agriculture machinery manufacturing than in the total of all industries, and slightly higher than the manufacturing industry overall.
Jobs grew much faster in the agriculture machinery manufacturing sector than in the rest of the region's economy, with agriculture manufacturing payrolls expanding over 10 percent over the last decade. This included job gains even during the recession from 2007 to 2010, as well as much faster growth in the last year.
Southwest Minnesota cultivated more than 300 net new jobs in the agriculture machinery manufacturing in the past year, which accounted for over half of the total net new jobs added in the manufacturing industry as a whole from the third quarter of 2013 to the third quarter of 2014 (see Figure 1).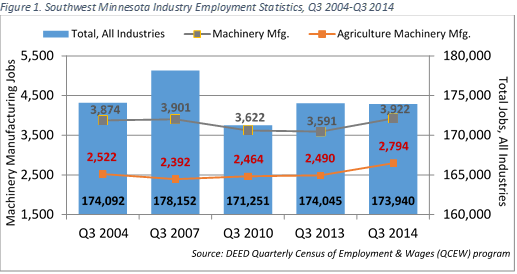 For More Information
Contact Luke Greiner at 320-308-5378 or Mark Schultz.