Publications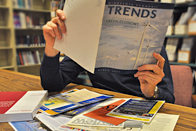 Our publications range from an entire suite of business guidebooks to magazines that highlight economic issues, from special-interest newsletters to reports, fact sheets and more.
All are available to view and download.
Upon request, publications may be provided in alternative formats for people with disabilities. Older publications are available in DEED's Digital Library.