Southwest Minnesota has always boasted shorter commute times and a higher percentage of people who work in the same county they live in than the rest of the state, but people living in the region have not benefited as much from the increase in remote work since the pandemic. Recently released data from the 2017-2021 American Community Survey (ACS) from the U.S. Census Bureau shows how remote work trends are impacting workers in our region and state.
Prior to the pandemic as represented by the 2018 ACS, about 6.7% of workers in Southwest Minnesota reported working from home, compared to 5.7% statewide. The average travel time to work in the 23-county Southwest region was 18.5 minutes, a full 5 minutes less than the statewide average of 23.5 minutes. And well over two thirds (68.6%) of residents worked in the same county they lived in, compared to 63.6% across the state.
But the pandemic changed employment in many ways, including the ability of people to work from home. While this impacted certain industries and occupations more than others, it also benefited some regions more. According to the 2021 ACS data, the percentage of people who worked from home in Southwest increased to 8.5%, a significant uptick since 2018. However, now 11.4% of workers statewide reported working from home, nearly double the level in 2018 (see Figure 1).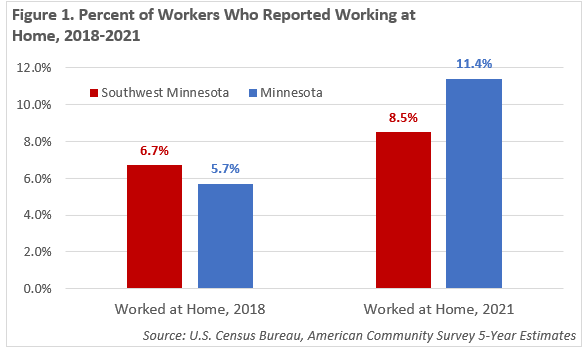 In Southwest Minnesota, the ACS data show that females (9.1%) are more likely to work from home than males (7.9%), which was a shift from 2018, when males (7.1%) were slightly more likely than females (6.4%) to be working at home.
Despite the increase in people working from home, the average commute time for workers in Southwest Minnesota was 19.4 minutes in 2021, which was up nearly a minute since 2018. That was still shorter than the statewide average of 23.5 minutes; but travel times were holding steady or even decreasing across the state due to the increase in teleworking in 2021 (see Figure 2).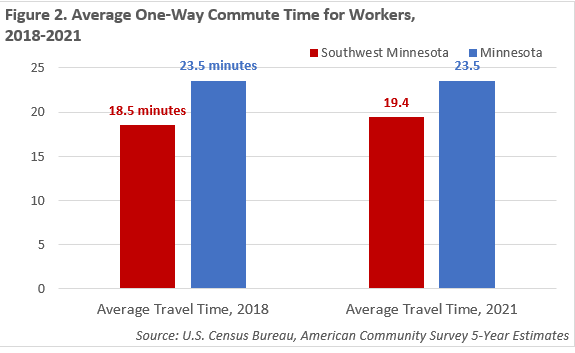 For More Information
Contact Luke Greiner at luke.greiner@state.mn.us or Amanda O'Connell at amanda.oconnell@state.mn.us.