With the holiday season in full swing, consumer spending remained strong in the U.S. despite on-going inflationary pressures. This has translated into economic opportunity in Southwest Minnesota, where Retail Trade is one of only two industries that has more jobs now than prior to the pandemic. Even as consumer spending habits have changed, retailers have been adding jobs in the region, up nearly 1% compared to the second quarter of 2019, and up nearly 2,000 jobs compared to the outset of the pandemic recession in the second quarter of 2020. Through the second quarter of 2022, Retail Trade had 19,040 jobs at 1,445 establishments in the region.
While retailers did suffer immediate job losses due to the pandemic, dropping over 1,800 jobs from the second quarter of 2019 to the second quarter of 2020; they immediately bounced back and saw normal hiring patterns by the fourth quarter of 2020. Then the region saw stable growth in 2021 before peaking with holiday hiring in the fourth quarter of 2021, and by the second quarter of 2022, Retail Trade was ahead of pre-pandemic levels (see Figure 1).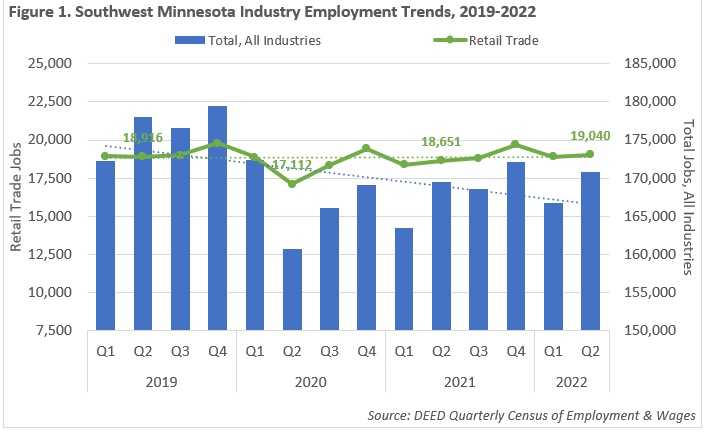 The largest Retail Trade subsectors include Food & Beverage Stores (4,308 jobs), General Merchandise Retailers (3,404 jobs), and Gas Stations (3,265 jobs), while the highest paying subsector is Motor Vehicle & Parts Dealers ($52,676). At $29,380, average annual wages are about $20,000 lower in Retail Trade than in the total of all industries, but wages have been increasing over the past couple years as hiring has increased. Wages were up nearly $2.00 per hour from 2019 to 2021, with the largest gains for workers from 25 to 54 years of age (see Figure 2).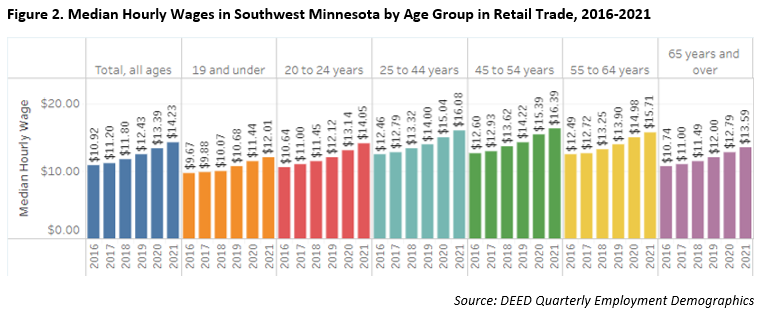 However, Retail Trade typically has a much higher concentration of both younger and older workers than most other industries. Over one-third (34.7%) of workers in Retail Trade were 24 years or younger, compared to just 19% overall. The only industry more reliant on younger workers is Accommodation & Food Services, but that industry is still behind its pre-pandemic employment levels. Another 8.3% of the Retail Trade workforce in Southwest is 65 years and over, compared to 7.0% across all industries (See Figure 3).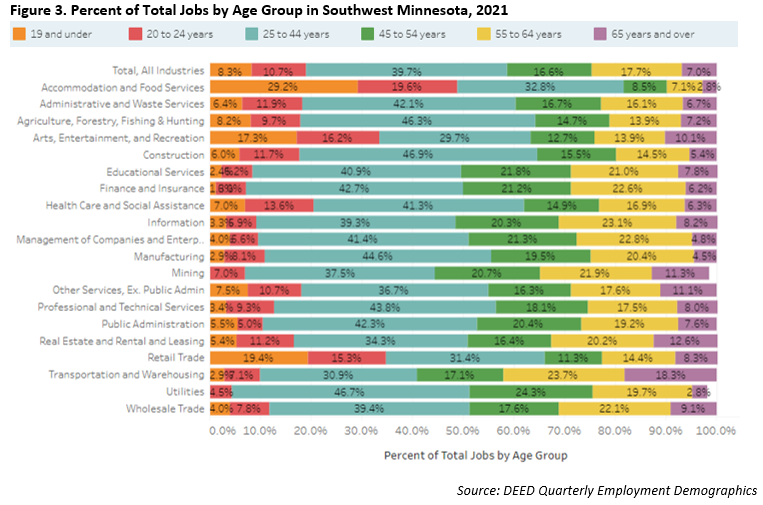 As shoppers rush out to the stores this season, retailers in Southwest Minnesota continue to hire workers across all age groups, but especially teenagers and senior citizens. As Retail Trade continues to expand in the region, demand for workers remains high.
For More Information
Contact Luke Greiner at 320-223-6992 or Amanda O'Connell at 320-441-6571.