Much like the rest of the country, Southwest Minnesota experienced a decline in the labor force in 2020, losing over 11,000 workers when comparing 2019 to 2021. What limited data exists to try and pinpoint who left or why suggests that most were 55 years or older. This puts Southwest at a disadvantage given that it has an older population and labor force profile, where 26.6% of workers are 55 years and older, compared to 23.3% statewide.
The region suffered a labor force decline of 5% from 2019 to 2021, compared to a statewide decline of 3.5%. While this isn't good news for the region, many places are in the same position. It's not solely a Southwest Minnesota issue; it's a demographic issue that is happening in several regions across the state and nation. Unfortunately, the losses in Southwest means employers have fewer workers available now then they've had access to in more than two decades (Figure 1).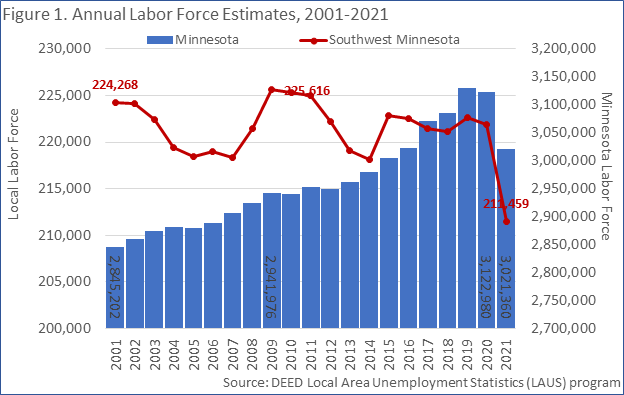 The flip side is that workers have more leverage than they've likely had in their entire lives. Wages for filled positions and wage offers for job vacancies have increased rapidly in the past two years, which is enticing for new workers. It's also possible that a number of workers who left the labor force over the past two years will come back in some capacity. Plus, in-migration from other countries, which has diminished during the pandemic, could increase again moving forward. Southwest Minnesota, like other regions, benefits from helping new residents pursue a productive life.
For More Information
Contact Labor Market Analysts Luke Greiner at 320-308-5378.