Retailers typically ramp up hiring as the holiday season approaches, looking for additional Cashiers, Retail Salespersons, and Stockers & Order Fillers, as well as First-line Supervisors and Store Managers. As Retail Trade employment continues to rebound in the region, demand for workers is at an all-time high. Southwest Minnesota regained more than 1,500 Retail Trade jobs over the past year and is now down only 273 jobs compared to pre-pandemic employment levels.
As they've recovered, retailers in Southwest Minnesota reported the highest number of openings on record in the second quarter of 2021, reaching nearly 2,600 job vacancies across the region. That was up nearly 575 compared to the previous peak in 2018; and was more than double the number posted in the second quarter of 2020, at the outset of the pandemic (see Figure 1).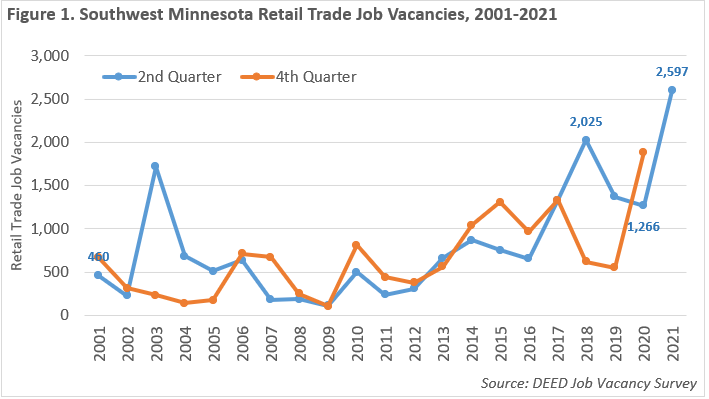 But it wasn't just Retail Trade seeing higher numbers of job vacancies in the region, with all but three of 20 industries posting increases over the past year. In this tight labor market, many industries are competing for workers, raising wages and offering other benefits to attract applicants. The good news is that the median wage offer in Retail Trade climbed 27% over the past 5 years, though it is still the second lowest across all 20 industries, ahead of only Accommodation & Food Services.
The rising wages may help attract new workers, while other jobseekers may value the flexibility that comes with retail employment. However, the percentage of jobs that are part-time was dropping –about 42% of retail vacancies were part-time in 2021, compared to nearly 60% in 2016 and 2017, and a peak of 76% in 2019. Many retail jobs are also seasonal, allowing jobseekers to work during the busy times to earn extra money.
Retail stores in the region need managers – with the highest number of openings for First-line Supervisors of Retail Workers. There were more than 475 postings, with a median wage offer of $15.11 per hour. Only 3% were part-time, but 63% required at least one year of work experience. On the front lines, demand in the region was nearly evenly split for Cashiers and Retail Salespersons, with both having just over 450 job vacancies in the second quarter of 2021. The median wage offer for Cashiers was $11.77, and 50% were part-time; while wage offers were slightly higher for Retail Salespersons, at $12.42. There were also 363 openings for Stockers & Order Fillers, with a median wage offer of $11.29. In sum, the number of these vacancies increased 80% over the year (see Figure 2).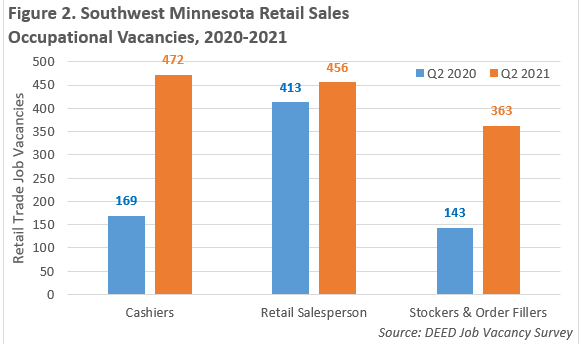 For More Information
Contact Labor Market Analysts Luke Greiner at 320-308-5378 or Mark Schultz or reach out to your local CareerForce location.