With a return to low unemployment rates across the region in the fall of 2021, Southwest Minnesota's economy is recovering quickly from the pandemic recession. However, many employers are reporting significant difficulties finding workers. Workers of all demographic characteristics have lots of opportunities in many different fields but may also have different barriers to labor force attachment.
Southwest Minnesota is home to just under 8,000 veterans in the labor force between the ages of 18 and 64. Prior to the pandemic, veterans had a slightly lower unemployment rate than non-veterans in the region. Unfortunately, new data from the Bureau of Labor Statistics (BLS) reveals the impact the COVID-19 recession had upon veterans in the labor market overall. In Minnesota, the unemployment rate for veterans rose from 4.9% in 2019 to 8.3% in 2020. That would equate to nearly 650 unemployed veterans in the region last year.
More specifically, the unemployment rate for veterans who served on active duty at any time since September 2001 was even higher at 7.3%, and the rate for the youngest veterans (18 to 24 years) was significantly higher at 14.6%. Unemployment rates also increased for both male and female veterans in 2020, with the male rate at 6.5% and the female rate at 6.7%. That was nearly double the rates reported by veterans of each gender in 2019.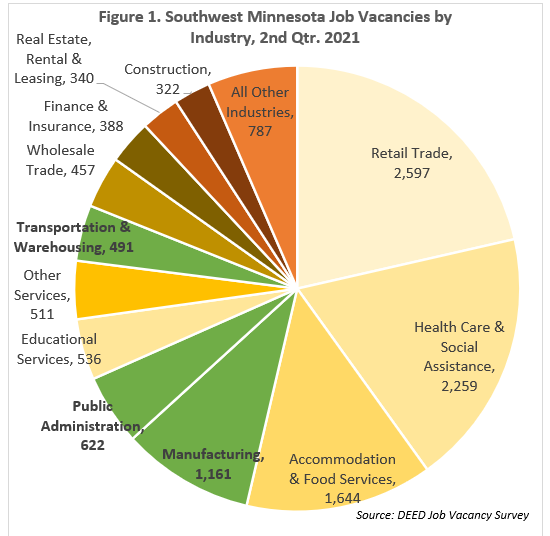 The good news is that new Job Vacancy Survey data reveals that employers in Southwest Minnesota posted more than 12,100 openings in the second quarter of 2021, the third highest number ever reported. While the explosion of job vacancies in the region is good for all job seekers, of particular note for veterans is that there are nearly 1,200 postings in Manufacturing, 620 vacancies in Government/Public Administration, and nearly 500 openings in Transportation & Warehousing, which are the three industries where veterans are much more likely to work than non-veterans (see Figure 1).
If you are a veteran and seeking employment in any industry, not just the big three highlighted in the chart, the following steps can help:
For More Information
Contact Labor Market Analysts Luke Greiner at 320-308-5378 or Mark Schultz or reach out to your local CareerForce location.